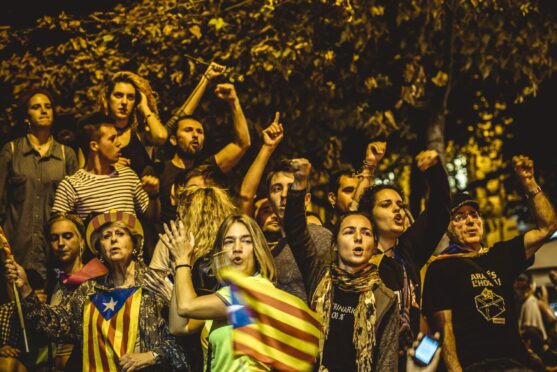 Politicians who led a unilateral referendum in Catalonia warned Nicola Sturgeon to take care yesterday as she finalises her strategy to stage a second independence poll.
The first minister is to unveil her proposed route to another referendum on Tuesday despite Boris Johnson insisting Holyrood will not be allowed to legislate for another vote on the constitution.
In a 20-minute address to parliament, she is expected to explain how the vote can go ahead, with a suggested date in October 2023, with or without the consent of the UK Government.
Experts suggest any vote on the constitution will be thrown out of court and leaders of the so-called wildcat vote in Catalonia five years ago yesterday said with hindsight they should not have pursued a unilateral poll on independence.
Santíago Vila, a former business minister, was fined £51,000 for civil disobedience after the 2019 trial of separatist leaders.  Nine politicians and civic leaders were jailed for between nine and 13 years for sedition over their roles in staging the poll on splitting from Spain.
"The positive point of what happened is that it brought a large civic participation to the cause but there were some very negative results," he told The Sunday Post.
"Supporters were led to believe the referendum would be binding by the Catalan government, but this was not the case. They were also led to believe that Catalonia had the authority to legally break away from Spain which it did not. This caused lots of companies to leave the region. We tricked ourselves."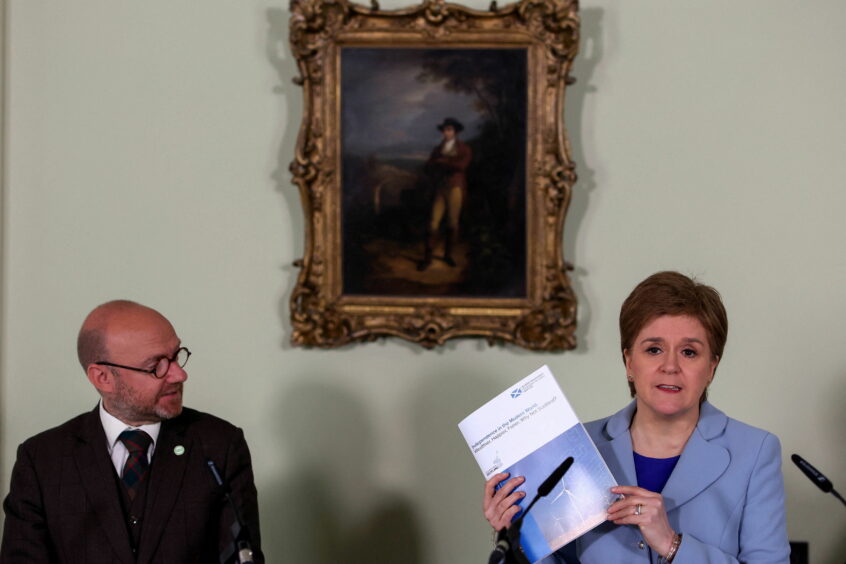 In the run-up to the Catalan poll, the regional government passed a law which it said allowed it to secede from Spain, but which was ruled illegal by the Spanish Constitutional Court.
Vila, now a university lecturer, resigned the day before a unilateral declaration of independence by the Catalan regional authorities in October 2017 as he did not agree with this route of action.
In 2017, 42% of Catalonia's seven million population cast their votes to support splitting from Spain in a vote which had been declared illegal by the country's constitutional Court.
Most opponents of independence stayed away from the vote, in a move which supporters of the United Kingdom said would be replicated in any unilateral referendum here.
Speculation suggests SNP strategists believe an alternative question to the straightforward Yes or No used in 2014 might win legal approval although experts suggest that is unlikely.
Political opponents suggest the apparent drive towards a referendum is a political pantomime. They say a vote without the agreement of the UK government is a pointless diversion and would be boycotted by opponents.
Ernest Maragall, an MP in the Catalan government since 2017 who is a candidate to be mayor of Barcelona, said the political and civic will to stage the Catalan referendum in 2017 was admirable but the boycott from opponents was fatal to the legitimacy of the result.
"They never thought we would be able to do it. Organising the electoral colleges, getting the urns. It was down to people volunteering despite all the efforts of the state to stop it happening. But only the people who supported independence voted in the referendum," he said.
Sturgeon urges PM to 'be a democrat' as she launches case for Indyref2
Maragall said he would not advise Sturgeon to stage a unilateral referendum as it had failed in Catalonia.
He added: "You should do it by persistence and by democratic means." He said the lasting achievement of the Catalan independence drive was that separatist parties held power in the regional parliament today.
Maragall said: "One thing that we achieved was that now more than half of the political representation in the Catalan regional parliament is from parties who support independence. This does not give us a right to another unilateral independence declaration. Unfortunately, our suggestion of an independent state in a federal system has been rejected."
Support for independence has fallen since 2017 in Catalonia. At the time of the referendum, polls found 48% of Catalans wanted to leave Spain. This figure had fallen to 39%, according to a survey in May for La Vanguardia newspaper, while 51% opposed independence. Lluis Orriols, a professor of politics at the Carlos III University in Madrid, said: "The Catalan independence movement has admitted that it made mistakes and moved on.
"So, in a way, it has matured. In real terms it has not achieved its aims of gaining independence from Spain but some of its followers would say it was not all in vain.
"The independence movement is now looking more long term and its supporters do not regard the unilateral route of independence as a route which succeeded."
The Sunday Post view: A trick vote is not the way to break our deadlock but, somehow, we must
Yesterday, the first minister claimed Scottish independence is essential to tackling the cost-of-living crisis ahead of setting out her route map to a second referendum.
She said a recent report by the Resolution Foundation, which found Brexit had damaged the UK's competitiveness and will make Britons poorer in the coming decade, shows the "catastrophic consequences" of leaving the European Union. She said: "It is clearer than ever that when it comes to tackling the cost-of-living crisis, Westminster is not the solution to the problem – Westminster is the problem.
"And that is why independence is essential to tackling the cost-of-living crisis. Becoming independent is not a guarantee of success, but it allows Scotland to make our own choices – better choices – and the chance to succeed where Westminster is so manifestly failing.
"Where we already have some independence in areas like social security, we've used those powers to make far better, fairer decisions, with transformational policies like the Scottish Child Payment – and with the full powers of independence, there is absolutely no reason why a country as resource-rich as Scotland cannot replicate the success of our neighbours."
Nicola Sturgeon: Process of second referendum 'must be lawful'
Sturgeon, who will also face questions from MSPs for 40 minutes on Tuesday, will set out how she believes a lawful referendum could be held without the UK Government agreeing to what is known as a Section 30 order, a clause in the Scotland Act which would grant a legal referendum, which was given in 2014.
Referendum expert Matt Qvortrup said he believed it would be undemocratic not to allow a vote on independence but that "the rule of law is not necessarily democratic".
Qvortrup, professor of political science and international relations at Coventry University and author of Referendums And Ethnic Conflict, said: "I believe Nicola Sturgeon has the mandate to hold a referendum because the parties in favour of independence have a majority in the Scottish Parliament. But she does not have the legal powers to hold one. So I'm afraid she doesn't have much of an option.
"Holding a referendum, even if it is consultative or advisory, is not within the powers that have been devolved to the Scottish Parliament.
"She can have a consultation on health, education and all the other matters where the Scottish Parliament has been granted powers, but she can't have it on the defence, foreign affairs, immigration or the constitution."
Opposition parties said they would boycott any unilateral independence referendum. Scottish Liberal Democrats leader Alex Cole-Hamilton said: "If she's going for a glorified opinion poll, then I'd say I and my party have better things to do with our time.
"A wildcat referendum is the last roll of the dice for a first minister and a governing party which has clearly run out of both road and ideas."
Scottish Conservative constitution spokesman Donald Cameron said: "We won't be taking part in plans for the illegal wildcat referendum the SNP seem to have pencilled in for next October.
"Nicola Sturgeon's focus should be on issues like the cost-of-living crisis, our recovery from the pandemic, Scotland's record drug deaths and the backlog in our NHS, rather than promoting another independence referendum.
"This statement is an unjustifiable waste of time on a divisive referendum that Scots do not want."
Scottish Labour said: "It's unacceptable that both our governments appear to be proposing to break the law – Boris on Brexit and Sturgeon with this referendum."
A spokesman for the first minister said a Scottish independence referendum would be held legally: "The first minister has it consistently clear she is intent on delivering a legal, constitutional referendum."
Poll: 1% of Scots think UK system could not be better
Only 1% of Scots think the UK's political system could not be improved, according to an opinion poll.
To mark 25 years of research in Scotland, polling firm Ipsos Scotland re-ran a number of questions that were first run by Mori (as the company was then known) back in the mid-1990s.
It asked 1,500 Scots: "Which of these statements best describes your opinion on the present system of governing Britain?"
The proportion that feels it needs a "great deal of improvement" has increased from 37% in 1995 to 51% now while 14% think it could be improved in small ways and 33% think it could be improved "quite a lot."
Only 1% now felt that the UK system "works extremely well and could not be improved" compared to 2% in 1995.
Polling expert Sir John Curtice of Strathclyde University said: "I suspect this is in part a reflection of the fact support for independence is a lot higher than it was in 1995.
"Secondly, historically Eurosceptic voters were less likely to be satisfied the way the government is run than Europhile voters. That was turned around by the 2016 referendum. But of course there aren't many Leave supporters in Scotland.
"So the rise in support for independence and the delivery of Brexit, and those two things are not unrelated to each other, I suspect is part of the answer."
Proposed changes to the UK political system could include Scottish independence, a re-examination of the devolution settlement with more powers transferring from Westminster to Holyrood, and demands for reform of the House of Lords.
According to the Ipsos poll, Scotland has also become more left-wing, with 41% of people in Scotland describing themselves as "somewhat left-wing" or "left-wing". This compares with 19% in 1995.
The proportion describing themselves as "right-wing" has remained at 11%.
Fighting rising prices is the top priority of Scots in 2022, compared with giving people more say in important government decisions in 1995.
Emily Gray, managing director of Ipsos in Scotland, said: "This new data shows how our views are shaped by the changing context.
"Back in 1995, pre-devolution and with the Conservatives in power, most of us described our political leanings as 'middle of the road'. A quarter of a century later, with a left-of-centre SNP dominating the Scottish political scene, more of us see ourselves as left wing.
"Meanwhile, with debate about how Scotland should be governed never far from the headlines, we are increasingly convinced that our system of government needs substantial improvement. And against a backdrop of soaring inflation, it is no surprise that fighting rising prices has rocketed up our list of priorities."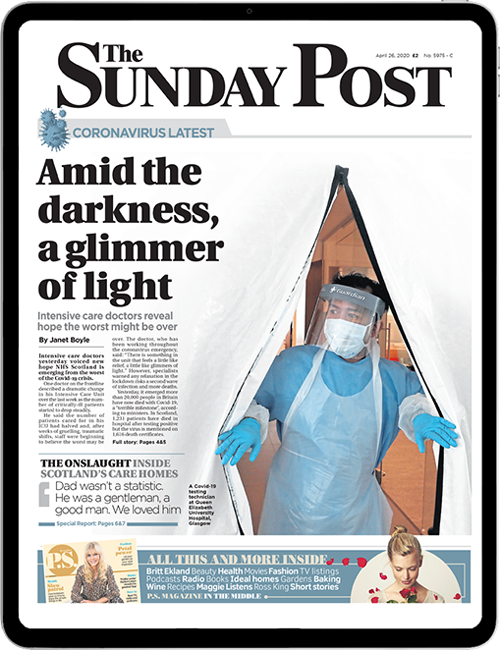 Enjoy the convenience of having The Sunday Post delivered as a digital ePaper straight to your smartphone, tablet or computer.
Subscribe for only £5.49 a month and enjoy all the benefits of the printed paper as a digital replica.
Subscribe