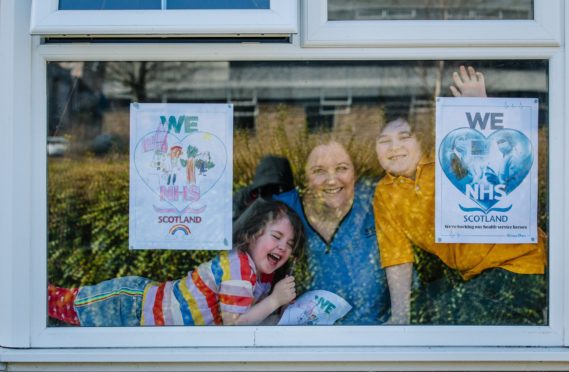 Their expertise and resilience has been praised, their courage and selfless sense of duty applauded in our streets.
And today you can show your own support for the heroes of our National Health Service by displaying The Sunday Post's special #WeLoveNHSScotland poster in your window.
The poster – in the paper on Sunday but available to print below, along with a colour-in version – salutes every single member of staff of NHS Scotland for their work on the Covid-19 frontline where, with many still lacking the necessary protective equipment, they continue to test, diagnose and treat patients despite the risks to themselves.
Most will say they are only doing their job and that work inspires admiration at any time. At such times of such national peril, it inspires our gratitude and acclaim.
One of those working on the NHS frontline is nurse Pamela Griffin, 38, who lives in Dumbarton with her husband Andy and two children, Oliver, eight, and Daisie, five.
They helped their mum put up a poster – and the colouring-in version – to hail her NHS colleagues. Pamela said: "Having the support of the public has been so heart-warming and means so much.
"People have been dropping treats off at the hospital for staff, like pizzas, fruit and other groceries. It helps to know we are appreciated and I'm sure seeing these posters in windows will be an extra boost for morale.
"I was in tears, standing at my front door on Thursday night when everyone was clapping and whistling in my street. My son Oliver was really touched too, he's proud that his mummy is a nurse. But it's hard for the kids, they sense something is wrong.
"I used to come home from a 13 hour shift and given them a cuddle and a kiss but now I have to go straight to the bathroom to strip off and wash before they can come near me."
Pamela, who has been a nurse for 15 years and works at the Golden Jubilee National Hospital in Clydebank, said: "No one has ever had to deal with anything of this magnitude before, so of course we are nervous and worried. But we are all in it together and knowing everyone is behind us, seeing posters in windows, gives us such a boost."
Show us your poster with the hashtag #WeLoveNHSScotland – and make sure to get creative!
How to show your support
We have prepared two versions of the poster for you to download and print. Simply click on the images below to download the version you want to print.
Outline version (4MB PDF)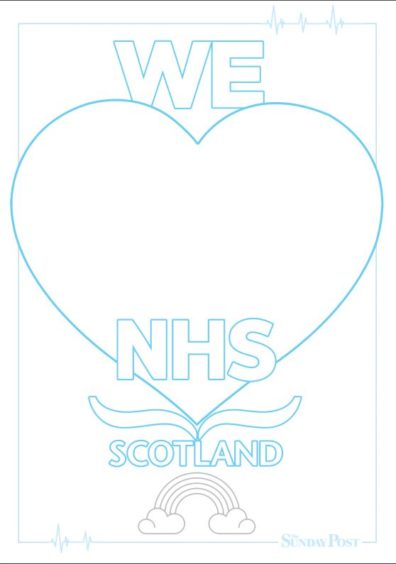 Completed version (8MB PDF)