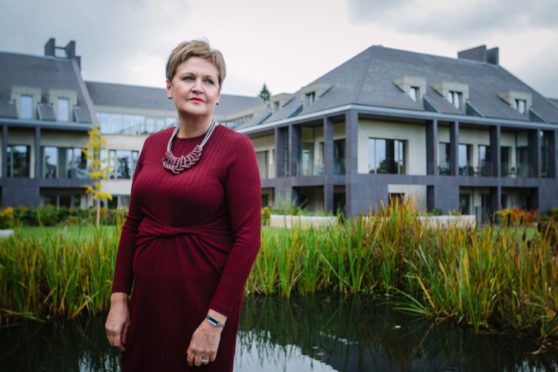 Hospices in Scotland are facing a multi-million pound fundraising crisis blamed in part on well-wishers switching support to NHS charities.
Vital services provided by hospices for the dying and bereaved are two-thirds funded by charity events and donations and the 16 hospices in Scotland need to raise more than £4.5 million every month.
They have seen their fundraising income plummet by around 50% since lockdown began in March. Mass participation events were cancelled, corporate fundraising initiatives scaled back, charity shops had to close and even collections at funerals have been severely impacted.
However, fundraising managers believe another unexpected factor has hit hospices hard as the public give more to NHS Charities Together, which had not previously been a competitor for donations.
Debbie Mooney, head of community fundraising for Scotland at Marie Curie, pinpointed Captain Tom Moore's marathon in his garden in April – which raised more than £30m for the NHS – as the inspiration for the shift. Marie Curie needs to raise £250,000 a week in Scotland and has vowed not to cut services despite facing "traumatic" financial losses.
She said: "It's really tricky. The NHS charities always existed but they were a fairly quiet voice in the sector and probably didn't do as much mass public fundraising as other charities. Captain Tom opened the doors to that. He not only gave us a feel-good factor but elevated the need for funding for NHS charities as well.
"I think they went from really quiet to really noisy in the sector and they have definitely taken a share of fundraising income that perhaps would have gone directly to other organisations.
"But the interesting thing about fundraising is you give to what you're passionate about or connected to or you give to where has a really urgent need at that moment in time.
"The NHS Charities Together had a real moment in time and they had all their stars align. It was that moment of brilliance and it means they've risen in prominence."
Jackie Johnston, fundraising manager at Strathcarron Hospice in Denny, Stirlingshire, said the hospice had benefited from donations in M&S in Falkirk but even that was withdrawn as the company's head office decided all branches would be supporting NHS Charities Together.
She said: "This year has been the most challenging time in the history of hospice care. The focus very much changed to the NHS. Never in a million years did I think the NHS would become a competitor in terms of fundraising. Donations to NHS charities have gone off the scale and we had to go out very strongly with the message that this is fabulous but we are not part of the NHS. There's only a limited amount of money to go round so that was quite sore. It made me question a lot of things like why are we relying on people running marathons to provide specialist palliative care? It seems crazy."
Scottish hospices receive just 35% of their income from the state yet in 2018/19 it cost them £87m to deliver palliative and end-of-life care to around 22,000 people. Many also encounter a misconception among the public that hospices and the specialist care from their doctors and nurses is provided by the NHS.
Rami Okasha, chief executive of Children's Hospices Across Scotland (CHAS), which supports youngsters with terminal and life-threatening illnesses and their families, is expecting to be between £3m and £5m short of the £12m the charity need to raise every year.
Like many hospices, CHAS has used online methods of fundraising and this month is holding the Great CHAS Dinner Party for people to enjoy at home. Mr Okasha said: "People I talk to are surprised when I tell them the majority of the funding for children's hospices comes from donations.
"People assume that it's part of the NHS. But hospices aren't, and they are highly vulnerable to shocks in fundraising like Covid. The last few months have been incredibly hard for the families we support. Many of those children are very ill and have been shielding and have been withdrawing from society. At the very time there is a greater demand on children's hospice services, there is a huge crisis in fundraising for hospices generally. It is hugely difficult."
A £10m government grant was shared between the hospices to plug the three-month fundraising gap from April to June, and they were also able to use the furlough scheme. But hospices fear the situation will worsen into the next financial year when government support has ended and with uncertainty over fundraising events.
The need for services was already predicted to increase due to Scotland's ageing population and it is feared need will increase because patients have missed scans, early diagnosis and treatment during the pandemic.
Rhona Baillie, chief executive of the Prince and Princess of Wales Hospice in Glasgow, is dealing with a projected loss of £1.3m this financial year. Seventy of its 157 staff were furloughed during the pandemic. She said: "The government grant has kept our head above water. Our loss has largely been covered by that sum of money. If we hadn't had the furlough scheme as well, we would have been in deep water.
"Our concern – and it's a significant concern – is the next financial year. We can plan all of our events but we don't know what the appetite will be and in Glasgow we have seen significant hardship. Potentially we're going to see an increase in the need for our services over the next few months to a year.
"I have been in palliative care for a long time and it's absolutely essential. It's about people's dignity. Everybody deserves a dignified death."
Shadow health secretary Monica Lennon MSP said: "Hospices survive on charitable donations, but they need sustainable funding so that they can continue to complement NHS services and give people living with life-limiting conditions and those nearing end of life, the dignity and care that they deserve."
Scottish Liberal Democrat health spokesperson Alex Cole-Hamilton MSP said: "Hospices play an invaluable role in supporting ill and vulnerable people with specialist services and they are facing enormous pressure. We must not forget the crucial role that hospices and others have played in this crisis."
---
They were like a family, scooping us up, making us feel we were not alone
Lindsey Currie is just one of the Scots who understand the value of hospice care and support.
Her 15-year-old son, Cody has been supported by Scotland's children's hospice for 12 years.
Cody has chronic lung disease, epilepsy and cerebral palsy and has been receiving respite care at CHAS's Robin House hospice in Balloch, West Dunbartonshire, since he was a toddler.
Lindsey said: "Life as a single parent with a child with complex needs and a short expected lifespan is frightening, yet beautiful.
"Every day you fear may be your last with them and every birthday is an incredibly happy achievement, but also incredibly frightening because getting older may mean your child is nearing the end of their life. Last year, my world came tumbling down when I was diagnosed with aggressive breast cancer. Suddenly, I wasn't thinking about Cody dying and what I would do; suddenly it was me dying and what would happen to Cody. I was petrified and turned to the one place I knew would be able to help – Robin House.
"CHAS scooped me up and sprang into action. They were the family I needed when I needed it most. Cody stayed at Robin House when I was bed-bound from intensive chemotherapy and provided care in the house during the weekly chemotherapy.
"The staff gave us emotional and practical support during the hardest time of my life. Just when I thought things couldn't get worse, coronavirus happened. Our lives were thrown into chaos. My breast cancer nurse contracted Covid-19 and so I had to isolate from Cody. I felt completely overwhelmed but CHAS immediately provided support and help. Robin House opened their crisis bed for Cody and provided care for him so I knew he would be safe and surrounded by people he loves. When I went for surgery, staff made sure I knew everything that was happening through their virtual children's hospice. They sent me beautiful photos of all his escapades, and every night they helped us have a video chat so I could read his bedtime story.
"Now we are back home, Robin House has continually called to check if we need anything. I know they will continue to be here for us both throughout this journey. When I say I could not have got through this without CHAS – I mean it. I'm more grateful than anyone could ever imagine because I know that we are not alone.
"Their support is so important to us."
---
Maternity services don't rely on donations from the public, but end-of-life care does. Why?
By Helen Malo, Hospice UK
Hospices have been on the frontline during the pandemic both caring for people with Covid but also continuing to care for people dying from other conditions. We know that more people have been dying and there has also been a shift in where people have been dying – more have been dying at home or in care homes than in hospitals.
That all has an impact on hospices' services at a time when their ability to raise vital funds has really been impacted.
The effect of Covid is going to be felt for years to come. Like the rest of the third sector across Scotland, Covid has devastated the fundraising income that hospices rely on. Yet the need for the care they provide is only going to increase as the pandemic continues. It's a perfect storm of all these different things. They are already incredibly reliant on the people in their communities, and the support they have shown them is fantastic.
But the economic impact of Covid means people don't necessarily have as much money in their pockets to donate to hospices.
The community support across Scotland has been amazing and it's almost been a consequence of that as people want to help and contribute to the NHS. It's challenging that hospices might be seen to be competing for the same pound in people's pockets. But it's important to remember that palliative care and end-of-life care is vital.
You wouldn't have a situation where maternity services are just reliant on donations from the public but on the flipside you have end-of-life care which is vital yet nearly two-thirds of hospice income is reliant on fundraising income.
Why is it okay for one sector but you wouldn't have that in another area of health?
There's one chance to get end-of-life care right and it is so important to get it right, not just for the individual but for the families and carers.
---
Helen Malo is policy and advocacy manager for Scotland at Hospice UK, the national charity for those experiencing dying, death and bereavement.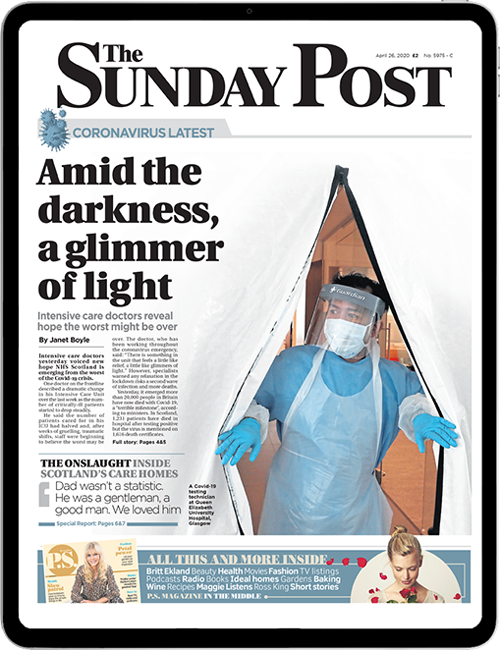 Enjoy the convenience of having The Sunday Post delivered as a digital ePaper straight to your smartphone, tablet or computer.
Subscribe for only £5.49 a month and enjoy all the benefits of the printed paper as a digital replica.
Subscribe