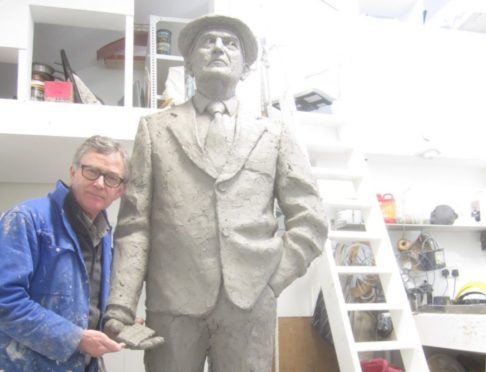 The daughter of Chic Murray has backed the campaign to win the green light for a statue to Billy Connolly and his comedy inspiration, her dad.
Annabel Meredith spoke out to support the drive for the larger-than-life bronze figures of legendary comic Chic and the Big Yin, who idolised him, to be displayed in Glasgow.
"My dad would have been honoured, absolutely delighted and, most importantly, humbled," said Annabel. "He loved Glasgow and Edinburgh, and his native Greenock, where he grew up. All three places really meant something to him.
"But I think it's very important these statues are situated in Glasgow. He was a hero to Billy, and both are very much a part of the fabric and humour of the city."
The statues were commissioned by businessman Colin Beattie, who wants to install them at Oran Mor, his bar and theatre venue in Glasgow's west end.
But for the past decade they have been gathering dust in a warehouse after the city council signalled the statue would not secure planning permission on the pavement earmarked by Mr Beattie.
Annabel and her brother, Douglas, say it is now time to resolve the issue and called for talks so the statues can be shared with the public. "Colin is trying to have these figures of Chic and Billy made available for ordinary people to enjoy," she said. "He just wants to celebrate two brilliant comedians. It was his idea to get them commissioned and he paid for them.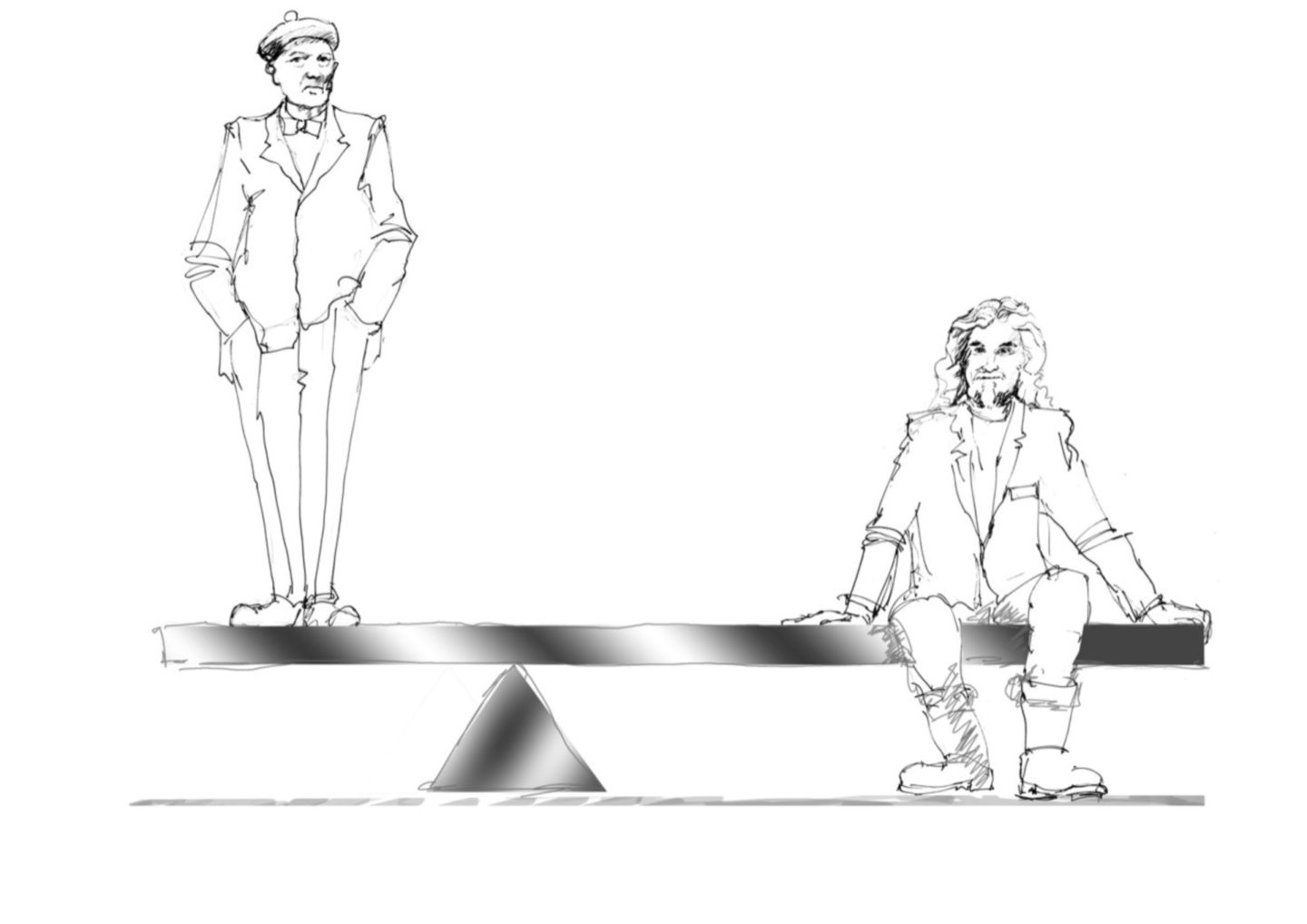 "If this statue is erected, I think it will be quite overwhelming to see my dad and Billy together on the streets of the city they loved and which loved them back. I'd feel extremely proud and would love it for Billy too. I adore him. I can't say any more. He's been a wonderful friend to me over the years."
Annabel said Oran Mor – which pioneered the award-winning A Play, A Pie And A Pint lunchtime series – is the perfect location for the statues. And in 2018, it staged a drama about Chic's life titled A Funny Place For A Window, with actor Dave Anderson playing the comic. It broke box office records and was filmed by the BBC.
"Oran Mor is a five-minute stroll from where my dad used to live in Cecil Street," she said. "Byres Road was also his old stomping ground, and he was well known around that area. Directly opposite you have the Botanic Gardens, where I often used to sit with him when I visited. He'd take me into the Botanics because he loved it there. He'd sit there for hours.
"It's also a short walk from where the old BBC Club used to be. My dad and Billy were once chucked out of the place because they were laughing too much."
She added: "There are two statues in Edinburgh which are critical, not just to the capital, but to the whole country – the Black Watch memorial at the top of The Mound and the Greyfriars Bobby fountain at the southern end of George IV Bridge. Both are situated on busy corners where there are lots of pedestrians and traffic but they are in very prominent positions, which helps the whole architectural history of the city."
Chic and his wife, Maidie Dickson, shot to fame in Scottish variety theatres, as The Tall Droll and The Small Doll, he was 6ft 3in and she just 4ft 11in.
She was a child star who made her debut at the Capital Theatre in Leith, aged four, in 1926. Maidie, who played accordion, went on the share the bill with Scottish music hall legends Sir Harry Lauder and Will Fyfe, who wrote the song I Belong To Glasgow.
Chic worked as an apprentice at the Kincaid Shipyard in Greenock. He met Maidie in 1944, when his mother Isabella gave her digs when she was appearing at the Empire Theatre.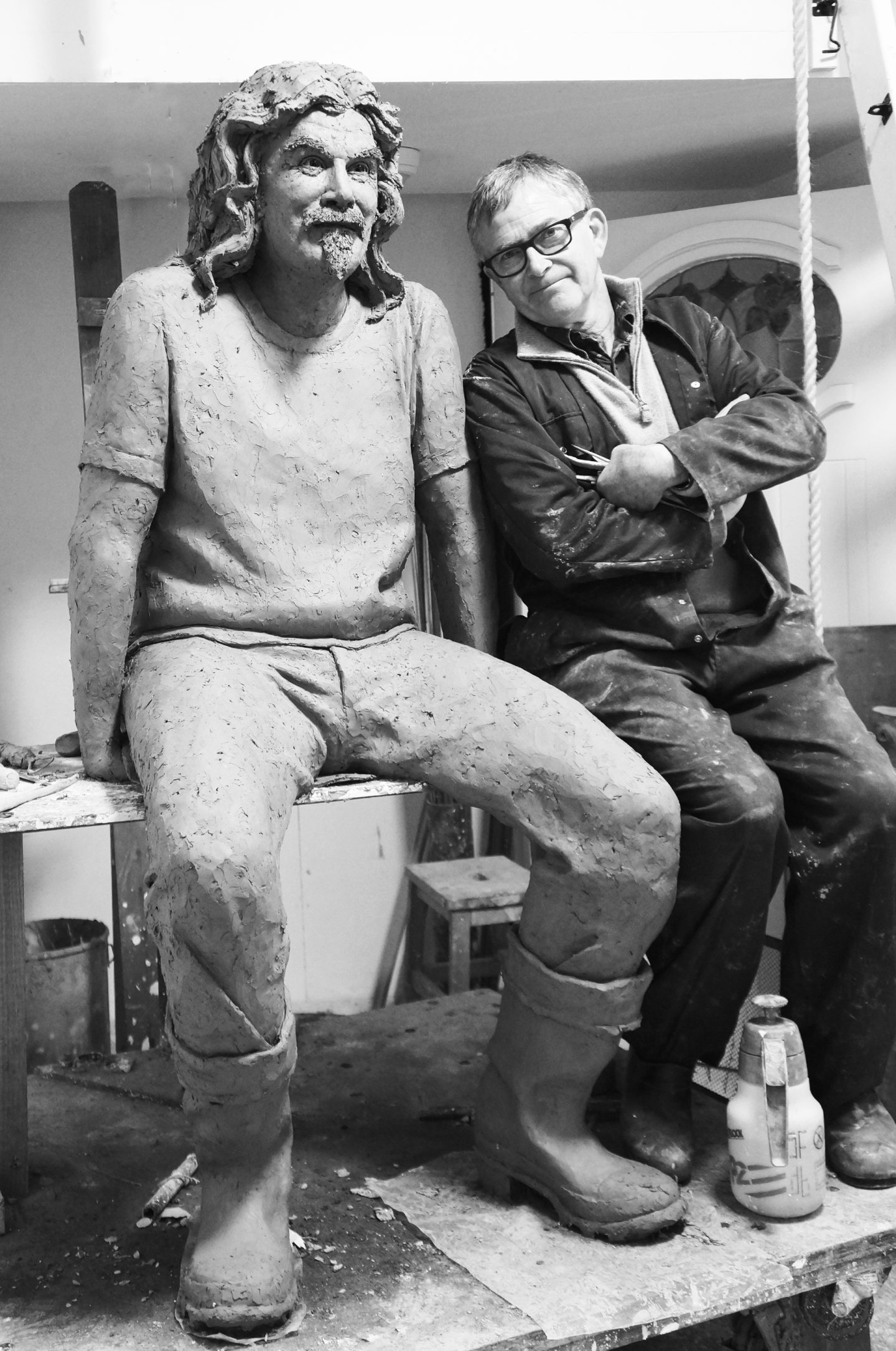 Romance blossomed and Chic and Maidie married the following year at St Giles' Cathedral in Edinburgh. She convinced him to quit his apprenticeship and form a double act. He would sing, yodel and crack gags while she played the accordion and they would top the bill in theatres across the country.
In 1975, Maidie stepped back from showbusiness to run a hotel in Edinburgh. The couple later divorced but remained good friends. She died in 2010.
Chic was successful as a solo act. He appeared in the James Bond-spoof movie Casino Royale in 1967, alongside screen giants Orson Welles, Peter Sellers, David Niven and William Holden.
In 1981, he memorably played a stern school headmaster in the film Gregory's Girl.
Two years later, he earned rave reviews as Liverpool Football Club boss Bill Shankly, in the play You'll Never Walk Alone, and acted alongside Judi Dench in the movie Saigon (Year Of The Cat).
When Chic died in 1985, aged 65, his funeral at Mortonhall Crematorium in Edinburgh was a star-studded affair, with Jack Milroy, Johnny Beattie and Moira Anderson among the mourners.
Connolly read the eulogy and the service was lit up by laughter. Annabel recalled: "The first time I met Billy was at my dad's funeral. I'd asked him to say a few words during the service.
"The undertaker – who looked very worried – said: 'I hope there's not going to be any swearing.' Quite the contrary. There were lots of funny moments. It was very warm, which is what my dad would have wanted.
"He hated people pontificating over someone they didn't know, which happens so much at funerals. There was a lovely moment at the committal when his bunnet – which was lying on top of the coffin – moved and appeared to nod to the congregation.
"It was as if he was saying, thanks very much, and I'll see you when I see you."
When Connolly discovered Annabel was due to marry her partner, Harry Meredith, in Cardiff a few months later, he offered to take Chic's place and give her away at the ceremony.
She said: "Dad and I were great fans of Fats Waller, the American jazz pianist, so Billy walked me into the church to his song, My Very Good Friend The Milkman.
"We did a soft shoe shuffle down the aisle."
---
Council give go ahead 
Council officials have agreed to talks aimed at giving the go-ahead to the statue of Sir Billy and Chic.
The move comes after Glasgow City Council claimed it had forgotten about a previous planning application for the bronze work which has lain in a storage shed for a decade.
We told last week how initial plans to have the statue located outside Colin Beattie's Oran Mor arts venue in the city's West End were rejected a decade ago amid a planning wrangle.
The council insisted there had never been a planning application, only informal guidance, before Mr Beattie provided the 2010 paperwork.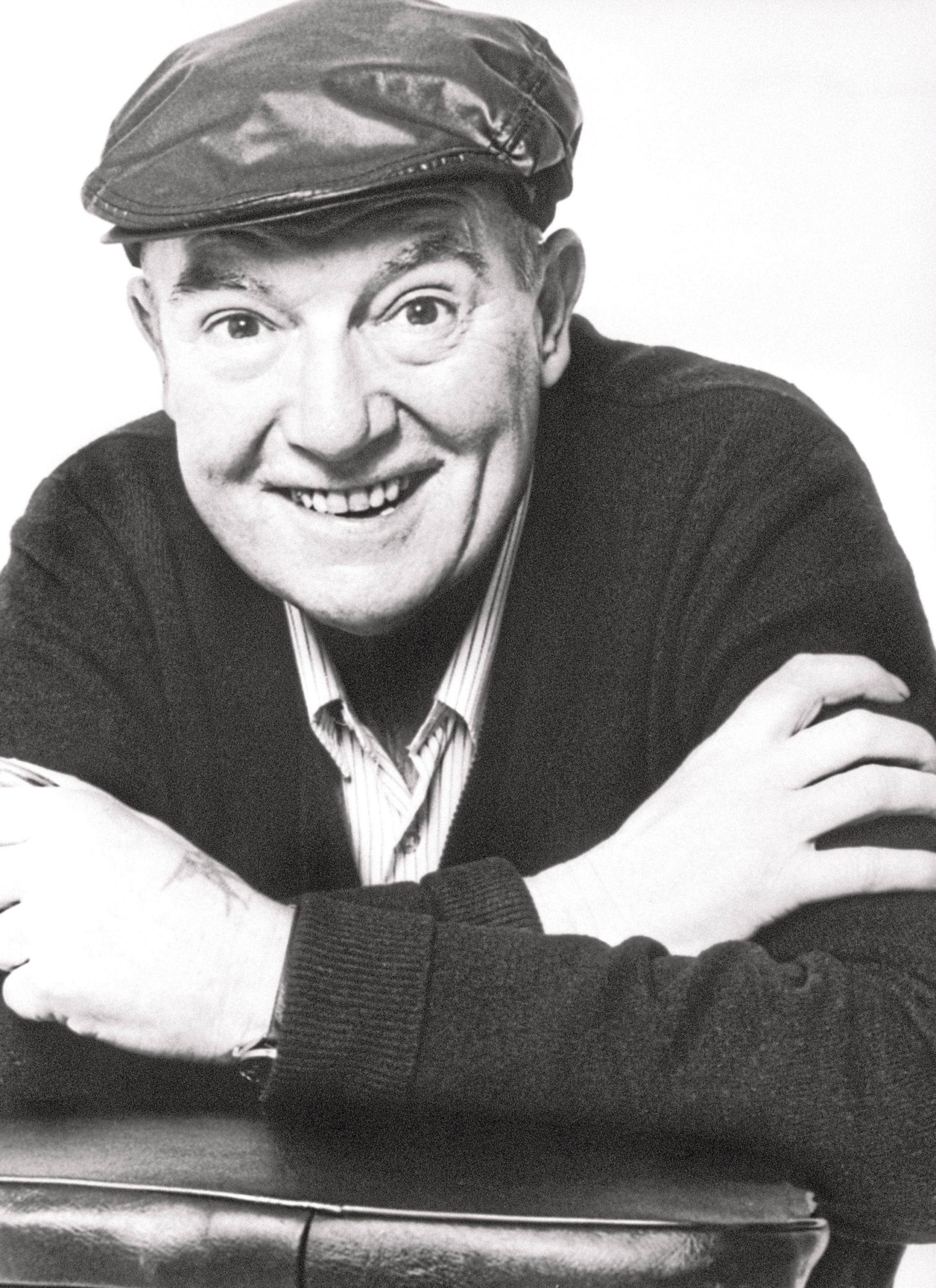 Malcolm Cunning, Glasgow City Council Labour group leader, said: "It's clear there's considerable support to find some way of siting this statue in a public place. I have written to the head of planning seeking assurance that the matter will be actively pursued in a positive way."
Colin Beattie said: "I've been inundated with messages of support since the articles in The Sunday Post. We are now actively seeking to submit a new application and find a home for Billy and Chic. All of this could be done with no public money and, in these times, I think that is important."
Glasgow City Council said: "Any future application that may be submitted would be considered on its merits.
"We will be writing to Mr Beattie to offer him the opportunity to begin discussions. We are very supportive of the idea of placing this piece of art on display."
---
It's not a stand-offish sculpture and fans will be able to sit with Billy and Chic. It's of the people
Sculptor David Annand says his portrayal of Billy Connolly and Chic Murray has been designed to include their fans.
The sculpture depicts the comic legends on a seesaw, with Chis standing on one end while Billy sits on the other.
David said: "It won't be a stand-offish sculpture and people will be able to sit on it, even put scarves on Chic and Billy. I want it to be of the people."
And he explained the thinking behind the seesaw, saying: "The sculpture is a seesaw because I felt one of two men sitting down has been well laboured. It was important to do something different. There is no point in coming up with some hallowed grand sculpture.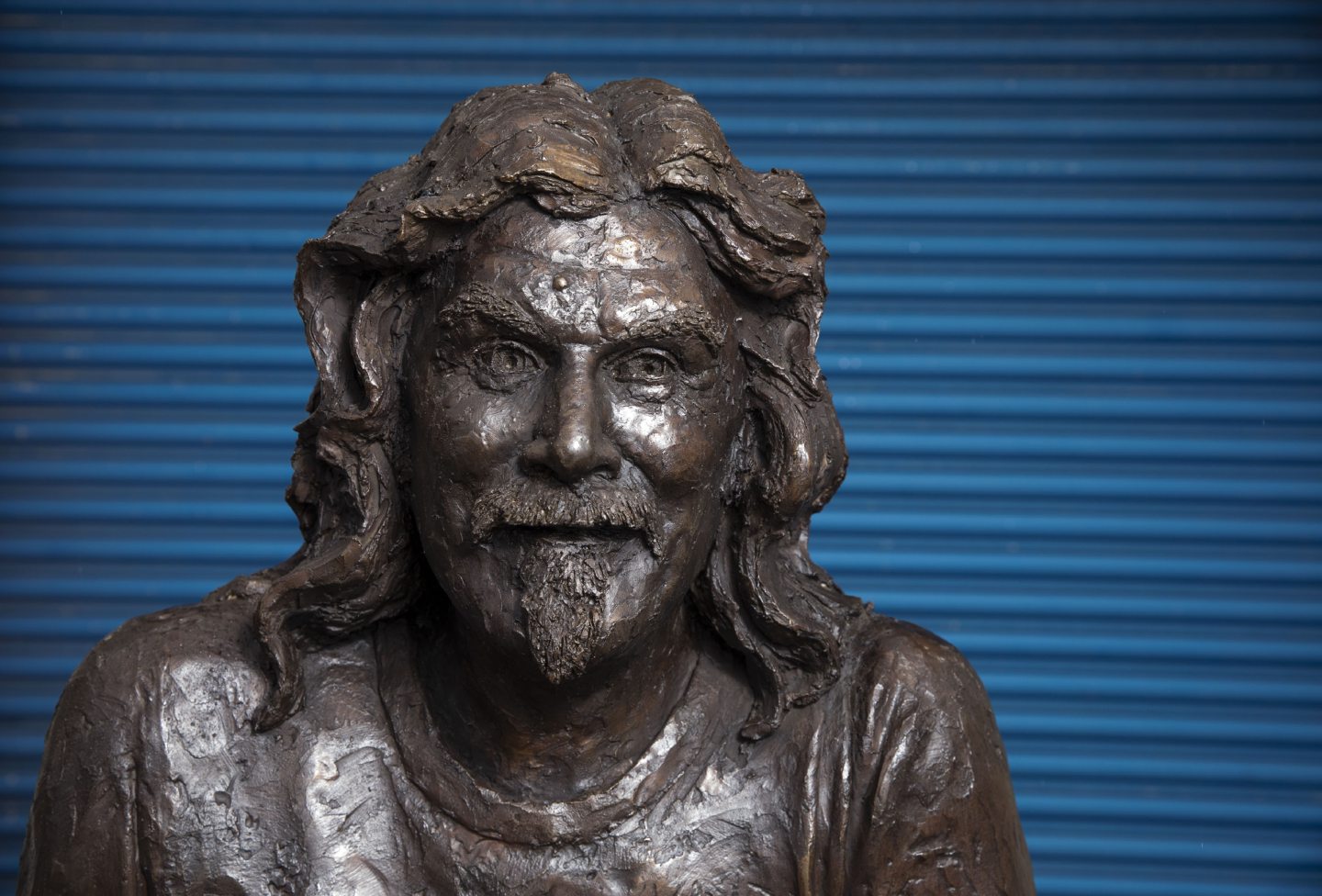 "Colin wanted Chic Murray and Billy Connolly sitting down, so I feel I have come up with a good take on that.
"Chic will be holding a bar of Highland toffee because of a lovely anecdote I heard about him.
"He was lying on the pavement outside an off-licence on Byres Road when a woman stopped and asked him what he was doing down there. He replied that he was trying to break a bar of Highland toffee in his back pocket.
"It was a great response from a brilliant comedian.
"Chic is standing with Billy looking up at him as Billy idolised him. Of course, I need Billy to anchor the sculpture to the ground, which I can do with his sitting pose."
Creating a good likeness from old images is not easy but David watched hours of online videos of Chic performing before starting work.
"I would pause the video and then take screen grabs, several from different angles – from the sides and front.
"You have to watch that the lens does not warp the image because it has to be right.
"I never saw Chic perform and it has all been done through his online performances
"With Billy, it was easier because I have seen him perform a few times, before and after he was diagnosed with Parkinson's disease."
David is backing the campaign to site the Chic and Billy sculpture at the top of Byres Road, outside the Oran Mor venue.
"It's an iconic spot and perfect for them both."
---
Chic – The Hero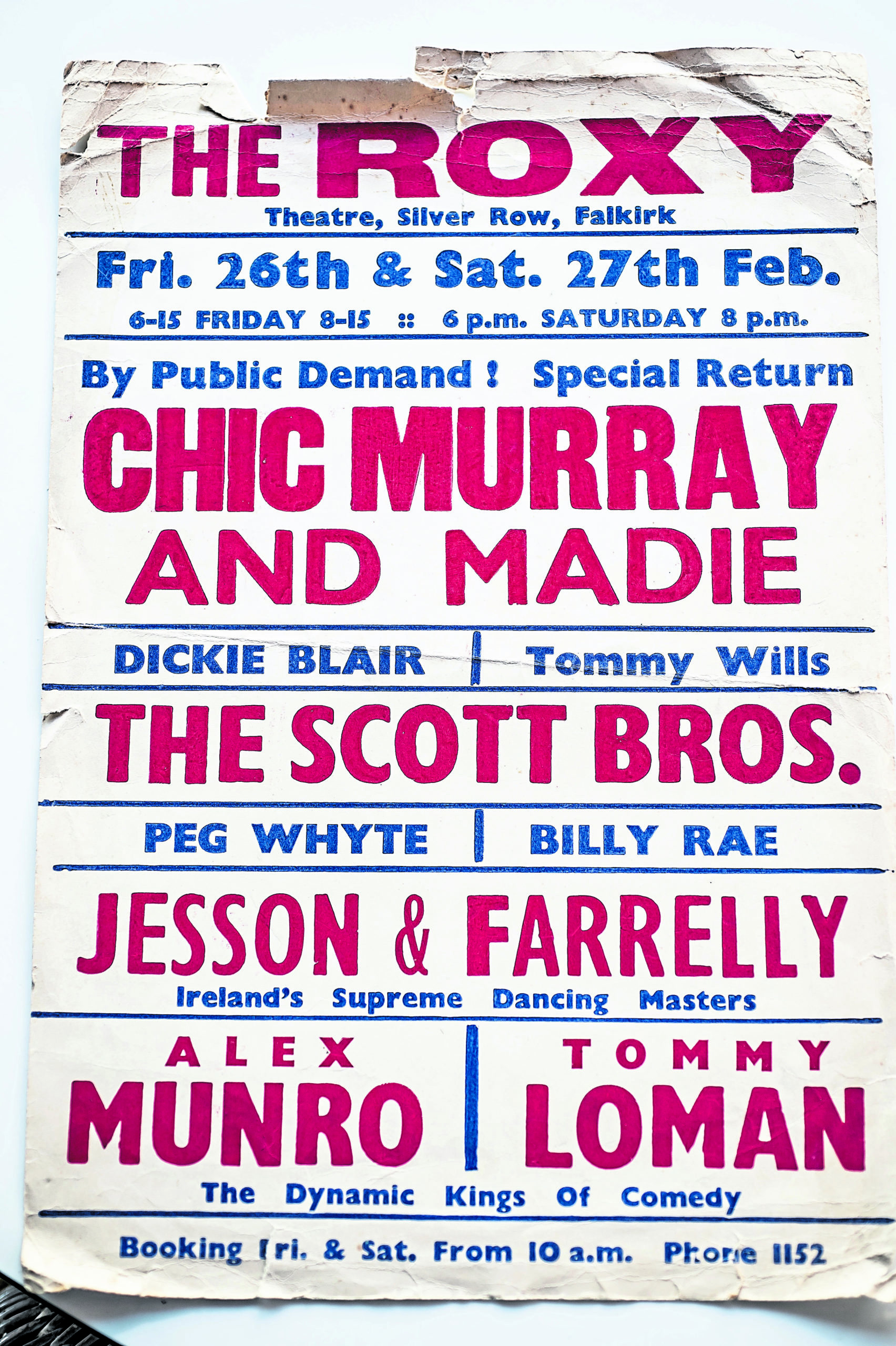 The enduring friendship between Billy Connolly and Chic Murray began when The Big Yin asked to meet his comic hero.
In a biography of The Tall Droll, Connolly recalled: "I first came across Chic when I was a teenager in Glasgow. I'd heard him from time to time on the radio, although his appearances were quite rare – broadcasters seemed to be a bit wary of him.
"He wasn't like the others. His style, timing, subject matter, appearance and demeanour was different. He yodels, for God's sake! He walked alone.
"I remember sitting in a friend's house watching Chic on television. It was one of the very few times I actually fell down with laughter.
"As the years rolled by, I became a comedian myself, but saw little of Chic as we worked in different fields. I was lucky enough to regard myself as his friend, although he never stopped being my hero.
"For a man who walked alone, my hero sure attracted a crowd."
---
Chic – The Gags 
My girlfriend's a redhead. No hair, just a red head.
I went to the doctor and he told me I only had three minutes to live. I immediately asked if there was anything he could do for me. He said he could boil me an egg. I went to the butchers to buy a leg of lamb. "Is it Scotch?" I asked. "Why?" the butcher said in reply. "Are you going to talk to it or eat it?" "In that case, have you got any wild duck?" "No", he responded, "but I've got one I could aggravate for you."
After I told my wife black underwear turned me on, she didn't wash my Y-fronts for a month.
I was in London the other day and this man asked me if I knew the Battersea Dog's Home. I said: "I didn't even know it had been away."
I was taking my dog out the other day and I met this chap who asked me where I was going. The dog was foaming at the mouth, so I explained I was on my way to the vet to have it put down. He asked if it was mad, to which I replied that it wasn't exactly pleased about it.
I said to the farmer: "I'm terribly sorry, but I was driving past and knocked down your cockerel. I'd be happy to replace it." He replied: "All right, the chickens are round the back."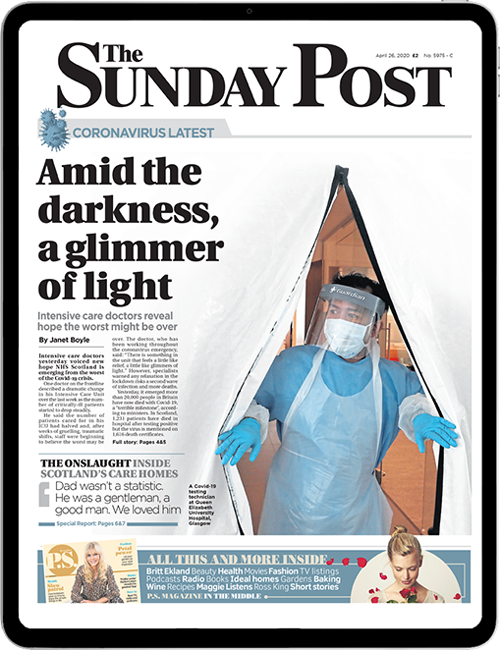 Enjoy the convenience of having The Sunday Post delivered as a digital ePaper straight to your smartphone, tablet or computer.
Subscribe for only £5.49 a month and enjoy all the benefits of the printed paper as a digital replica.
Subscribe