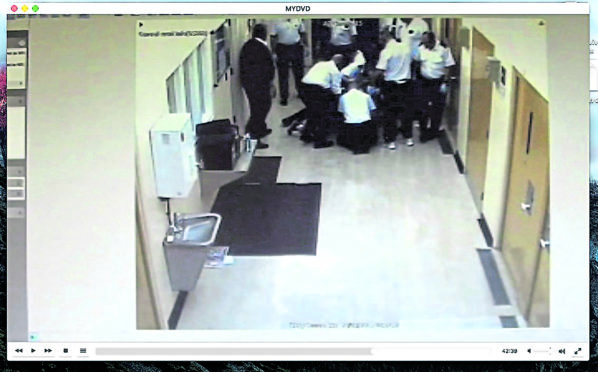 Governors have sanctioned officers using their feet to restrain prisoners despite the "entirely needless" death of an inmate after he was stamped on, we can reveal.
The family of Allan Marshall, who died after struggling with up to 13 prison staff, criticised the decision yesterday and said it defied a key recommendation made by a sheriff after investigating his death.
Sheriff David Liddle had urged the Scottish Prison Service to implement 13 recommendations to improve control and restraint procedures after what he described as Mr Marshall's "entirely preventable" death.
After a fatal accident inquiry into the death of Mr Marshall, who was an untried prisoner at Saughton prison when he died in 2015, he urged the SPS to ban the use of feet to subdue inmates after expert witnesses said it was dangerous and unjustified. One officer had admitted stamping on Mr Marshall and using his feet at least 10 times.
However, while the SPS has adopted eight of the recommendations, it says officers may still use their feet to control prisoners, adding: "There may be exceptional circumstances where staff will require to respond in ways that do not use currently approved techniques."
Mr Marshall's aunt Sharon MacFadyen, 47, from Rutherglen, Lanarkshire, said the decision made a mockery of the sheriff's findings, adding: "The SPS has dismissed the recommendation over the use of feet to control and restrain prisoners even though it was central to the whole inquiry into Allan's death. Those prison officers jumped on Allan. They stamped on Allan.
"We were told at the FAI it was dangerous to use feet and that may have been a factor in the circumstances that led to his death.
"In court at least two officers admitted it had been unacceptable to use their feet on Allan. I feel as if the FAI was a waste of time and money and achieved nothing."
Mr Marshall, 30, died four days after suffering cardiac arrest during a violent struggle.
Prison officers were granted immunity from prosecution by the Crown Office in Edinburgh in exchange for giving evidence at the 2018 inquiry into his death. His family were told by Crown Office officials that the truth of what happened to him would be stifled unless immunity from prosecution was granted to the officer witnesses.
Last week the SPS wrote to Allan's family to say its 18-month review of the sheriff's proposals had been completed, and said it had implemented eight of the 13 recommendations, with work continuing on two others.
The response indicated that a ­paragraph would be added to the control and restraint manual to say: "Working with individuals in a custodial environment can however be highly unpredictable, with a number of possibilities for violence and aggression; as such it is recognised that there may be exceptional circumstances where staff will require to respond in ways that do not use currently approved techniques."
The SPS explained that, where force was used, officers may be subject to investigation and required to justify their actions.
Mr Marshall had been held in prison after appearing at Hamilton Sheriff Court on a breach of the peace charge. He was remanded in custody over unpaid fines and was due for release. At the time of his arrest he had been running a successful electrical appliance recycling business.
On the day of the restraint he had been taken to Saughton's segregation unit after allegedly damaging his cell.
The incident, captured on CCTV and shown at the FAI, showed him being dragged naked, face down and feet first across a corridor with a towel over his face.
During a meeting with Mr Marshall's family in 2019, Scottish Justice Secretary Humza Yousaf apologised for the failures that led to his death and promised answers.
The SPS said: "We have ­considered carefully the sheriff's recommendations. The decision not to accept his recommendation on the use of feet was based on advice from the leading expert in the field.
"We believe the situation we have arrived at, in terms of the implementation of the recommendations and the taking of alternative action, is the best response we can make to the decision of the FAI.
"They will be subject to regular review and of course the feelings of everyone is still with the family for their loss."
Family solicitor Jelina Berlow-Rahman says the law must be changed to make FAI recommendations legally enforceable.
She added: "The family are devastated that one of the main recommendations of the report has been ignored.
"They are being treated with disrespect and there is still no apology or explanation from the SPS for any of their decisions.
"It's almost six years since Allan died and the family are still no nearer the truth of what happened to him in Saughton Prison."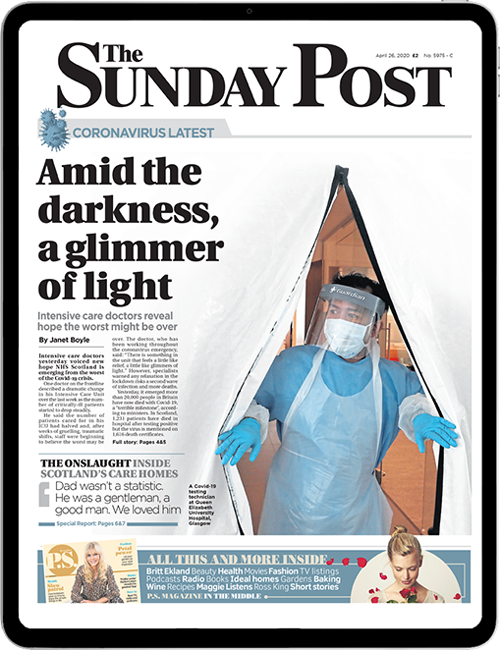 Enjoy the convenience of having The Sunday Post delivered as a digital ePaper straight to your smartphone, tablet or computer.
Subscribe for only £5.49 a month and enjoy all the benefits of the printed paper as a digital replica.
Subscribe