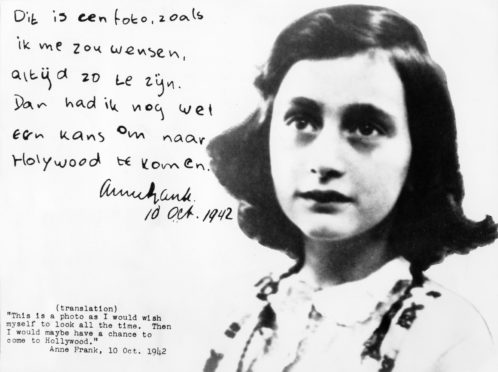 Anne Frank once wrote: "Nobody need wait a single moment before starting to improve the world."
Yet, as Eva Schloss – Anne Frank's stepsister and a Holocaust survivor – surveys the world right now, she does so with concern.
Speaking ahead of Anne Frank + You, an exhibition coming to Glasgow next month to coincide with what would have been Anne's 90th birthday, Eva said there was still so much to be learned from their lives.
"I'm very worried about what's happening in the world now," said Eva, who turned 90 earlier this month and will visit Glasgow for the exhibition's opening.
"We have no good politicians in the world, they are all selfish and full of self-promotion.
"It's a difficult time. Unfortunately, religious prejudice is very much coming back again – anti-Semitism, anti-Muslim, anti-Christian.
"Religion is so personal and uplifting. Why people can't accept we don't all have to believe in the same God or in the same way is incomprehensible to me. It's no one's business.
"We create more and more ­weapons and I'm afraid violent ­people will use them."
But Eva, who has five grand­children, sees cause for optimism in our younger generations.
"There is good in young people and they provide hope. Perhaps they will go on to become politicians.
"I see it in my own grandchildren. They are all peace loving, very conscientious, young people."
As such, schoolchildren are training to be guides for the St Mungo Museum exhibition, which includes a lifesize replica of Anne's secret annex bedroom.
The ambassador roles are part of a schools programme teaching about Anne's life and the Holocaust, while raising awareness of contemporary issues of prejudice and discrimination, such as racism in football.
"They become little teachers to teach other children and carry it on," said Eva. "It's important to teach them at a young age so they don't develop prejudices."
Eva, too, was only young when she met Anne after moving to the same apartment complex in Amsterdam.
Born in Vienna in 1929, Eva and her family were forced to move first to Belgium and then Holland by the German annexation of Austria.
"There was a big open square in front of where we lived in Amsterdam and all the neighbourhood children came there to play," said Eva.
"Anne was always a big chatterbox and needed to have a group of kids around her.
"She was a big flirt and wanted to meet my older brother, but he wasn't interested in girls of our age. I was much shier and looked up to her.
"I think part of the reason we were so different was because we had very different childhoods.
"She had no problems when growing up and hadn't experienced anti-Semitism or discrimination. In Vienna we experienced Nazis and in Belgium they weren't very friendly towards refugees."
Eva, her brother and their parents arrived in Amsterdam in February 1940. Three months later, Hitler invaded.
They carried on with their lives as best they could but, by 1942, they were forced into hiding and two years later were betrayed by a double agent and sent to Auschwitz.
Eva's father and brother didn't ­survive, and she and her mother only just made it out.
"I was there for nine months and couldn't have survived any longer had the Russians not rescued us when they did," she recalled.
"It was January, and I had frostbite and open wounds.
"We didn't know if the Russians were going to look after us or leave us because they were pursuing the Nazis through Poland. But they were so good. They moved us out of danger, fed us, clothed us. They liberated tens of thousands of Jewish people."
Eva and her mum returned to Amsterdam, where Anne's dad, Otto, was struggling to deal with the deaths of his wife and two children, as well as the discovery of Anne's diary.
"Otto visited everyone who knew Anne and her sister. He wanted to know stories about them.
"He came to our house and I was full of hatred, yet he who had lost everything had no hatred. This was incomprehensible to me.
"He told me those I hated wouldn't know, but it would leave me feeling awkward and miserable. He helped me.
"Otto and my mum became close and fell in love. It was wonderful – I've never seen such a happy marriage.
"They had so much understanding for each other, both having lost children."
Eva moved to London, where she met her husband, and they married in 1952, a year before her mum and Otto.
Eva and Zvi had three children together and Otto considered them his grandchildren. He told them all about Anne.
Throughout this time, Eva – who became a photographer and later ran an antiques shop – never talked about the horrors she endured, not even to her own children.
"For 40 years I never spoke about it.
"After Auschwitz, I wanted to talk in order to tell people we had suffered, but the war was so horrendous that people didn't want to hear any more about it in peacetime, which is understandable.
"Then 20 years later, people started to ask questions.
"I endured nightmares for years and years, but those left me when I started talking, which shows it's important to share, especially to your own family.
"I didn't want to burden my children, to tell them I'd suffered."
It was only after Otto died in 1980 that Eva became much more involved in spreading the word of Anne's diary, using it as a force for good as otto had wanted.
She has since talked around the world, written books and co-founded The Anne Frank Trust UK. She still visits America twice a year, undertaking six-week tours where she speaks to rooms of 2,000 people.
In the early days she was annoyed to simply be introduced as Anne Frank's stepsister, having gone through the Holocaust herself.
"I was a bit upset, because I'm a person in my own right. But now I speak often in America, so that has changed. I've met thousands of people – you should see the number of birthday cards I received from around the world!
"When I first started, I found it difficult to speak. I couldn't sleep afterwards.
"I've been doing it for 30 years now and when I go back to my hotel room I do still think about it, but it's more important to speak. I feel better talking about it.
"I'm 90 now and for 50 years I've had a good life, but you never forget.
"I think of myself very lucky to have survived it."
---
Anne Frank Scotland has been working with young people across the country for 11 years.
Paula Fraser, the organisation's project manager in Scotland, said: "The young people never fail to impress, surprise and inspire me with their empathy, insight and creativity.
"They relate to Anne as an ordinary teenager, who expresses her thoughts and feelings so honestly and eloquently in her diary, while trapped in such terrible circumstances."
Pupils from Hillhead High in the city will be acting as ambassadors while the exhibition is in Glasgow.
Lucy Deng, 13, said: "I think Anne's story is very inspiring.
"We should know about this courageous girl who puts the world in a more important place than herself."
Miko Sliwinski, also 13, added: "It is important for Anne's story to live on because some people have no idea of the discrimination and prejudice that is still happening in our world today."
The pupils are looking forward to meeting Eva when she visits Glasgow next week but admitted to being a little nervous about it.
Lucy added: "Meeting Eva will be helpful in understanding the war conditions and prejudices of the time.
"Although sad, we could understand better what it was really like, and find out about Anne and Otto as people she knew so well."
Miko said: "I'm nervous about meeting Eva because she's such an important figure, but I'm sure she has something interesting to pass on to us."
---
Anne Frank + You, St Mungo Museum, Glasgow, June 7-30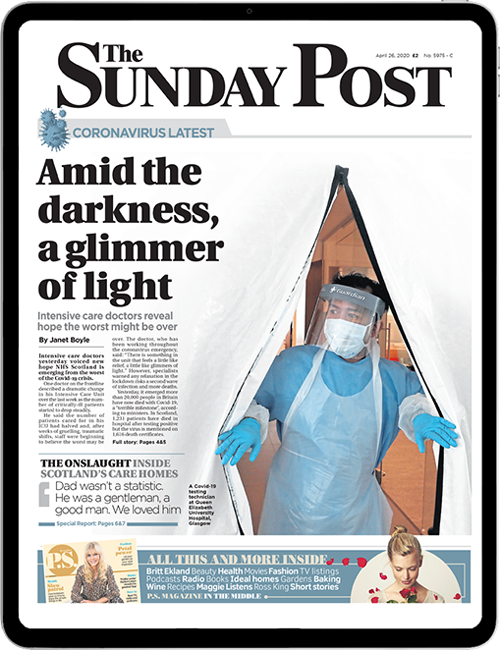 Enjoy the convenience of having The Sunday Post delivered as a digital ePaper straight to your smartphone, tablet or computer.
Subscribe for only £5.49 a month and enjoy all the benefits of the printed paper as a digital replica.
Subscribe