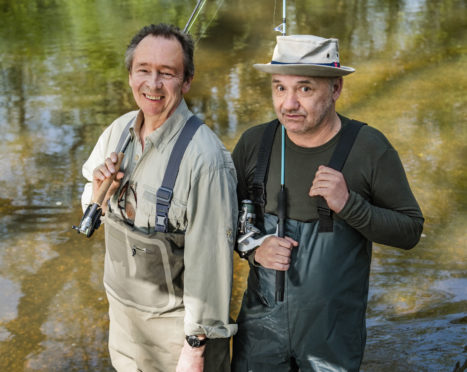 Fishing businesses are fighting for survival as the catastrophic decline in salmon numbers has meant big-spending customers have ditched the sport.
Salmon anglers have traditionally been more affluent and likely to splash out on expensive kit to indulge their hobby.
Top of the range fishing rods for catching salmon can cost as much as £1,600 and reels can be £500 apiece.
But, as the chances of catching a salmon have fallen to the lowest since records began, anglers have stopped buying expensive tackle.
Even Malloch's of Perth – made famous in 1922 when it displayed the biggest salmon caught in Scotland – is now struggling.
Co-owner Elaine Bunting, who has run the shop with her husband John since 2005, said: "It's very tough as there's not as many salmon now. You don't get the same volume of tourists coming through.
"Sales have gone down an awful lot. It's bad, really bad."
John Loftus, chairman and CEO of the Angling Trades Association, warned that smaller tackle shops are being forced out of business.
He called on the Scottish Government to prioritise Atlantic salmon over commercial fish farms, which are a factor in the decline of the species in the wild.
Mr Loftus, who founded fishing shop Daiwa Sports in Lanarkshire in 1976, said: "Scotland was very famous for its salmon fishing but it has been absolutely devastated.
"We have retailers who are members of our organisation who were selling thousands of salmon fly rods in the past but now if it gets to 100 it's a good year.
"It will get below the point where the fish are able to reproduce in the numbers required and they will be about as common as dodos.
"The politicians have a lot to answer for.
"Salmon anglers would spend £1,000 on a fly rod without batting eyelid but the number of shops is declining rapidly.
"As much as people say they go fishing because they enjoy the outdoors and like the scenery, at the end of the day it's fishing – so you're attempting to catch a fish.
"I can remember when I could look over a bridge and couldn't count the salmon and sea trout because there were so many but now you can't count them because there aren't any."
Retailers are increasingly changing their business model to sell gear for sea fishing or catching other species such as rainbow trout.
Scotland is losing the well-off angler to destinations where salmon is more plentiful.
In an example well-known to retailers, three years ago a group of foreign tourists paid £90,000 for a fishing holiday in Scotland but landed just one salmon between them. After declaring it the most expensive salmon ever caught, they started travelling to Russia instead.
Chris Grantham owns Angling Active, one of Scotland's top fishing retailers, and said the business has had to adapt to survive.
His firm – founded 20 years ago with premises in Dunfermline and Stirling – now primarily accommodates rainbow trout anglers while also selling outdoor clothing and camping equipment.
Keen angler Mr Grantham said: "Up until 2010 it was okay but since then it's been on a steep decline.
"From a business point of view, when I look at where my revenue is coming from, salmon fishing is almost not on my radar at all.
"We're a multi-discipline shop. Rainbow trout has been very popular because it's quite consistent. Anglers pretty much know they're going to catch something.
"We can steer more of our efforts in that direction but that type of customer doesn't spend as much on their equipment as maybe a salmon angler would. It doesn't have the same draw as a wild salmon.
Salmon can be caught using either a fly or spinning rod that can be bought new for as little as £100. But research has shown that those fishing for salmon usually have a higher disposable income and so were more likely to invest in pricey tackle.
Second-hand sales of salmon tackle are now on the rise because anglers are selling their kit and turning to other hobbies such as football or golf.
Mr Grantham added: "There's always been a big second-hand market but there are definitely people who are walking away from the sport now.
"My friend is going and watching his favourite football team every weekend now because he was demoralised at not catching anything."
---
Paul Whitehouse, TV comedy star and keen angler
I remember seeing hundreds of salmon at the Awe barrage as a kid. They were everywhere!
The wild salmon is an indicator of clean water, pure habitat generally, and a life-affirming symbol of Scotland.
It's difficult not to see the past and times of salmon-plenty through rose-tinted glasses and the salmon has always seemed under threat, but I remember seeing hundreds of salmon lifted up through the Awe barrage as a kid. They were everywhere!
Salmon and fish don't tend to get the same level of interest from the public as some of our more "cuddly" creatures and mammals do.
So it's usually left to anglers to fight on behalf of fish stocks. But the salmon is a heroic creature and the fact that it might disappear on our watch should galvanise action more generally and certainly from politicians.
The salmon is under threat from many areas: industrial fishing and pollution in our seas and estuaries, global warming, over predation, water abstraction and salmon farming, to name a few.
Many people are trying to improve spawning habitat and areas where juvenile salmon need to thrive but there are so many obstacles to the salmon elsewhere that a "joined-up" campaign at the highest level needs to be introduced very soon if we are to save these magnificent creatures.
---
Paul's book Mortimer and Whitehouse: Gone Fishing – written to accompany the TV series of the same name – will be published on Thursday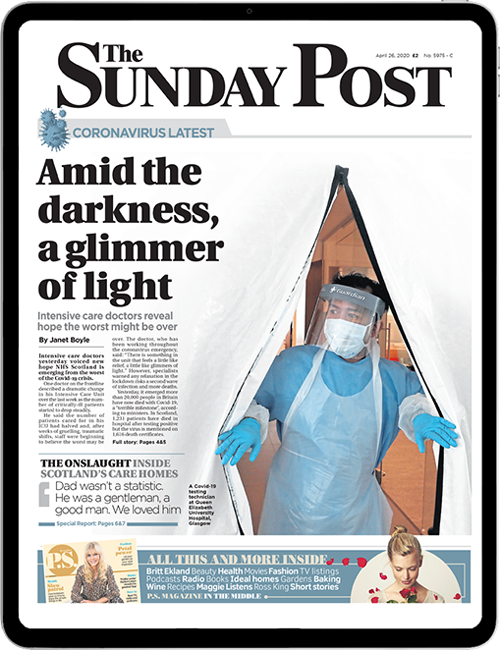 Enjoy the convenience of having The Sunday Post delivered as a digital ePaper straight to your smartphone, tablet or computer.
Subscribe for only £5.49 a month and enjoy all the benefits of the printed paper as a digital replica.
Subscribe