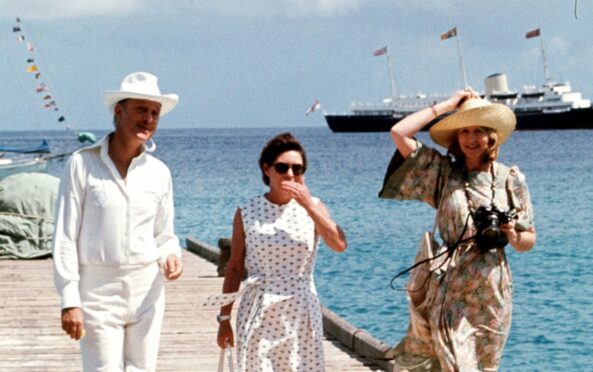 She was a maid of honour at Queen Elizabeth II's coronation and spent decades by the side of Princess Margaret as her lady in waiting.
So Lady Anne Glenconner, now known as Anne Glenconner, knows about royal life – and strife. And she says she sees a stark contrast between how the Duke of Sussex and his great-aunt approached media scrutiny.
Despite being at the top of elite society, Glenconner also admits to feeling invisible at times. That all changed when, at age 87, she became a bestselling author with the publication of her debut book Lady In Waiting, a tell-all memoir about her life serving the royal family.
As well as providing an insider account, Glenconner also surprised readers with her personal tales of heartbreak, loss and despair.
Her resilience in the face of a long-term abusive marriage and losing two of her five children has inspired many.
Now 90, she has a follow-up memoir Whatever Next?, in which she further reflects on events that shaped her life.
Glenconner tells The Sunday Post about living in the shadow of the crown, her volatile marriage, the loss of two children, and becoming a bestselling author.
Princess Margaret's confidante
Glenconner was lady in waiting to Princess Margaret for three decades until her death in 2002.
She published her debut memoir in part to set the record straight about her friend, who she feels was often vilified in the media.
"I was so upset and cross with all the horrible books written by people who didn't even know her. I wanted to set the record straight about what a wonderful friend she was to me" said Glenconner.
"When my Henry had Aids, many people wouldn't visit us but Margaret always did. She would come and hug Henry. She even came with me to the Lighthouse in London, where many young men died. She would make them laugh and tell them stories. They loved her. It's a shame she isn't remembered for that."
Glenconner grew up at her family home, Holkham Hall, near Sandringham and was childhood friends with the princesses Elizabeth and Margaret. "Princess Margaret was my age. We were quite naughty together. We used to ride our tricycles around the marble halls in Holkham which we were not supposed to do," she recalled fondly.
As a lady in waiting, Glenconner often travelled with the princess and acted as a buffer between her dignitaries and admirers. "My job was to smooth everything out to try and get her to do what people wanted to do."
That was often easier said than done. Glenconner recalls losing sight of Margaret at Angel Falls in Venezuela, before, to her horror, seeing the princess flying in a plane over the majestic waterfall.
"We were told we couldn't go up in the plane as it wasn't airworthy. Later, I realised Margaret was gone and the plane had taken off. When she came back down she said, 'Yes I'm having a telling off but I'm back and it's perfectly all right.' I didn't recover for days."
Glenconner also filled the role of confidante. "After a day out meeting hundreds of people, which was exhausting, she'd invite me up for a drink in her sitting room. I'd go up in my dressing gown, and we'd laugh and talk about the day. It made things easier for her.
"Margaret was quick witted and clever. She loved to stay up all night dancing, smoking, drinking and the press has made the most of it.
"She also played the piano beautifully and sang. If she hadn't been born a princess I think she would have gone on the stage or to university. She never complained but she told me she wished she had been educated like the Queen."
Prince Harry could learn from Margaret
Glenconner is sympathetic to the pressures facing the royal family, having served Princess Margaret for three decades. However, she sees a stark contrast between how the Duke of Sussex and his great-aunt approached their difficulties with the scrutiny.
She said: "When people ask me about (Harry), the only thing I'll say is that Princess Margaret was a 'spare' when she was young, so I know how spares really should behave. She never complained about her life. Princess Margaret would never have complained like Harry has done."
Prince Harry, who wrote about his life as a royal and marriage to Meghan Markle in his memoir Spare, published in January, has often been compared with Princess Margaret as a "royal rebel". Yet he has stated he "barely knew" his great-aunt.
On Harry briefly attending his father's coronation before returning to California, Glenconner added: "I saw Harry at the coronation. I was sitting opposite him at a distance and I'm very glad he came. I just think it's sad. I hope he'll find happiness."
She noted the increased public scrutiny, exposure and invasion of privacy faced by the royals today.
"When I started as Princess Margaret's lady in waiting, everybody who came out to see her would wave at her and cheer," she said. "Towards the end, all you saw was a forest of phones. Everybody turned their backs on her to take a photograph. They weren't actually looking at her any more.
"I think it's very difficult for the royal family to feel private any more. It's sad. All is on show."
Glenconner has been vocal of her disappointment of how the Windsors were portrayed in hit TV series The Crown, which its creators have always said is fiction.
"I lived through some of those events," she said. "It is fiction but in America they think it's true."
Highlighting domestic abuse
As well as her insights about the royal family, what also shines through – and has inspired many of her readers – in Glenconner's memoirs is her resilience, particularly in what she endured during her marriage, which she details in her follow-up memoir, Whatever Next? Lessons From An Unexpected Life.
"I lived with domestic violence and abuse for most of my marriage. On some level I always knew that, but I didn't allow myself to think it," said Glenconner, who at 23 married Colin Tennant, son of the 2nd Baron Glenconner.
Over 50 years, Glenconner was subjected to his violent outbursts. He would scream, spit, shove, hurl things at her and once beat her so badly he perforated her eardrum. The attack left her deaf in one ear.
"We were great friends and I loved him but he was impossible to live with. He had a terrible temper which he couldn't control,"said Glenconner.
Leaving was not an option. "When I was expecting my first child, I went back to my mother and told her I didn't know if I could cope. She said 'You've married him, you go straight back'. And I did for 57 years. People in that sort of marriage should not stay in it. Our marriage survived because we lived apart."
A key refuge for Glenconner was a caravan at her husband's Scottish estate, The Glen, near Peebles in the Borders. "Colin would throw these huge, impromptu house parties," she added.
"We kept a gypsy-style caravan in the woods and I'd go there to get away from them. It kept me sane!"
From lady in waiting to gay icon
When Glenconner oversaw the finishing touches to her first memoir, Lady In Waiting: My Extraordinary Life In The Shadow Of The Crown, published in 2019, she didn't expect to become a best-selling author in her late 80s.
Her debut work has since sold more than one million copies and been translated into 18 languages.
Glenconner's candid retelling of the death of her son Henry, who died aged just 29 in a London Aids clinic in 1990, struck an unexpected chord with readers. Her eldest son, Charlie, died of hepatitis C six years later.
"It's amazing at my age to have a world bestseller but what I also wasn't expecting was that I'm now a gay icon!" marvelled Glenconner.
"I receive so many letters from young, gay men because I wrote about my darling boy Henry who died of Aids at the end of the 80s, which was a difficult time because nobody knew how it was caught.
"He was a pariah. It was awful. I remember taking him to A&E when he was very ill. We were in a busy waiting room and within five minutes everyone left because they saw he had Kaposi's sarcoma on his face (a cancer common in advanced HIV that can form masses on the skin) and that terrified people.
"I get so many young men asking me how to tell their parents they are gay. My advice is always that parents probably know so talk to them if you can."
Coronation was a trip down memory lane
Sitting in Westminster Abbey for the coronation of King Charles this month, Glenconner could not help but cast her mind back 70 years to the day she witnessed the crowing of her friend, Queen Elizabeth II.
As the daughter of the 5th Earl of Leicester, Thomas Coke, Glenconner grew up with the princesses near Sandringham and was one of Queen Elizabeth's maids of honour at her coronation in 1953.
"I'm one of the few people to have attended both coronations," she said. "I have wonderful memories of Queen Elizabeth's coronation, but I remember hardly being able to breathe when we started walking. I was concentrating so hard on carrying Elizabeth's chain I felt faint.
"This time, I was actually able to sit and enjoy it all. I had a lovely time."
She added: "I've known (the King) all his life. I'm very fond of him so to watch him crowned, as I did his mother 70 years before, was very emotional."
Finding her voice
After a life in the shadow of others, Glenconner is relishing her turn in the spotlight.
"All my life I have been invisible," said Glenconner, who is 91 in July. "I was a great disappointment to my father and grandfather for not being born a boy as I was the eldest.
"With Colin and Princess Margaret, I was always making things all right for them. I was invisible because Colin was such a huge figure and my role with Margaret as a lady in waiting was to walk several spaces behind her."
She added: "I couldn't have written my books while either of them were alive but then I did and it has been amazing. I've travelled all over the world and spend at least two hours every day replying to messages from fans.
"I've come up with a bang and have never had such a good time."
---
Whatever Next? Lessons From An Unexpected Life by Anne Glenconner will be published in paperback on June 15 by Hodder & Stoughton. She will appear at the Borders Book Festival on June 17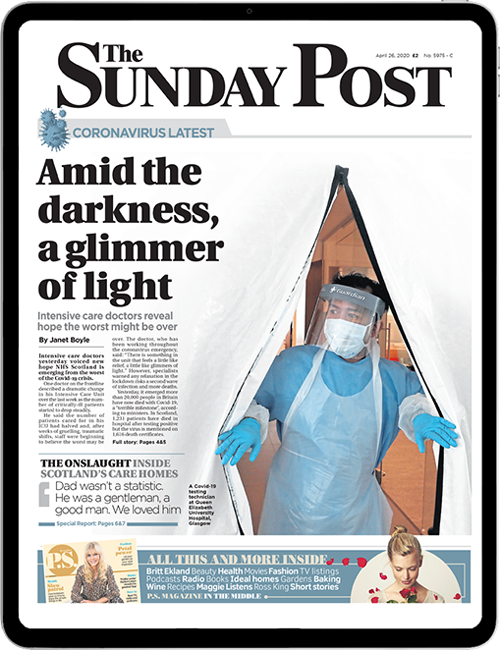 Enjoy the convenience of having The Sunday Post delivered as a digital ePaper straight to your smartphone, tablet or computer.
Subscribe for only £5.49 a month and enjoy all the benefits of the printed paper as a digital replica.
Subscribe