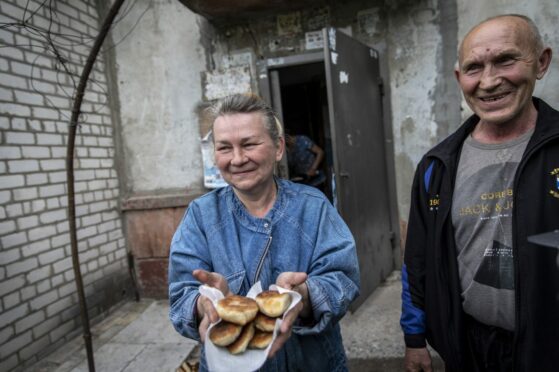 Marina and Oleg Evdokimov do not know if they will live to see their loved ones again.
As she gathered a pile of fresh buns to share from her makeshift kitchen on the steps of an apartment block damaged by shelling, Marina asked if she could send a final message to her friends and family who had fled Severodonetsk in case she perishes in what is currently the most ferocious ongoing battle in Ukraine.
"My neighbours, my friends, if you don't see me again, I give you big, big, strong heartfelt greetings from the city of Severodonetsk," said the 52-year-old over the roar of nearby artillery.
"I love you all and am kissing you tightly here," she continued, her voice trailing off as she wept.
"My daughters," cried Marina. "I think my daughters will see me again."
Severodonetsk has emerged as the main focal point of the invasion as thousands of Russian troops try to capture this last remaining corner of Luhansk region still under Ukrainian control. With the city surrounded by the enemy on three sides, the only way out is to cross the Siversky Donets River to the adjacent city of Lysychansk.
Soldiers guarding the bridge warn those making the crossing to move quickly so as not to attract the attention of enemy spotters.
Beyond Lysychansk, there is only one paved highway out of this pocket of Ukrainian-held territory to the rest of the country. Vehicles are advised to speed at least 90mph to avoid being targeted by Russian artillery.
As invading troops inch closer to Severodonetsk's centre, Russia is protecting its slow advance with an overwhelming firepower that is destroying the city. The streets are littered with the remains of vehicles, while the majority of buildings bear scars from shelling.
Parliamentary human rights ombudsman Lyudmila Denisova said on her Telegram channel last week that the city is becoming "a new Mariupol," in reference to the port city in Donetsk region that was almost completely destroyed in a months-long siege.
In the middle of the battle are an estimated 10,000 residents. Electricity, water and mobile services have all been severed, while the only available food and medicine come from the aid workers who still dare come.
Marina, whose children and grandchildren are safely away in central Ukraine's Kirovohrad region, said: "What we have here is terribly hard, of course, but somehow we already live with it."
When asked why they had not evacuated, Marina and Oleg said that they had originally wanted to take care of the neighbourhood cats and dogs that had been left behind by their evacuating owners.
Oleg added that finding somewhere else to live had also seemed like too much of an expensive bother. Above all else, he said, he had little appetite to leave his hometown in spite of the danger.
He added: "I would like to die at home."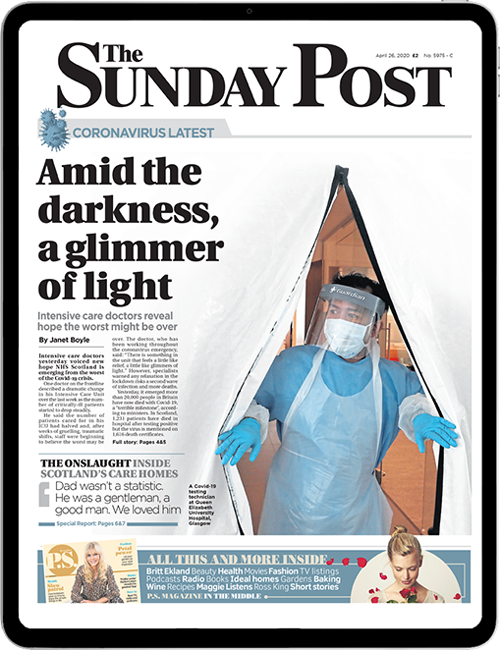 Enjoy the convenience of having The Sunday Post delivered as a digital ePaper straight to your smartphone, tablet or computer.
Subscribe for only £5.49 a month and enjoy all the benefits of the printed paper as a digital replica.
Subscribe