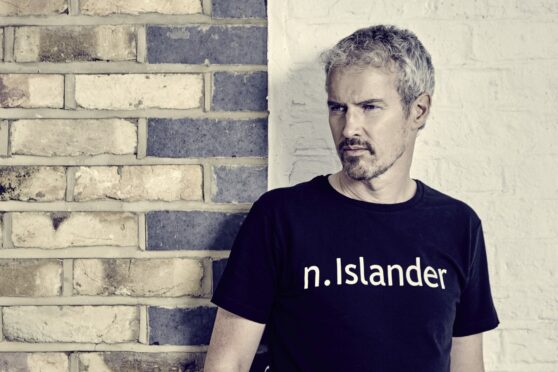 It is Britain's most famously, dazzlingly coloured street but, for Colin MacIntyre, Tobermory's main drag is the colour of home.
He hailed the island of his birth in his stage name but, while the musician behind the Mull Historical Society left to start university in Glasgow, he is never far from home.
There's the cabin in the woods near his home, which he named Calgary after his favourite beach on Mull, and in his garage hangs a giant mural of Tobermory's main street, originally used as the set backdrop for the stage adaptation of his acclaimed novel, The Letters Of Ivor Punch.
"Wherever I go, I name things after Mull; I'm a bit of a one-trick pony," he says, laughing. "It felt distinctly right in my mind to call my musical identity after my island. I find it an endless source to tap into, that idea of isolation but, more than anything, community.
"With the amazing backdrop of Tobermory main street in my garage, I can pretend to be walking down that road whenever I want."
There is one building on that mural in his garage on the outskirts of Glasgow that MacIntyre always focuses on, and it is not just because of its unusual architecture complete with little turrets. It is a building the 51-year-old musician and writer frequented often as a child and which he says shaped him as an individual and as a creative.
And, in a strange quirk of fate, it is where he will record his next album this summer. "My friend, Gordon Mclean, who ran the An Tobar venue on Mull, recently set up a recording studio, and you could have knocked me down with a feather when he said he'd found this seafront premises, because it is my grandparents' old house, which I haven't been in for 20 years.
"My grandfather, Angus Macintyre, was the manager of the Clydesdale Bank and lived in the flat above. He was a real character; a published poet known as the Bard of Mull. People would leave the bank flat with a poem stuffed in their pocket, quite a few drams in them, and an overdraft they hadn't asked for. He was a huge inspiration to me as a poet and writer. The room he composed and wrote in, and where I spent a lot of my childhood, is the room where I'll record the new album."
It is not just the venue that marks MacIntyre's next record as a special one, but also the concept. He has asked some of his favourite authors to provide the words for this next collection of songs, and MacIntyre will construct the music around those lyrics citing Elton John's work with Bernie Taupin as inspiration. "As someone who has been solo all my life, I've always been intrigued by how Elton works with Bernie, so I asked a dozen of my favourite authors to provide the words and I'll write the songs from those.
"The name of the album is In My Mind There's A Room and I've asked them to write about a room significant to them. Ian Rankin, Liz Lochhead, Nick Hornby and Alan Warner are some of those involved. One of my favourite writers ever is Sebastian Barry, and he's written an evocative piece about the house his grandmother and aunts lived in that he hadn't been back to for 60 years."
MacIntyre is also embarking on the next part of his journey as an author. Shortly before Christmas, he signed a two-book deal for a set of new crime novels that will feature Ivor Punch, the character from his first novel, which was published in 2015 and won the Edinburgh Book Festival's First Book Award. He has also written non-fiction and children's books.
Before those projects are realised later in the year, however, MacIntyre has had cause to look back. He will release an 80-track boxset, Archaeology: The Complete Recordings 2000-2004, as well as vinyl reissues of his first three albums – Loss, Us and This Is Hope – next month.
"I've enjoyed the process and I suppose the catalyst for it was the 21st and 20th anniversaries of the first album, Lost, and second album, Us," he continued. "My most recent Mull Historical Society album, Wakelines, was produced by Bernard Butler and he'd just done a reissue of one of his and he told me about Demon, the record label.
"I'd moved house just before lockdown and I now have more space, so I was able to get into things that had been in storage for years – stuff from the early tours and various mixes and demos. For the first two albums, especially, I recorded 30-odd songs for each. It's nice to give them a place now. The booklet that comes with the box set was quite a lot of work, too, but I keep everything and I'm quite organised, so I had all of the unused artwork in one big file, for example.
"I named it Archaeology, not just because of the sense of digging, but also because the group I named myself after are now known as the Mull Historical And Archaeology Society. Also, the excavation of going through all of the memories that came from remembering how these songs came about."
His debut, Loss, was about the passing of his dad, the former BBC Scotland political correspondent Kenny Macintyre, in 1999, as well as about life growing up on Mull.
"I'd lost my father quite suddenly, so grief and where to put it became a subject, but I also wanted it to be a celebration. That idea of coming from an island and a small place and how it impacts on you, as well as the relationship between the island and mainland and of looking out from an island but also knowing you have something special there. After Loss comes Us, which is about who remains and having each other.
"The third album, This Is Hope, was made in Bearsville Studios near Woodstock in upstate New York, part of an empire built by Albert Grossman, Bob Dylan's manager.
"So many acts had recorded there – Dylan, The Band, Crowded House. It was a little tired by the time I got there and there were loads of power cuts – I felt like I was back on Mull – but the desk we were using had been used by Dylan and Janis Joplin's Mini was still in the garage. The album was very much written with the idea of the Atlantic in mind, with me coming from the west coast and my wife being a New Yorker."
MacIntyre also discovered lots of memorabilia from his early touring days, when he was on the road with huge names like R.E.M. and The Strokes.
"I discovered a red wine bottle – long drunk, but I didn't realise I still had the bottle – which has a note attached to it with a piece of gaffer tape, which reads, 'To Mull from Michael and R.E.M.. Sorry I couldn't get you Buckfast but this will have to do'. Michael Stipe, even knowing that reference point was really impressive, I thought.
"I have lots of memories from doing this and it's nice to have all of it out now and in one place, because it's part of the journey."
To mark the anniversaries of the first two albums and their re-releases, Mull Historical Society will play a full-band show at Celtic Connections, playing both Loss and Us in their entireties.
"To play them live like this for the first time really does feel quite exciting and special, because, while we write songs to understand ourselves and the people and world around us, ultimately we do it because we want to connect with people and find out if they feel the same way," he added. "Hopefully, the themes of the albums have meant something to people and it's an honour if they do.
"There's songs like The Supermarket Strikes Back and The Final Arrears, which was my biggest chart hit, which I've played a lot over the years, but there's also quite a lot I've never played live before, so it's nice to have them reach an audience in a live way."
---
Mull Historical Society, Saint Luke's, Glasgow, February 3. Archaeology box set is out on February 24.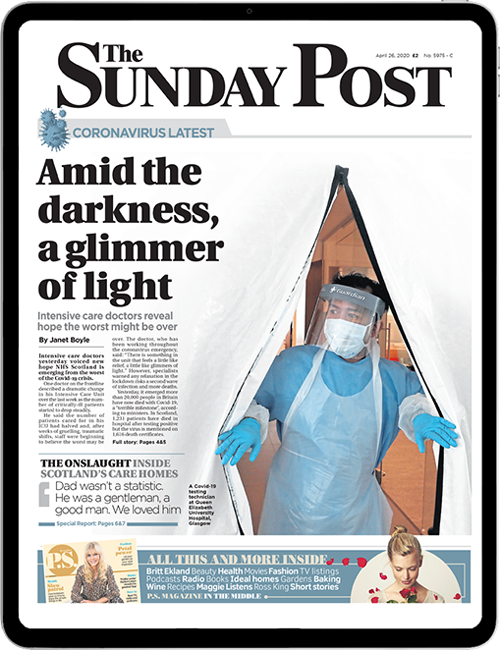 Enjoy the convenience of having The Sunday Post delivered as a digital ePaper straight to your smartphone, tablet or computer.
Subscribe for only £5.49 a month and enjoy all the benefits of the printed paper as a digital replica.
Subscribe