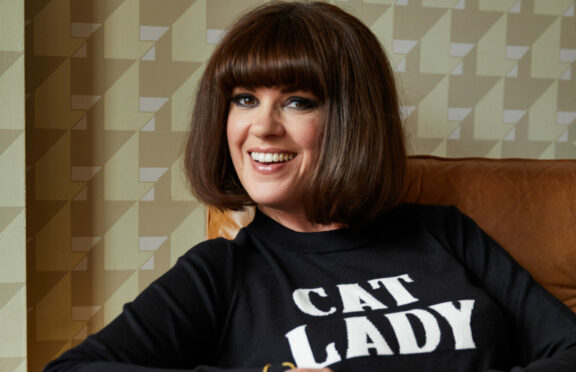 "Oh look who's just popped up to say hello. She is gorgeous but she eats all my favourite shoes."
Zooming in from her home office in Los Angeles, novelist Dawn O'Porter is cuddling the family's new seven-month-old rescue puppy, Puffin, as we make introductions. It's the kind of scene that's become familiar over the past few years, as the pandemic moved press junkets and interviews from swanky hotels and restaurant to video calls from celebrity homes, but not one that feels staged or forced – at least not with O'Porter.
Fans of the 43-year-old's Instagram account – there are more than 520,000 of them – already know that, despite living in Hollywood and being married to a fully-fledged A-list celebrity, actor and comedian Chris O'Dowd, everyday life is pretty, well, normal for O'Porter. When not working on her best-selling novels, she's dropping her boys, Art and Valentine, off at school, cooking elaborate meals for friends, and spending time with the family's cats, Myrtle and Boo, and dogs, the aforementioned shoe-eater, and older rescue Meatloaf.
Red carpets, glitzy award ceremonies and rubbing shoulders with movie stars are few and far between.
"Honestly, I feel so disappointing," O'Porter explained with a laugh. "Most of our friends aren't in the public eye here, and we do most of our socialising at home – we entertain a lot, I cook a lot. We go to industry stuff sometimes, maybe a couple of times a year if Chris is in something or if it's a friend who we're going to support, but LA is not quite what people think it is.
"A lot of things, just by saying it's in LA, people presume are glamorous, but I don't feel like I live a very glamorous life here. I mean, Chris and I are going out tonight, but we're just going to the Hollywood Improv, and we're going to watch comedy, eat chicken wings and drink beer.
"I don't think LA is like it used to be. Celebrity has changed. Instagram has made everyone so famous it doesn't hold that same excitement. I also very rarely see people – I can't remember the last time I randomly saw a celebrity. I guess I walk into bars with one all the time, and maybe people feel that way because they see Chris, but I can't remember the last time I just saw anybody.
"The honest truth is my life really just revolves around my kids and other families with kids. That's the majority of our life, just being parents. I wish I had a better answer. I wish I was like, 'Oh yes, we're at the Chateau Marmont, every second Friday schmoozing with A-listers' but it's just not the case."
Born in Scotland before moving to Guernsey at a young age, O'Porter studied acting at the Liverpool Institute for Performing Arts then pivoted to television presenting in the early-1990s. She enjoyed success fronting popular documentaries, including Super Slim Me, which saw her attempt to shed pounds to become a controversial size zero, and My Breasts Could Kill Me, an exploration of breast cancer, the condition her own mum died from at just 36 years old, but admits her current career was always the secret dream.
As well as writing regular columns and articles for the likes of Glamour magazine, her first book was published in 2006, with eight more following over the years, including her debut novel, The Cows, and her latest story, Cat Lady, both of which hit the Sunday Times top-10 best-seller list.
"I always, always wanted to be a writer but when I was younger that imposter syndrome and the idea of writing books was just too much to bear," said O'Porter, who changed her named from Porter after marrying O'Dowd in 2012. "It was almost like this secret desire that I had inside of me that was always going to be the end goal.
"I started off wanting to be an actress and went to drama school but hated acting. I didn't do anything with that, thank God, because the idea of two actors being married to each other is just too much. So, then I went into presenting, which I loved and always really wanted to do, but I never really got the presenting job that I really wanted. I think every TV presenter in the world wants their own chat show, and that was all I wanted, too.
"I realised that TV, and what my role seemed to be in TV, wasn't really what I wanted to do. That box was ticked and I'd done it and that's great. And all of those amazing documentaries that I did, where I met the weirdest and most wonderful people and travelled, all makes me a better writer now having met those people and lived that life.
"I have done so many other things, but I feel like it was all gearing up to material for me being good at writing novels. I look back on it all and I'm like, 'Oh my God. I did so much and did so many things' and now it may seem like I do lots of different things, but I feel like it's very contained."
She added: "When you work in the entertainment industry, up until a certain point, until it feels too stressful, you should just try everything. Being able to look back on your career and say, 'Oh I used to do that' is really fun – but at some point, for me it was around the time that I had babies, you've got to be like, 'I don't have to do anything any more'. You start to feel the value of saying no."
O'Porter may have learned to say no and slow down, but she still makes time for her passion projects, including a clothing collection with vintage-inspired brand, Joanie, and working with the refugee charity she co-founded, Choose Love.
There's also the new series of her weekly podcast, Get It On with Dawn O'Porter, which sees her interview interesting people about their clothing choices, discussing why what we wear has such a huge impact on our personality, confidence and everyday life.
Guests on the podcast have so far included the likes of film director Dee Koppang O'Leary, radio DJ Fearne Cotton and singer Sophie Ellis-Bextor, and O'Porter says it has been nice to return to her hosting roots in a new medium that, unlike television, isn't heavily edited. The mum-of-two said: "What we wear is such a huge part of our lives. Even the people who are like, 'I don't care about what I wear, I don't care about what I look like' can still hold a 30-minute interview about why they dress the way that they do.
"What I love about the show is even people who think they've got nothing to say, realise they've got so much to say about the way they present themselves.
"The lovely thing about podcasts is, the more the chat goes on, the longer you want it to go on. You just get used to the rhythm of conversation and the tone of somebody's voice. You'll accept more information and you'll give people a lot more of a chance to speak than you would if it was on TV."
With a unique and eye-catching personal style (today, on our Zoom call, a neon pink jumper accessorises her trademark bob) and a wardrobe filled with vintage clothes, O'Porter admits she first started dressing "flamboyantly" to get noticed and improve self-confidence in her 20s. It was a decade, she says, that was fraught with a desire to "not be forgotten" – something that was sparked by the death of her mum when she was just seven.
She explained: "My mum died when I was quite young and I always had this thing inside of me saying, 'Don't waste time, make an impact, be big, be bold' which was all tied to the idea of being forgotten and dying young. It all sounds very morbid – it didn't feel that way – but it was absolutely a driving force inside of me. It has definitely plateaued now, but you can see the results of that feeling.
"My 20s were a massive quest to get noticed, so apologies to literally everyone who was near me during that time. Now, as a 44-year-old woman in three weeks, that need to be noticed is not something that drives my day at all.
"In my career, I'm saying no to everything. I have no interest in being on TV – all of that stuff just kind of goes away. What I'm left with is the way that I dress and the way that I present myself on a daily basis, which is doing all the hard work for me. The way that I dress is very much the result of decades of trying to get noticed, and I'm now left with the easiest, most chilled-out possible way, in my opinion, to do that – whack on fluorescent pink kaftan and then sit quietly in the corner."
Love of Scotland goes on
Dawn O'Porter may have moved away from Scotland when she was just a toddler, but the writer says being Scottish is a part of her soul – and regular holidays to visit her dad help keep the connection alive in her kids, too.
"Scotland is very emotional for me," she explained. " I was only one when my mum and dad got divorced, and we moved down to Guernsey, but I hold on to the love I have for my dad, how much I adore him, and that's all wrapped up in Scotland, the summers and Christmases we spend there.
"We usually go up to Loch Lomond, where he lives, but last summer we did a week in Ardfern where my dad's best friend, Ronny Brown – give him a shout out – lives.
"The weather was perfect, the water was so calm. It was my sister and her partner, Al, and her kids, and me and Chris, and our kids, and my dad and his life-long friend, out on the fishing boat catching line after line of mackerel and pulling up lobster pots, which we ate that night. It was one of the best holidays we've ever had as a family."
She added: "That trip just reminded me of how beautiful Scotland is – that drive from Glasgow to Ardfern! It was hard to concentrate on the road because it was just so beautiful. My kids thought it was the best holiday they've ever been on."
---
New episodes of Get It On With Dawn O'Porter are available every Tuesday from Global Player and other podcast platforms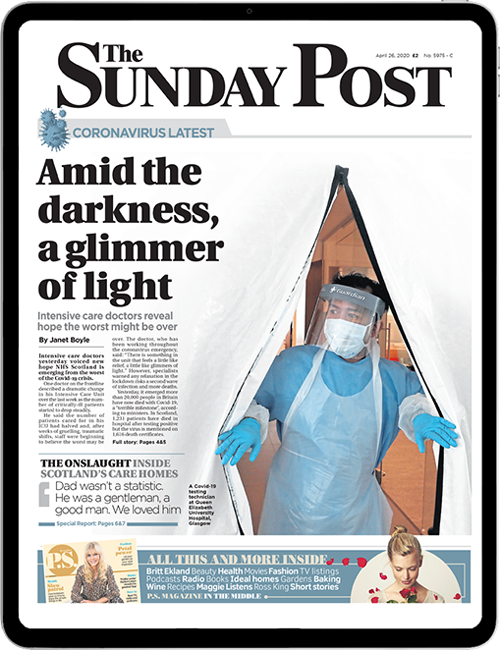 Enjoy the convenience of having The Sunday Post delivered as a digital ePaper straight to your smartphone, tablet or computer.
Subscribe for only £5.49 a month and enjoy all the benefits of the printed paper as a digital replica.
Subscribe