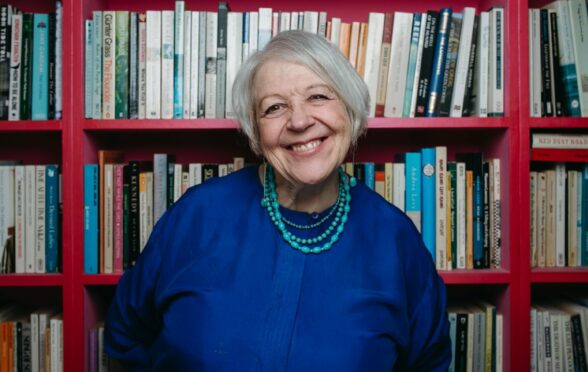 People's poet Liz Lochhead is recovering from "pulling an all-nighter" when P.S. catches up with her at her home in Glasgow's leafy West End.
"I should be too old for all that," the 74-year-old laughs.
Clearly, she is not. This was our third attempt to pin down Scotland's second modern Makar – successor to Edwin Morgan – to chat about the 50th anniversary edition of Memo For Spring, the collection that set her on a path to literary stardom.
But it transpires the "all-nighter" that scuppered us first time round was hotly followed by an afternoon on the town with family that led to a chance meeting with 80-year-old chums that, in turn, morphed into a night at the theatre where she bumped into "dear friend", the actress Joyce Falconer, better known as Roisin from River City, and a clutch of other young thespian pals.
With circuitous anecdotes and an effervescent, couthy vernacular – of which The Big Yin himself would be proud – the writer bubbles: "The people I went to the play with asked if I was free that night and I said 'Yes! Very, very free. I don't have to be home until 10 in the morning to speak to The Sunday Post.' So we whizzed off to Greenock and saw this fabulous play Interiors by award-winning company Vanishing Point.
"It was magic. I got in at midnight, having met lots of younger actor friends on a night that I didn't plan at all. It was meant to be!"
"Meant to be" could be the motif for Lochhead's life. The woman who grew up in a Lanarkshire mining village is one of the UK's leading poets with the Queen's Gold Medal for Poetry to show for it.
She first burst on to a male-dominated poetry scene half a century ago with a voice so fresh and relevant that it broke new ground, paving the way for the likes of Ali Smith, Jackie Kay, Kathleen Jamie and Carol Ann Duffy.
But Lochhead – also an acclaimed playwright and artist – reveals she hadn't planned on publishing the poems she wrote for herself between the ages of 18 and 24 while a student at Glasgow School of Art. She just happened to be a supporting-artist poet to the late, great Norman MacCaig at Edinburgh University's poetry festival in February 1972 when she drew the attention of her first publisher Gordon Wright.
Lochhead recalls: "I didn't try to get published. Gordon asked me 'do you have any more poems?' and three weeks later he was ready to publish Memo For Spring. He printed 1,500 and sold them in three months, so he printed another 3,500 and sold them out. That's amazing for poetry.
"The thing is, there were all these women in Scotland who said it was such an inspiration to them; this girl who lives in a council house writing poetry.
"Ali Smith is 15 years younger than me. Just before she did her Highers, she was babysitting for someone and noticed they had a copy of Memo For Spring with my photograph on the front and 33 poems inside. She fell in love with it.
"She later told Gordon that wee book meant a lot to her because I was Scottish, working class. Now she has written the introduction for the anniversary edition and I wrote the preface."
She adds: "It was very hard to write without being up myself. But the book was, in poetry terms, my greatest hits. Nothing else has ever set the heather on fire in that way. Revisiting it wasn't actually fun. I don't have regrets but it churned up a lot of things in my life."
For years, Lochhead was a rover, moving to Bristol the year after the debut collection, then to Turkey with her boyfriend of the time, a Turkish Marxist. After a spell back in Scotland and some travelling with friends, she lived for a couple of years in Canada before meeting another guy in New York. But at the start of 1980 she was offered a job as writer-in-residence at Duncan of Jordanstone College of Art in Dundee that she "couldn't resist."
Back on home turf, friends invited her out for a drink where they introduced her to the "gorgeous guy" she was to eventually marry, architect Tom Logan. They finally got together three months later at a New Year party. "By the end of that month we decided to live together," reveals Lochhead. "I'd been with people I planned to marry and I hadn't. I had been single all through my 30s really. I met Tom at the right time."
The couple married in 1986 but never had children. She says: "When I got together with Tom, he was 32 and divorced. I was 38. I had an ovarian cyst when I was 20 and only had one ovary. We never decided not to have children but we didn't mind that it didn't happen for us. We got nearly 25 years together."
The love of her life died in 2010 after a short but brutal illness. She recalls him being unwell during the Easter weekend at their caravan on the west coast. It was to be their last trip there together.
She says: "A few weeks later he was given a diagnosis of pancreatic cancer and five weeks later he was dead – a month before his 56th birthday. I was 62."
Six months later she became Makar. Lochhead admits: "If it had happened any other time I'd have said no. But I got the phone call completely out of the blue, and I turned to my sister and said, 'God, what should I do?' And she said, 'What would Tom say?' It was a lifesaver, actually. It forced me to get out and to work. "
While she never intended writing about her grief, she was asked by the Scottish Book Trust to pen a poem about her favourite place.
"I decided to write the truth about my real favourite place – Tom's and I's caravan. A lot of people say the poem Favourite Place makes them cry.
"I do not write things to make people cry, I try to write the truth. I much more often make people laugh.
"I probably wouldn't have persevered if it hadn't been my job. But I am pleased that poem has meant a lot to a lot of people because they experienced the same thing."
Memo For Spring – with its themes of pain, acceptance, loss and triumph – is described as "accessible, vital and always as honest as it is hopeful".
But has the world for which she writes changed since that heady beginning in 1972? Referring to her image on the cover, taken by Wright, she smiles: "Such a sweet wee girl, which is not what I was I really like. I remember a famous critic of the time saying he really fancied me when he saw the cover but was disappointed when he met me. This is the kind of thing guys thought was OK in 1972.
"It's not got worse, it's just that people are calling it out. Incels (involuntary celibates) are expressing something we have always been living with. The gender wars are a nightmare.
"I support people to be happy and be what they want. But they want me to call myself a Cis woman (cisgender – meaning your current gender is that which was presumed for you at birth). I'm just a woman.
"I'm glad #MeToo happened and Harvey Weinstein is in the jail. I don't know any women who have not suffered some form of sexual harm. But it's ridiculous when somebody accuses someone of sexually assaulting them for making a joke 25 years ago. Everything is context. "
Having her wings clipped during lockdowns was not easy for Lochhead, though she made the most of her time crafting some new poems and painting and drawing. There were virtual gigs too, mostly for charity.
Like many of us, though, it exposed thoughts of her own mortality. Does she consider she has a legacy?
"Noooo," she exhales long and slow. "I don't care if my name is forgotten later. I don't worry about posterity. And I don't think that if I don't write any more poems Scottish literature will be worse off, but I'll be worse off.
"This is my 75th year. My dad died when he was 74. My mum was dead already at the age of 71. I don't mean I'm living on borrowed time, but I don't go wasting any time any more. It's not that you should treat every day as the last day of your life – it's all about the moment."
And as if bang on cue, the playwright who last month featured on BBC Radio 3's Arts & Ideas announces: "I'm hoping to go to Dundee next week because a friend of mine is having a 40th birthday – if it's not cancelled by Covid."
We sense another "all-nighter" in the making.
---
Memo For Spring, by Liz Lochhead, is published by Polygon, available March 3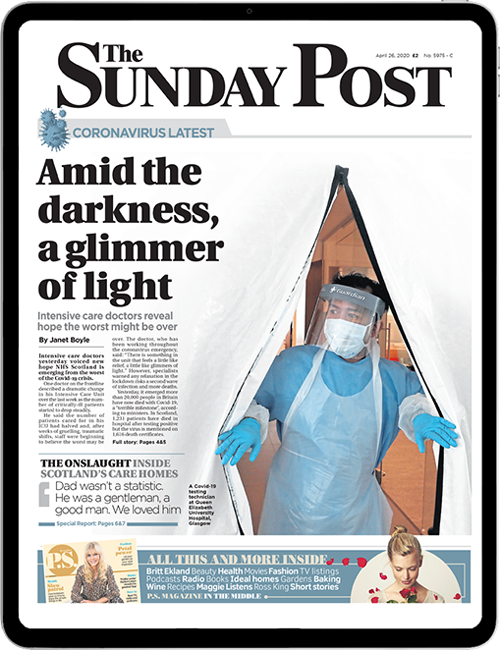 Enjoy the convenience of having The Sunday Post delivered as a digital ePaper straight to your smartphone, tablet or computer.
Subscribe for only £5.49 a month and enjoy all the benefits of the printed paper as a digital replica.
Subscribe