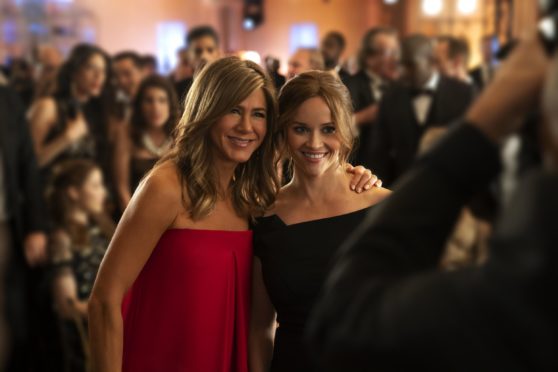 Breakfast TV shows can be more dramatic than you might think.
Look at the controversy over Naga Munchetty and the decision to reprimand her for remarks she made about Donald Trump.
The BBC were forced to apologise, leaving many wondering what that looked like behind the scenes.
The Morning Show, a new drama about a US television programme not dissimilar to BBC Breakfast, begins this week. It is set to launch the shiny new streaming platform, Apple TV+.
The faces of the new show are Jennifer Aniston and Reese Witherspoon, which indicate the technology giant mean business as they step into the world of creating their own entertainment.
And The Morning Show will have a definite edge, according to Aniston, who referenced the recent #MeToo scandal which seized Hollywood and the entertainment industry.
"We want it to be raw and honest and vulnerable and messy, not black and white," she said.
"It's been a very exciting time and you can see the changes regarding women being objectified, and regarding power and positions of power.
"And I feel a lot more will come to the surface, because people are doing their homework and digging deep into everybody's underwear drawer." Having found fame playing Rachel Green in sitcom Friends 25 years ago, Jennifer said that she has largely "had a pretty easy time in terms of my experience in the business" regarding gender equality.
She added: "But even back on Friends, it wasn't so much about women being paid the same as men – some of the women were being paid more.
"It was more about, 'We're doing equal work and we all deserve to be compensated in the same way.'"
Reese, who is also an executive producer on The Morning Show, said that more and more women are having their voices heard in Hollywood.
"Jen and I probably wouldn't have been able to make this show ten years ago – but now people are taking us more seriously as creators and producers," she explained.
"I think we are entering a time where female voices and female authorship are important in Hollywood, because women see things in a different way.
"For The Morning Show, we have a female showrunner and several women on our writing team representing different ideas of what it means to be a woman in the world."
---
The Morning Show launches on Apple TV+ on Friday