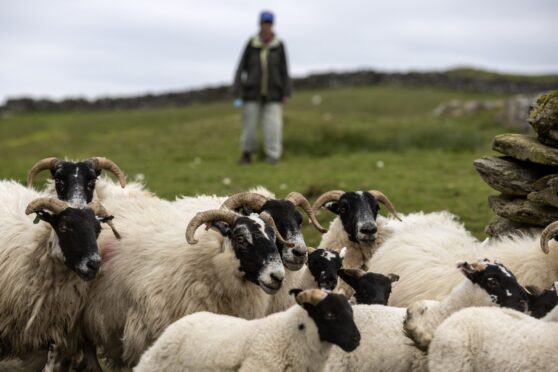 When Marie McNulty set out to create high-fashion knitwear from a disregarded and low-value Scottish sheep's wool historically used for carpets, people told her it was impossible.
Two years on, she has helped launch the pioneering knitwear brand Merrick Scottish Blackface Knitwear, which uses previously undervalued and unused Blackface sheep's wool from across the Galloway and South Ayrshire Biosphere (GSAB) in beautifully crafted outerwear.
The hardy Blackface sheep breed is the most common in the UK and abundant across the GSA Biosphere, designated by Unesco as an area of land where locals work with biodiversity and its sustainable use.
Yet the value of Blackface sheep wool is currently at its lowest value, with its coarseness designating it unsuitable for clothing and more suited to carpets or mattress filler.
"Blackface sheep are an iconic and abundant heritage hill breed here but the value of their fleece is the lowest it's ever been," said Marie, GSAB's deputy manager and business development lead, based in Galloway Forest Park.
"In 2021, it was valued around 30p a kilo, so around 60p per fleece, which was actually less that what it would cost to shear the fleece. We wanted to see if we could make high-quality, beautiful knitwear using this very plentiful and robust but undervalued natural resource."
Blackface yarn
Marie previously worked with leading British yarn developer Laxtons to create a fine yarn from the Blackface sheep fleece that made the grade set by industry trade body British Wool.
She then enlisted the help of top Scottish knitwear designer Jo Storie to determine if it would lend itself to quality knitwear. While Blackface wool cannot rival cashmere in terms of softness, it is strong, malleable, durable and warm.
"As far as I know, Blackface yarn has never been used for knitting," said Jo, originally from Edinburgh, who has worked in knitwear for 30 years. "The first challenge was proving it could knit, run on the machines and work in garment form. I quickly realised it had real potential and knew its coarse nature would make it suited to outerwear.
"I've had absolutely no problems with it. It doesn't break needles, it takes a stitch nicely, washes wel, and fluffs up nicely. It also has some stretch in it and drapes beautifully. It looks just like any luxurious knitwear brand should. I think that's shocked people who are now questioning why this was never done before."
Excited by the yarn's potential, Jo added: "I have a few more designs I'd like to try, including a crewneck sweater. And we'd love to find a producer in Scotland to work with."
Jo, based in Northumberland, worked with knitwear manufacturer Stoll in Leicester to produce four initial garments – a jumper, cardigan, coat and zip-up gilet – but is hopeful Merrick will one day shift its production to Scotland.
To further promote sustainability and slow fashion, Jo designed the clothes so the yarn could be fully unravelled and repurposed, while the buttons are made from biodegradable material.
Marie hopes Merrick, unveiled last week alongside a crowdfunding campaign to raise money to help sell the clothes online, will challenge perceptions, promote sustainability and slow fashion, and ultimately support sheep farmers across the GSAB.
Working closely with British wool and local farmers, the Merrick project marries fashion and farming, and promotes a circular economy. "I think we are a unique knitwear company in the sense that we're putting all our profits back into the biosphere," said Marie.
A positive initiative
The project has already provided British Wool, the national trade associate for sheep farmers, a reason to purchase the wool from Scottish Blackface sheep farmers.
Alec Telfer, trustee and former president of the Blackface Sheep Breeders' Association, said: "It's a tough time for farmers, so any positive initiatives to renew interest in this natural resource is welcome and the providence and environmental credentials of Merrick are second to none."
Merrick knitwear will be available to the public to buy online early next spring. The garments will cost £200-£400 to reflect their quality and longevity, as well as the Scottish wool's unique provenance, already promising to be a selling point.
"These are expertly crafted investment pieces that will last a long time," said Marie. "Wth our designer, Jo, we've created something really beautiful.
"Our focus is the knitwear but there's many people who want to get their hands on the actual yarn so that's something we will look at in the future.
"Initially people told me this would never work so I think we've proved a few people wrong."
---
Support the Merrick Blackface Sheep Knitwear brand on Crowdfunder: www.crowdfunder.co.uk/p/scottish-blackface-sheep—from-fleece-to-knitwear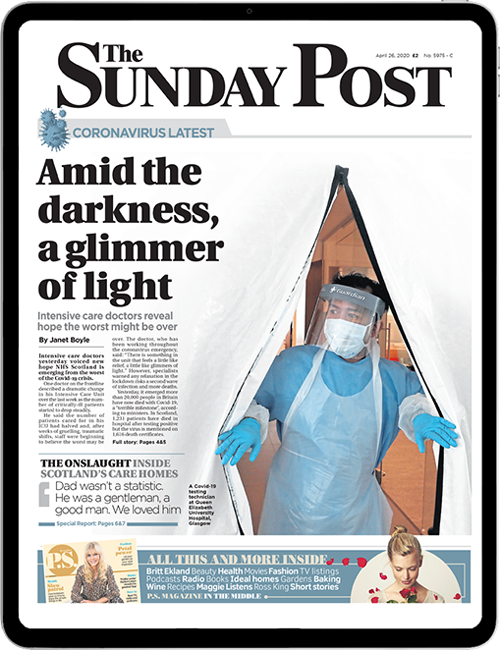 Enjoy the convenience of having The Sunday Post delivered as a digital ePaper straight to your smartphone, tablet or computer.
Subscribe for only £5.49 a month and enjoy all the benefits of the printed paper as a digital replica.
Subscribe