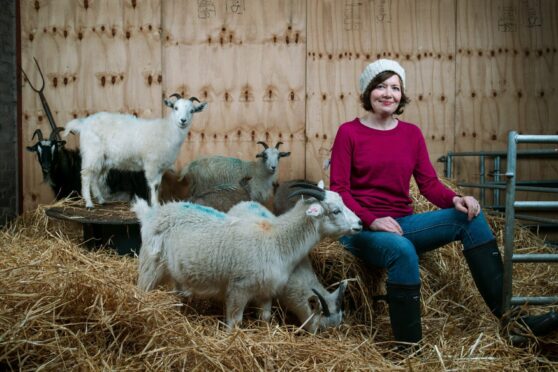 Scots have worked with it, designed with it, and have certainly worn it but, for decades now, did not produce and process cashmere.
The supersoft wool, a goat's downy undercoat, is now being produced commercially – and ethically – by farmers Jillian and Neil McEwen with their first yarn going on sale last week.
Scotland's cashmere has been coming from China, Mongolia and Afghanistan but there have been persistent concerns about the environmental impact and the conditions of animals.
Jillian, speaking at the couple's Lunan Bay farm in Angus, said: "Until I started looking into it, I didn't actually realise that all these products claiming to be made in Scotland are actually not all grown in Scotland."
Increasing global demand for high-end cashmere, which gives the feel of luxury from the catwalk to the high street, has harmed the Mongolian grasslands with overgrazing leading to desertification. Scotland's big knitwear firms say they only use "ethically sourced" wool from Asia while designer Stella McCartney stopped using virgin cashmere in 2016 to reduce her environmental footprint. She now only uses recycled fibre.
The McEwens began farming goats in 2016 as part of regenerative methods on the family farm to improve biodiversity and provide niche products they could sell directly. Initially, they sourced 15 cashmere goats; their herd is now 250. Scotland once bred goats for cashmere production but cheaper imports undercut the market and Jillian began by researching a project in the 1980s, funded by the EU and Scottish Government, that looked at the viability of encouraging a return to cashmere to help farmers in Scotland diversify.
She explains it has been a steep learning curve: "I was lucky to be able to find some of the original people that were part of the project and picked their brains."
She tracked down one of the academics involved, who helped test the Lunan Bay cashmere fibres to determine if the quality was up to scratch. Fortunately, it was between 14 to 16 microns, meaning a mixture of class A and high-class B cashmere. "Cashmere goats don't actually produce very much fibre, only 100 to 250 grammes over a whole year. Their coats are made up of two layers, an outer guard hair, which is coarser and then an inner layer of a finer winter coat."
The couple visited a New Zealand cashmere co-operative, where their cashmere is turned into "made in New Zealand" products, by a sustainable fashion label. Although on a larger scale, it is something they feel could work here in Scotland. They found a mill in Scotland with both the machinery and expertise to process their fibre, The Border Mill in Duns was keen to partner with the project where, Jillian said, "they were really excited about the collaboration".
It needs to be processed to separate the rougher guard hair from the finer cashmere before it can then be turned into yarn. There was great feedback from the initial trials, the Scottish-produced fibres behaved exactly the way that high-quality cashmere should.
Not all the fibres are suitable to be turned into 100% cashmere, so they blended some with Shetland wool. Jillian said: "It was important for us to choose wool that had the same provenance and ethics as our own, which is produced in Scotland from a native breed. Shetland wool is traditionally warm but very rough but, by combining a small percentage of cashmere, it's completely transformed the product."
Last week they launched their pure cashmere yarn, and 5%, 10% and 20% cashmere blends on Etsy. Jillian said: "The response has been amazing, there is a huge community and global following for Scottish-produced cashmere and Shetland wool."
Looking ahead, the McEwens say they would like to upscale: "We are already talking about producing 10 times the amount, by just being a bit more efficient on the farm."
She explained they comb the goats by hand, rather than shearing, saying, "it's gentler on the goat". They also plan to brush the young kids, as they have even softer coats. It takes between 10 to 20 minutes to groom each animal using special brushes and a wooden stand. They now have an apprentice stock person who is tasked with brushing the herd in the fields and, as a reward, they get given some food treats.
The couple have had lots of inquiries from people around the world, from people wanting to buy finished garments, saying: "There are communities of people who are genuinely interested in the ethics and the provenance of how their clothes are made. And it's quite encouraging."
So they are working with a craft knitter from a village five miles along the coast, in Auchmithie, to create one-off hats that will be launched next week. They have also worked with another knitter, Doreen Marsh, to create gloves; she was also involved with the cashmere project in the 1980s. It was important for the couple to get direct feedback on quality from people involved in the original project. They have also recently collaborated with a US-based high-end ethical designer, and are excitedly waiting for that product launch.
Jillian said: "People are moving away from fast fashion and all the horrible consequences that come with making cheap clothes, both for society, and also for the environment. So it's really encouraging for me and motivates me to keep going with it.
"I'd love to be working alongside a designer, who has roots in Scotland and shares the same ethos as us. It would be great to get to that level."
Luxurious, fashionable, and made in Scotland
Cashmere – or the golden fleece as it's also known – has been around for centuries.
The wool, synonymous with luxury, comes from the cashmere goat, which is typically found in Inner Mongolia, China, Iran, Iraq, Turkey and Afghanistan.
The goats are found in the highest mountain ranges – an important point as the territory's temperature extremes are critical to the quality of fibre.
Once shorn, the fleece must be separated from the coarser "guard hair" and so the resulting yield per goat is very small, which contributes to the global opinion of cashmere as a precious material. In fact, it takes a single goat one whole year to produce enough cashmere for a scarf.
Cashmere, a firm favourite with designers, has been around since the 14th Century. By the 18th Century, it was a popular fashion choice. It started off as shawls, being exported to the West from Kashmir and India, and worn by women of the upper classes, before being knitted into jumpers and cardigans, and later woven into fabric.
It is still regarded as a luxury today, prized by the textile and knitwear industries for its softness. Scottish cashmere – cashmere processed in Scotland – is acknowledged to be the best in the world.
Sunday Post fashion expert Wendy Rigg said: "Cashmere is softer and more luxurious than normal wool, and it can be up to eight times warmer because of the fineness of the fibres.
"The harsh climate the cashmere goats live in (including Scotland) means they produce wool that's warmer. Additionally, the fabric doesn't wrinkle, so it will always look elegant. It's lightweight and doesn't add bulk.
"Lots of people find wool scratchy and itchy, so cashmere is the way to go. You can go high-end, but places like M&S, Woolovers and Pure Collection offer styles that are more reasonably priced."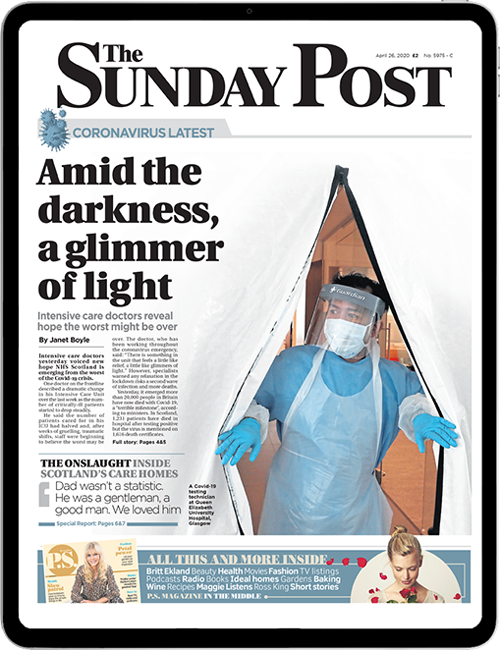 Enjoy the convenience of having The Sunday Post delivered as a digital ePaper straight to your smartphone, tablet or computer.
Subscribe for only £5.49 a month and enjoy all the benefits of the printed paper as a digital replica.
Subscribe