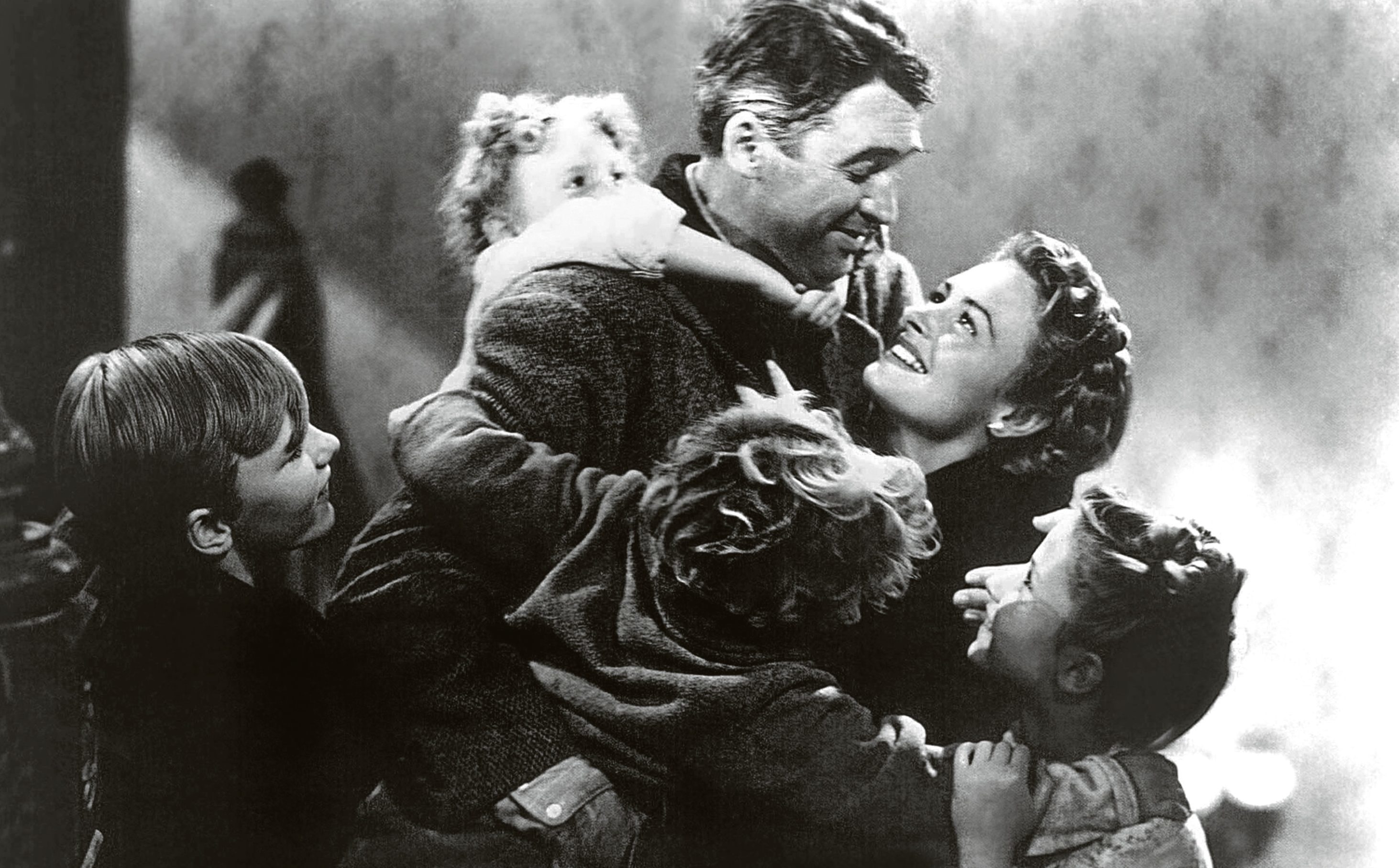 FOR many people, the festive season just wouldn't be the same without the movie tale of a despairing family man in urgent want of a guardian angel.
And this year, director Frank Capra's most-famous film passes a milestone — It's A Wonderful Life turns 70.
The movie, starring James Stewart and Donna Reed, was a big-budget spectacular.
Yet for all its popularity now, back in 1946, it was a box-office flop.
It began life as short story The Greatest Gift by writer Philip Van Doren Stern.
He couldn't persuade publishers to buy it, so in 1943, had it printed into a 24-page pamphlet, and sent 200 copies out as Christmas cards.
Director Frank Capra already had three Oscars to his name, including Mr Deeds Goes to Town.
Now he knew he had found his next project. He bought the rights and set a team of scriptwriters to work transforming The Greatest Gift into It's A Wonderful Life.
Central character George Bailey is a man having to sacrifice his own hopes and dreams to help others.
It is Christmas Eve and his woes in small town Bedford Falls have reached a crescendo. Only divine intervention can save him in the form of Clarence — Angel (Second Class).
Clarence, striving to earn his celestial wings, shows George what life would be like for others if he'd never been born.
It's a twist on A Christmas Carol and it's no surprise that Dickens' story was a favourite of Capra's.
From the outset, he had James Stewart in mind to play George.
They had worked together in 1939 when James had the title role in Mr Smith Goes To Washington.
Since then, the horrors of the Second World War had unfurled, and Colonel James Stewart had been so far from Hollywood, he wasn't sure there was a place for him there any more.
Capra convinced him otherwise, and Stewart was later to credit Capra's confidence in him with saving his film career.
Casting George's wife Mary was more of a problem.
Star actresses baulked at accepting a role so bland and subordinate to that of the male lead.
Those who declined included Jean Arthur and Ginger Rogers, but Donna Reed accepted.
Beulah Bondi played George's mum.
In fact, she made something of a career out of mothering James Stewart. She had done it in three earlier films — Of Human Hearts, Vivacious Lady and Mr Smith Goes To Washington!
Work began on creating the film's small town, Bedford Falls, out at the RCA ranch in the San Fernando Valley.
It was no mean feat. The four-acre set included stores, a factory zone, a residential area and a 300-metre-long Main Street plus 20 mature oak trees!
Production costs rose not least because much of the action takes place in winter when it was actually being shot in June and July in 90 degrees of heat!
Many of the snow scenes were also set at night, so involved dusk-to-dawn shoots.
The snow itself was a nuisance.
Things had, at least, improved from the days of The Wizard of Oz, when raw asbestos was used.
Ground gypsum was the common substitute although its powdery nature had drawbacks.
The preferred alternative was bleached cornflakes.
They looked realistic, but attracted vermin. They also crunched loudly.
Special-effects man Russell Sherman found a solution.
He created fake snow with fire-extinguisher foam boosted with soap and sugar.
Fired under pressure in front of a huge fan, it could create a very impressive blizzard. Who needs CGI?
The film's story reaches its crescendo on Christmas Eve and yet it was never intended as a festive feature.
The original release date was scheduled for January 30, 1947. The big holiday film was supposed to be Sinbad the Sailor, but hitches with Technicolor meant it wasn't ready in time.
The general release of It's A Wonderful Life was brought forward to January 7, but it opened in New York earlier on December 21 and a little later in Vegas to qualify for that year's Oscars.
Although it was to be nominated for five Academy Awards, critics' reviews were decidedly mixed.
Some loved it, but The New York Times judged: "For all its characteristic humours, Mr Capra's Wonderful Life is . . . a figment of Pollyanna platitudes."
Perhaps the appeal today is that it appears to hark back to a simpler past where good and bad were black and white — as was the film.
If you have seen a colour version, this was due to much-later post-production work strongly opposed by James Stewart.
But back in 1946, the film wasn't meant to be a period piece. Angels aside, it purported to be contemporary.
Perhaps cinemagoers felt patronised.
It's a Wonderful Life made just $3.3 million — not even meeting costs — and won no Oscars.
Russell Sherman did later receive a Technical Achievement Certificate for his snow, though!
Donna Reed had a little bonus to add to her pay packet, too.
She was challenged on set to milk a cow by someone unaware the actress was raised on a farm in Iowa.
She called it: "The easiest 50 bucks I ever made."
Capra's subsequent films such as Riding High never achieved the popularity of his pre-war masterpieces and many have been forgotten.
It's A Wonderful Life may, too, have slipped into obscurity — but for an admin error.
In the 1970s, the bankrupt owners of the film's rights failed to renew their copyright.
The film entered the public domain and TV broadcasters — and their audiences — embraced it.
The film tapped into a nostalgic craving for an idealised past and watching it every year became, for many, a festive tradition.
Few were more surprised than Capra and Stewart. Both held the film as their own favourites from their careers, but were taken aback by its surge in popularity.
The rights were re-issued in the 90s, but annual viewing had become a tradition for many and all that's needed is a DVD!
Young and old alike in many homes will be settling down in their snowman sweaters, mince pies in hand, to watch It's A Wonderful Life all over again.
Here's to the next 70 years.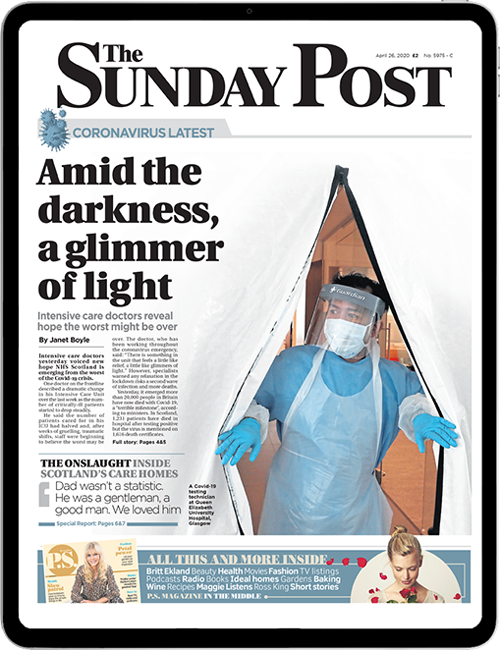 Enjoy the convenience of having The Sunday Post delivered as a digital ePaper straight to your smartphone, tablet or computer.
Subscribe for only £5.49 a month and enjoy all the benefits of the printed paper as a digital replica.
Subscribe