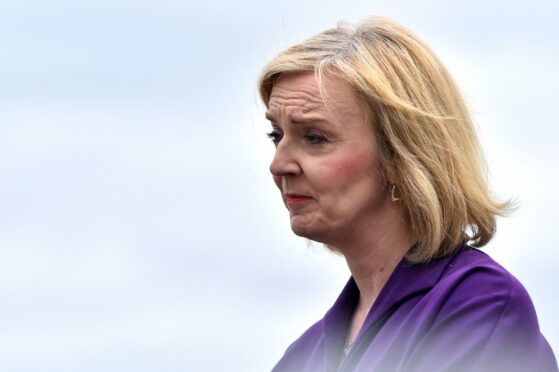 Conservative leadership frontrunner Liz Truss has been urged to put her country before her political ideals if, as expected, she replaces Boris Johnson as prime minister tomorrow.
Truss is firm favourite to be declared the winner of the contest and the country's new prime minister at lunchtime tomorrow but will immediately address the looming economic catastrophe as families and firms face being crushed by the cost-of-living crisis.
During the contest with former chancellor Rishi Sunak, Truss appealed to Conservative supporters by promising tax cuts, business deregulation and rejecting "handouts" as a way of helping people affected by the crisis.
She is also reported to be planning a shake-up of employment laws with a review of protections for workers and is said to be considering lifting the ban in England on fracking after it was halted in 2019 because of concerns about earth tremors.
Political historian Sir Anthony Seldon, writing in The Sunday Post today, said that despite suggestions Truss would be the most right-wing prime minister since Margaret Thatcher, tackling the cost of living, the threat of widespread industrial action and the NHS reaching breaking point will give her little space to implement her own ideas. If the prime minister does not lay out a clear plan, they are all the more likely to become thrown off course when the pressure piles on," he said.
Truss last month labelled Nicola Sturgeon an "attention-seeker" who should be ignored, but political strategist and public affairs expert Ramsay Jones said the new prime minister would have to take a "pragmatic" approach to Scotland.
Jones, who was David Cameron's special adviser on Scotland, said: "For the past month and a half, we've had candidates, especially Truss, playing to the electorate and telling people what they wanted to hear to secure votes.
"But the truth is what happens on day one of being in Downing Street is far more important than what was said during an election campaign. As ever with the party, it is going to be a tussle between muscular unionism and a more pragmatic approach, which I would argue has been the hallmark from the Cameron years onwards.
"They are the elected government, we have to deal with them, there's business to be done, and you don't give the SNP what they want, which is grievance. You offer them constructive engagement and it's up to them if they want to turn that down.
"I'd envisage an early visit around the whole of the country to say 'I am the prime minister for all four corners of the UK'. Week one will be appointing Cabinet ministers and addressing the cost-of-living crisis. Week two and three will be getting around the country and putting plans into action."
Jones said he expected imminent announcements on two green freeports in Scotland and a carbon capture power station in Peterhead.
He said: "One of the first formal meetings David Cameron had outside London was with the first minister at Holyrood. Theresa May was also up in Scotland very quickly. I think it's something that should be considered the new prime minister too.
"They should be saying to the leaders in Scotland, Wales and Northern Ireland, 'There are big ticket issues facing us all, why don't we sit down together and find out where there is common ground so that we can work through them.' That's what the public expects grown up politicians to do."
The Sunday Post view: A zombie government? We should be so lucky. At least zombies seem to know what they're doing
First Minister Nicola Sturgeon said tackling the cost-of-living crisis would be "front and centre" in the Scottish Government's Programme for Government, which will be published on Tuesday.
Sturgeon said: "I will seek to work constructively with whoever becomes Prime Minister, although both candidates seem to have spent the campaign focused on how they can undermine the Scottish Parliament or put Scotland in its place, rather than engage with the legitimate aspirations of the people of Scotland.
"People in Scotland will be watching carefully how Westminster responds to the current emergency facing the UK. The 'broad shoulders' that we were told existed in 2014 are nowhere to be seen, and the promise of remaining in the EU and of lower energy bills were evidently not worth the paper they were written on. Instead a decade of austerity, Brexit and brutal welfare cuts have contributed hugely to the current cost crisis."
Scottish Labour want to introduce an emergency Cost of Living Act, which would introduce a temporary rent freeze to protect tenants from soaring prices, a ban on winter evictions and changes to laws on debt.
Scottish Labour business manager Neil Bibby said: "Scots expect their parliaments to be focused on the issues that matter and their governments to use every power they have – but the SNP and the Tories are asleep at the wheel.
"We have a moral duty to act. Every party must back these plans to offer a lifeline to those snowed under with debt."
---
THE IN-TRAY
by Mark Aitken
When the new Prime Minister is appointed by the Queen at Balmoral on Tuesday, he, or more likely, she will be faced with solving the problems of soaring inflation, millions of people being unable to afford their heating bills, businesses in dire need of rescue and waves of industrial action by striking workers.
Here, we ask charities, union chiefs and business leaders to offer their advice on what the new Prime Minister has to do in those first crucial months.
---
FEDERATION OF SMALL BUSINESSES
With one in six Scottish businesses already talking about downsizing, selling or closing, there is not a moment to lose. We need to hear how the business tax burden is going to be reduced. What's going to be done about the extra 20% that small businesses pay in VAT and when will we see the reversal of this year's National Insurance hikes?
Then the PM should give cash grants to the hardest hit and give small business energy customers the same protections as domestic consumers, such as a price cap.
Colin Borland, director of devolved nations Federation of Small Businesses
SAVE THE CHILDREN
The new PM will have only 26 days to take action before energy bills soar again on October 1. We are calling for an emergency cost-of-living support package for children. The lifting of the energy price cap should be the driver to deliver a higher cost-of-living payment for low-income families with children.
The child element of Universal Credit should also be increased by £10 per week. It is impossible to overstate the catastrophe families face this winter if the new Prime Minister does not take urgent action. Children shouldn't pay the price for this crisis.
Claire Telfer, Save the Children's head of Scotland
AGE SCOTLAND
Many older people rely on their state pension to survive, but the UK Government's removal of the triple lock last year had a big impact on their ability to keep up with surging bills.
The new PM must ensure this is reinstated and raise the value of pensions so those who are least able to keep up aren't left further behind. A big investment in energy efficiency measures and home insulation support across the UK is also required.
There needs to be a campaign to boost social security uptake for support like pension credit, council tax reduction and attendance allowance.
Brian Sloan, Age Scotland chief executive
THE STUC
The next PM needs to stop wasting time trying to strip workers of their rights to defend pay and living standards. People on lower incomes are suffering and this country will face a humanitarian disaster this winter unless action is taken now.
The new PM should freeze energy prices and announce the nationalisation of the energy companies. We need to stop profiteering from our utilities and we need serious action to redistribute wealth.
However, my top ask is to call a general election and let all the people of the UK decide how this economic emergency should best be addressed.
Roz Foyer, STUC's general secretary
CITIZENS ADVICE SCOTLAND
We have seen increased demand for energy advice and food insecurity advice. What will the most vulnerable do when temperatures drop and bills keep rising?
The uncomfortable truth is without urgent and radical intervention people will freeze or starve. Three things must happen. 1. The proposed increase in the energy price cap to £3,549 should not go ahead. 2. More support targeted at the most vulnerable must be delivered. 3. More support for advice services like CAB is essential. We desperately want to see action which will prevent a winter of debt and destitution.
Derek Mitchell, Citizens Advice Scotland CEO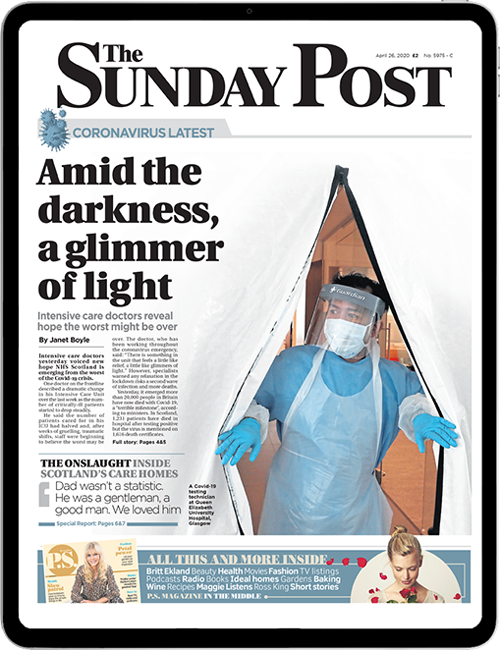 Enjoy the convenience of having The Sunday Post delivered as a digital ePaper straight to your smartphone, tablet or computer.
Subscribe for only £5.49 a month and enjoy all the benefits of the printed paper as a digital replica.
Subscribe