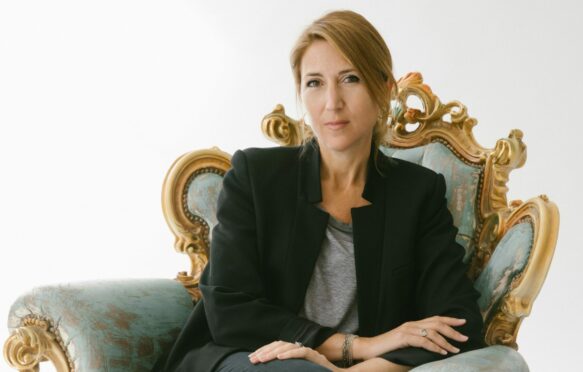 Riding the tidal wave that was the Chick-Lit phenomena, a gaggle of emerging rom-com writers were herded into a studio for a make-over and photo session – among them Lisa Jewell whose newly released novel, Ralph's Party, was to become the bestselling debut of 1999.
But the group was incomplete, with one writer missing. Scotland's own Jenny Colgan was yet to show. Lisa – who went on to master the psychological thriller – remembers the moment the woman who was to become her best pal burst into the room. "She said, 'I am so sorry I am late, my partner's got a broken ankle' – or something like that – and those were the first words I ever heard Jenny say," Lisa laughs. "We have been best friends ever since."
Theirs is a bond that has endured for almost a quarter of a century, through good times and bad and countless bottles of champagne. Their friendship has witnessed Lisa's bounce-back after an emotionally abusive failed marriage, the agonising loss of Jenny's cherished mother, the joyous birth of children, and their colossal creative success – in November, Jenny celebrated her nine-millionth book sale, while Lisa is a 10-million copy bestseller.
The north London mum-of-two – who like her Scotland-based "bestie" Jenny, a mother-to-three, has Scottish blood in her veins – is a frequent visitor to her friend's homes, a castle on the Fife coast and an apartment in Edinburgh.
And she will be back in Scotland on Saturday to discuss her work and her latest riveting thriller, None of This Is True, alongside her Irish counterpart, Strange Sally Diamond author Liz Nugent, at the Bloody Scotland Crime Writing Festival in Stirling.
Lisa, 55, tells P.S.: "Jenny has just written to tell me she has booked the last available hotel room in Stirling on Saturday night, even though she lives only a 45-minute drive away, so that she and I can share some proper time together after my event."
And reliving their first meeting of almost 25 years ago, she adds: "We met through rom-com in 1999, the year that we were both first published, me with Ralph's Party and Jenny with Amanda's Wedding. It was a huge press thing, just after Bridget Jones's Diary when new, young rom-com writers were being given huge book deals. One tabloid newspaper got a big gang of us into a studio, put make-up on us all, took pictures and then interviewed us. They basically wanted to know how much our advances had been. I still have the article, a double-page spread, all of us arranged in a studio wearing weird make-up, with text for each author headlined with the amount of their advance. It was like, 'shock horror, female authors make money'.
"Jenny and I have been writing to each other on email virtually nonstop ever since. After both reading the book The Letters of Kingsley Amis back in 2001, and the slightly gossipy, and occasionally scurrilous, letters exchanged between Amis and his friend Philip Larkin, we started calling each other Phil and Kings. I can't remember which of us was which!" she laughs.
"But Jenny has been a constant in my real-world existence too. We've shared more bottles of champagne than I can remember, we've partied hard and often. In 2001, I was invited on to the BBC quiz The Weakest Link for a writers' special. Jenny was invited along as a stand-in, and we spent a mad and memorable evening with Jilly Cooper in her dressing room before filming. I went out in the second round because I know nothing about anything, while Jenny, 20 years later, won Celebrity Mastermind because she knows literally everything!
"We've been to each other's weddings – Jenny's in Scotland, mine in Italy – and I was the first non-family member to meet Jenny's first son, Wallace (who is now 18) shortly after he was born in London.
"We've both seen each other's careers grow and blossom over the 25 years of our friendship and Jenny has been there every step of the way through all my trials and tribulations. When I lost my first agent in very difficult circumstances 15 years ago, Jenny offered practical and emotional advice, steering me through the storm, and she is the first person I would come to in any kind of crisis."
And it was a crisis, Lisa reveals, that led the former PA/secretary to becoming a novelist. Zooming in from the bedroom of her London home, dark cyan walls with book-laden shelves her backdrop, she reveals: "At the point at which I sat down to write my first novel in 1996, I had just come out of the back end of this incredibly dark five-year period of my life with an emotionally abusive husband. I'd allowed myself to be controlled and I had insight into the workings of a manipulative mind. To this day, it is still the darkest and worst thing that has ever happened to me."
She previously revealed how, as a young woman, she was "desperate to settle down" and feel grown up. After earning a diploma in fashion communication and promotion from Epsom School of Art & Design, she married the wrong man. "He love-bombed me and proposed after three months, and the minute I agreed to spend my life with him the abuse started. He threw out my photos and diaries. He told me I was bad at sex. I wasn't allowed a front door key. He chose what we were going to eat and watch. There's no sunshine when you're living like that. I'm still confused by how I let it happen. To this day I still have the occasional nightmare where I am marrying him again."
She remembers like yesterday the moment in 1996 when she left him after meeting the love of her life, Jascha, 58, initially a platonic colleague, now her husband of more than 20 years and with whom she has two daughters, Amelie, 20, and Evie, 16.
She recalls walking home from the train station after her day's work and commute, listening to a mix-tape of meaningful songs Jascha had made for her. She says: "I walked in, I still had my handbag in my hand and my jacket on and said, 'I am leaving you'." She added: "I packed a bag and got a taxi to the train the next day and I never came back. It was remarkable how easy it was for me to do, and that he didn't fall apart or try to keep me there against my will."
Lisa started work on her first novel at the suggestion of a friend who promised to buy her dinner if she could write three chapters. That novel became Ralph's Party, the "right book at the right time" for what was the "zeitgeisty" emergence of the chick-lit age, she says.
And rom-com was the antidote to the nightmare of her first marriage. She remembers: "I had just got out of that toxic marriage and was in a brand-new relationship and living my best life. I could not face spending my writing day in a small room, staring at a screen, immersing myself in that dark time so that I could recreate it for a novel. It wasn't a good fit for me. I wasn't ready then to confront it. And because I was writing my debut on a bet, I immediately began writing something else. And that turned out to be a feel-good romantic comedy."
But the woman who at 13 read 40 Agatha Christie novels in a year admits the dark side never left her. "It was like an egg that I laid in 1996, it just took a long time for me to feel old enough and far enough removed from that marriage to be ready to write dark stuff. But in some of those early rom-coms the darkness is there. I wrote Vince And Joy back in 2005, a romantic comedy in the style of Sliding Doors that features a coercively controlled marriage, but with a light touch and a pastel-coloured cartoon cover and rom-com styling."
Her latest psychological thriller, None Of This Is True, is arguably her most accomplished and chilling yet, seeping menacingly into reader psyche. Cue podcaster Alix who, while celebrating her 45th birthday, meets seemingly innocuous Josie Fair, also marking her 45th year – they're "birthday twins". At Josie's suggestion, Alix begins a new podcast about Josie's life. Dark secrets are unveiled, and the women's lives become intertwined in very dangerous ways.
Lisa tells P.S.: "I feel like with this book I have hit a place that I have never gone to before in terms of the wow factor. This is the first time I have knocked it out of the park. The feedback I have been getting is quite insane!"
So, is it fair to say the champagne corks will be popping again when she gets together with Jenny Colgan in Stirling? "Oh yes!" she chuckles.
---
Superhero novel adds pressure
Best-selling, award-winning novelist Lisa Jewell is channelling her inner super heroine for her next novel, commissioned by Hyperion Avenue, an imprint of Disney Publishing Worldwide.
It is launching Marvel Crime – described as "a hard-edged crime fiction programme for adults" – that features three original novels by bestselling crime and mystery authors, each focused on a different Marvel character.
Lisa's will be the first to debut in 2024, with Jessica Jones (who coincidentally used to be the traditional costumed super heroine Jewel) at its heart. Jessica is a hard-drinking private detective with super strength and a dark past. Thriller writer S A Cosby, author of Razorblade Tears and All the Sinners Bleed, will tackle Luke Cage in his Marvel Crime novel. And Alex Segura, author of Secret Identity and the Pete Fernandez Miami Mystery series, will write a story starring Daredevil.
Lisa tells P.S.: "I was approached by Marvel to write a Lisa Jewell thriller using a Marvel character. It was something that was impossible to say no to, so I started writing it the minute I finished writing None Of This Is True, about this time last year."
She admits: "The minute it was announced on social media and I saw the feedback from my own and Marvel's fans, I felt the pressure. I had to please two disparate groups and this book had to be perfect."
---
None Of This Is True by Lisa Jewell is published by Century. Lisa will appear alongside Liz Nugent at the Albert Halls, Stirling, for the Bloody Scotland Crime Writing Festival on Saturday.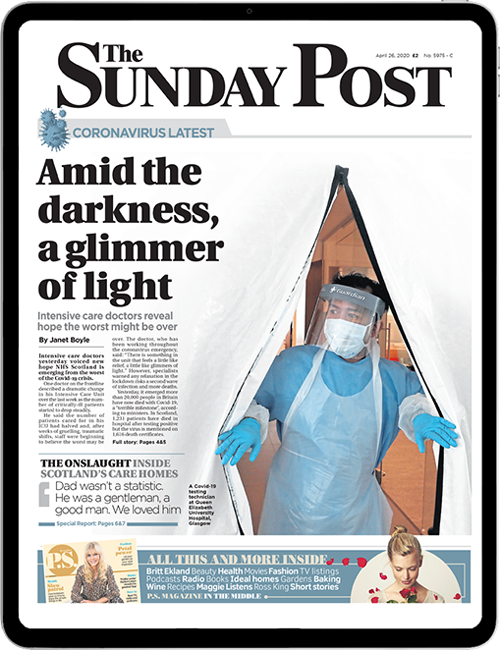 Enjoy the convenience of having The Sunday Post delivered as a digital ePaper straight to your smartphone, tablet or computer.
Subscribe for only £5.49 a month and enjoy all the benefits of the printed paper as a digital replica.
Subscribe