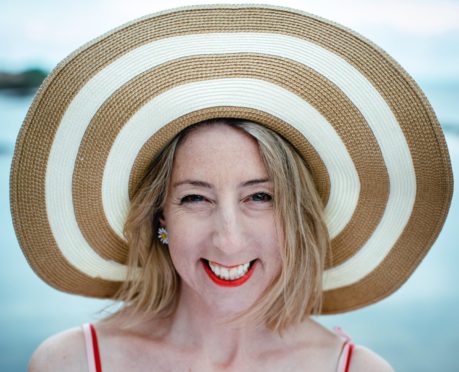 Below the walls of her castle home is a tiny secluded cove where, swathed in a voluptuous, wind-blown pink gown, Jenny Colgan looks out to sea.
The Scottish waters are a playground for the love of her life, a marine engineer and wild swimmer who tends the super-yachts of the French Riviera's jet set.
Atmospheric and romantic, the scene could have come straight out of one of the best-selling author's novels. But that's not how this down-to-earth Scot rolls.
Hoicking the gown – silk? designer? – to her knees to reveal heavy-duty rubber wellies she grins: "It's polyester. I bought it from Primark for £9!"
Does she join Andrew, 55, the New Zealander father of her three children – Wallace, 16, Michael Francis, 13, and Delphine, 12 – on his adventurous swims? "Nah, 'course not!" she laughs. "It's not wild swimming, it's just swimming. He's hilarious. He is used to hot climates. But if you're from Ayr cold water swimming is what you do. I do come out on January 1 and do the loony thing but I am not doing it every day."
The sea, though, is in Colgan's blood. Speaking from her 20th Century Fife fortress overlooking the Firth of Forth – once home of artist Jack Vettriano – she tells P.S: "I grew up in Prestwick by the sea so it has always been a part of my life. It always seemed a natural place to be."
And the ocean looms large in her latest novel, Sunrise By The Sea. Funny but full of heart, the book is set in Cornwall.
Colgan, 49, the oldest of three children, recalls: "We used to holiday in Cornwall when we were small. Both my parents were teachers, so we did that very Scottish thing; the second the bell rang on June 28 it was, 'Right, we're going to go right now' before the English schools broke up. I always loved that, the end of term when basically still in your school uniform you'd get in the car and hit the road, from the west coast of Scotland all the way to Cornwall before there was a motorway!
"My grandparents lived in Devon, so we'd go to see them first. Cornwall to us was the most magical place imaginable. The sun shone all the time, you could surf and swim – which you could kind of do in Prestwick, but it was not quite the same. My mum loved Daphne Du Maurier. She would tell us all the old smuggling tales. I just found it a very enchanting place."
Colgan's books are a balm for her army of fans. But their creator does not shy away from big issues, such as mental health. In Sunrise By The Sea we find a young Marisa Rossi mired in grief and coping with eviction. Struggling with anxiety and panic attacks, she has a chance to find some peace on a remote tidal island off the Cornish coast, but life there it isn't quite what she expects. The author says: "Anxiety seems such a crippling thing; the sense of everything becoming overwhelming."
Having never suffered from the condition, she researched it thoroughly. "Then the pandemic happened and you understood at once how the world could become overwhelming and very scary," she says. "It gave a lot of people an insight into what it's like to live with issue that maybe they had not thought about before; when you are genuinely scared to go to the supermarket. Leaving your home suddenly felt very frightening last year.
"I didn't want to write about the pandemic as we had really no idea how things were going to go. But I did want to write about the sense of the world suddenly becoming a much less safe place. I think it will take people quite a long while to being quite care-free again."
In the early days of the outbreak, when panic buying saw shop shelves stripped of essentials, she remembers: "I went to the supermarket and there was no toilet roll. You had to queue up and I got to the aisle where they had the birthday cakes and of course, they were all unsold because nobody could have a party. I just burst into tears. It was that very frightening time last year when the prime minister was in hospital and no one knew what was happening.
"Now we are only a year away from it and already things are feeling so much better. It was that sense of,'Now I get it, I get what you felt'. When people talk about being anxious that's what they mean, when the world is out of their control."
Colgan writes grief acutely, too. Sadly, she knows too well how it feels. She lost her cherished 71-year-old mum, Mary – who had suffered a series of strokes – in 2016. Colgan, who had been living in France, had moved home to be close to her mum. Her death, on the same day as David Bowie, rocked the writer's world.
But mid-pandemic, the author, whose dad, Michael, lives in Glasgow, is counting her blessings. "I have been very lucky," she says. "I have known people who have become ill with Covid but I haven't lost anyone to it. If you've been lucky enough to avoid it, you cannot say you've had a terrible time.
"I had the same worries and anxieties as anyone else. You know what really got me? My son is in S5 and they cancelled last year's exams, and then they cancelled this year's Highers. I thought, 'Every opportunity you have had and everything you have learned, and you are leaving school with nothing to show for it'." Then she adds with a chuckle: "Some of us will have to get operated on by doctors who never took an exam in secondary school."
Colgan prefers to concentrate on the silver linings of lockdown. The best? "Having the kids at home," she beams. "At the time, one was 11 and one was 13, and just as they were about to go back to school this time, my husband said to them, 'What was the best thing about lockdown?'
"My middle kid thought for a minute and said, 'All of it," and my little one said, 'Yes, all of it!' It was funny, but for them it meant no school, no dancing, no training, just hanging out with mum and dad, going on the Xbox, and talking to friends on Skype. For a lot of busy adults who have been lucky enough to have space at home, then that is a silver lining.
"I have always played the piano and during lockdown I went nuts for it. I played and played and did all the boring scales." She is now sitting her final and top exam – at Grade 8 – and admits: "I am sick with nerves about it. My teacher is hosting a little experiment session with pupils who are taking exams that involves playing in front of other people just to get you used to performing. It is going to be me and all the nine-year-olds she teaches." She laughs: "I am so embarrassed".
Multi-award-winning Colgan wrote her first novel, Amanda's Wedding, in 2000. An entertaining romp through crumbling castles, charming aristocracy and cunning plots to stop a Scottish laird marrying the wrong woman, it was a great success. Very quickly she became a leading name in the romantic comedy genre, and has since flexed her literary muscles by turning her hand to sci-fi – Dr Who in particular – and children's books.
Her readers are constantly in touch. She grins: "What's funny is that I write about baking and people slowing their lives down and moving at a quieter pace, but everyone has had a year of baking and thought, 'Nah! I want to go back to my big corporate job in the city. I've made sourdough bread now and I'm done with it.'"
Other messages have touched her profoundly. She struggles to contain her emotion as she reveals: "There were a few messages from four or five separate people in completely separate countries who wrote, 'I held on to your book for a particularly bad day and today was that day.' They didn't say why, but I found that exceptionally touching."
Her work has been her saviour during the challenge of the past year. She explains: "I moved back to Scotland when my mother was unwell and I found building a fantasy world I could retreat to for a few hours every day where I controlled everything was useful. It was the same thing this time.
"I had a chance to write a little Christmas book set in Edinburgh, in a slightly fading and shabby bookshop. That was really fun to write. I walked through the empty streets of Edinburgh, kicking up the snow. I found I had really missed Edinburgh's Christmas and I was writing in the funfair, the mulled wine, and was feeling very nostalgic for it."
For now, though, she is looking forward to holidays in France – Covid-19 restrictions eventually permitting – and her summer reading list (The Night She Disappeared by Lisa Jewell, The Other Black Girl by Zakiya Dalila Harris, The Storm Is Upon Us by Mike Rothschild and Animal by Lisa Taddeo – a writer recommended to her by Grown Ups author Marian Keyes). And she can't wait to get stuck in but a P.S. photocall beckons. She laughs: "I want to spend the afternoon reading but I have to go and lard on make-up on for your guys…"
---
Sunrise By The Sea by Jenny Colgan is published by Sphere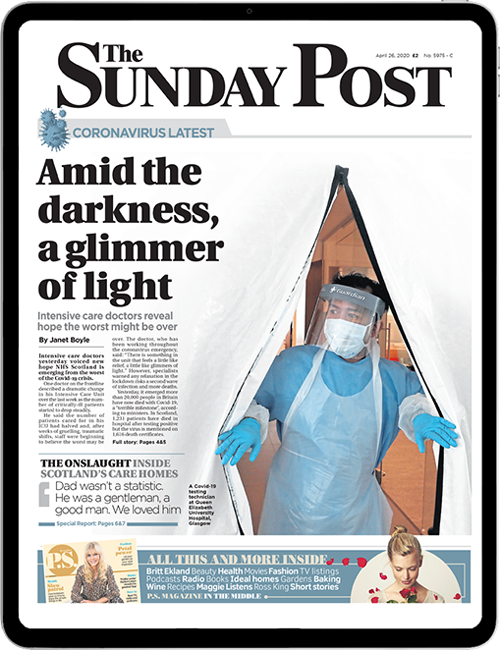 Enjoy the convenience of having The Sunday Post delivered as a digital ePaper straight to your smartphone, tablet or computer.
Subscribe for only £5.49 a month and enjoy all the benefits of the printed paper as a digital replica.
Subscribe