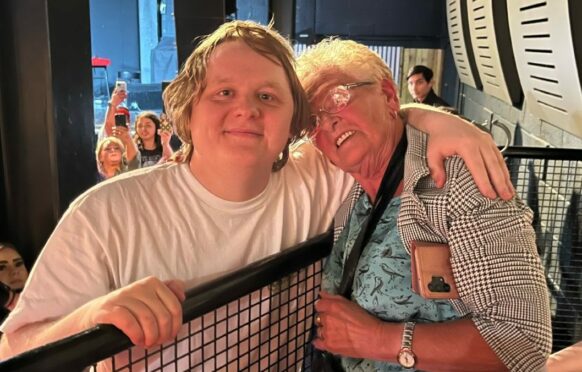 As Lewis Capaldi clambers over a barricade to greet Janet Kirk, the moment encapsulates the special connection the singer has formed with his fans.
For 80-year-old Janet, it was her first-ever gig and she made the journey just to see the singer-songwriter in action.
He may shrug off national treasure status, but Capaldi's honesty about his mental health in recent years – coupled with his immense talent, laid-back style and sense of humour – has formed a bond many artists could only dream of.
"She could have met me halfway, if I'm being honest. It was a trek to get over there," he laughs as he relives the moment he met Forfar granny Janet at his Fat Sam's Dundee album launch show.
"It's quite a nice feeling to know my music is spanning generations and reaching people of all ages. I'm really honoured people come out and care about it so much."
As he prepares to headline Radio 1's Big Weekend in Dundee tonight, Capaldi admits he is relieved to see the positive response to his new album, released last week at the end of a long and exhausting process.
"[The response to the album] has been good. I think it's just a relief more than anything else. You build up this thing in your head so much and you think it's never going to match the expectation. And then it's out and people love it, it does well and you're like, 'thank God'."
Big weekends
The 26-year-old's second album, Broken By Desire To Be Heavenly Sent, is the fastest-selling of 2023 so far, and topped the charts on Friday.
It sees him writing about the ups and downs of relationships but, also, taking a more introspective look at his mental health.
He has spoken openly of the pressure he felt to follow up the incredible highs of 2019, when he released the biggest-selling British album in half a decade.
Anyone, no matter how talented, would find a mammoth task in matching the success of Grammy-nominated song Someone You Loved, which spent seven weeks at the top of the UK charts and made him the first Scots solo act since Sheena Easton in 1981 to have a US No.1.
The incredible ups and the crushing downs of working on the new record amid his anxiety and Tourette's diagnosis were charted in a Netflix documentary, How I'm Feeling Now, released in April.
"I guess I was more scared about the documentary than the album, because it was a really different thing and I wasn't sure how people would react to it," he says.
"People have really been beautiful, I guess is the only word I can use, with the response to it and it's almost like they welcome me in even further, with open arms.
"I think when you are vulnerable you allow other people to be vulnerable with you. It's nice to have a thing out to explain you a little bit more as a person and what you go through.
"I'd never really made a choice to be [so open about mental health]. I was just being myself.
"Sometimes it feels a little bit, I don't know, dirty, that we've sort of commodified my suffering or my mental health issues. But, no, it's just one of these things where I'm trying to be as open and honest as I can be when I'm doing all this.
"Whether that means I'm through the roof happy or on the floor sad or anxious or whatever. I think you just have to wear it on your sleeve a bit."
After a big weekend launching the album with shows across Scotland comes another Big Weekend – Radio 1's festival at Dundee's Camperdown Park.
Across the weekend, the line-up included Niall Horan and The Jonas Brothers. Capaldi closes it tonight, with one or two of his famous friends possibly putting in appearances in the singer's set.
"Celebrities are quite hard to get to do things, I've realised in my short career, so we'll see," Capaldi laughs. "The Jonas Brothers are on the same day, I think Niall Horan is too so that'd be pretty nice. I'd be up for it.
"I'm buzzing. I'm excited that it's in Scotland. My first Big Weekend felt like a real big moment in my career, so to come back and headline a second one is pretty incredible."
Radio 1's Big Weekend Dundee: All you need to know including timings, map, age limit and more
Touring the US
Capaldi, from Bathgate, West Lothian, is back in Scotland for the first time in several weeks after touring in America. He's been selling out arenas since before he even released an album, and is now a regular in front of huge crowds worldwide.
"It's always nice to go over there," he says. "Two months is a long time to be away but the gigs and the audience that come out make it worthwhile.
"Otherwise being away from your friends and family and your home would seem pointless. The crowds were great and it was an amazing experience."
As well as the music, Capaldi's on stage banter between tracks makes the show part stand-up set, part concert.
"There's lots of spontaneity in it but by the end of the tour I've got my regular bits," he said. "Some people are like: 'I came to see you in New York and then in San Diego and you made the same joke.' And I'm like: 'What do you expect? I sing the same songs every night, you try and think of new patter every night!'
"I guess I feel a bit more like a 'celebrity' when I'm over there because people don't see me as often. In the UK, I'm hanging around quite a lot. If you're in Glasgow, chances are you're probably going to see either me or Paolo Nutini."
Working with the stars
Speaking of Paolo, at his Glasgow Q&A earlier this week Capaldi said he'd love to make music with his fellow Scot – if he could get hold of him.
He has a whole list of people he'd love to work with and got to collaborate with some pop heavyweights on the new album.
For the 80s-inspired song Leave Me Slowly, he worked with Max Martin – the Swedish songwriter only surpassed for number one hits by Paul McCartney and John Lennon.
"It's definitely not what I thought I would writing when I went into that sort of space," he said. "I thought I'd be writing a full-on pop banger and they were like, let's do an 80s ballad, and I was keen.
"[Working with] Paolo, Bon Iver, Phoebe Bridgers, Taylor Swift, and Ed Sheeeran would be nice. My list is quite endless, to be honest. I think anybody who will take me, I'll write a song with them."
He also has another big name he can call upon – or at least email – after what he counts as one of the most surreal moments of a whirlwind career so far.
"Going for lunch and having dinner with Elton John was bit mad. That's a bit of an incredible feeling. I have his email. I can email Elton John whenever I like."
---
Broken By Desire To Be Heavenly Sent is out now. Capaldi headlines Radio 1's Big Weekend tonight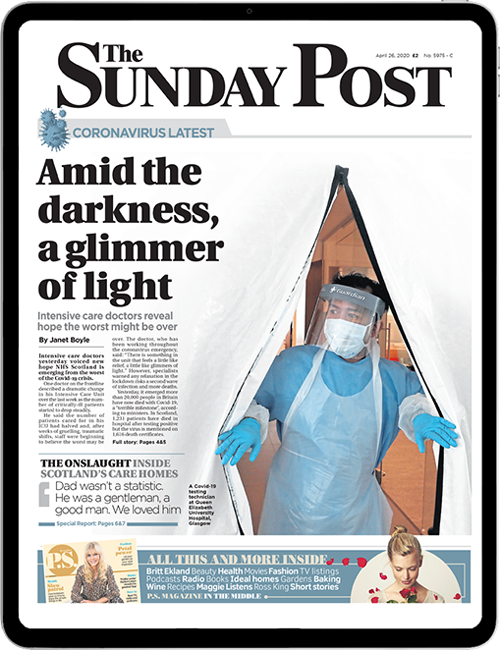 Enjoy the convenience of having The Sunday Post delivered as a digital ePaper straight to your smartphone, tablet or computer.
Subscribe for only £5.49 a month and enjoy all the benefits of the printed paper as a digital replica.
Subscribe