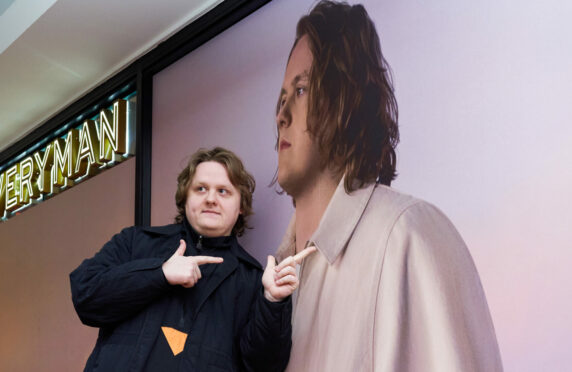 Lewis Capaldi has admitted he was worried his new Netflix documentary charting the highs and lows of making his second album looked like he died at the end.
The singer, who was followed around by camera crews across the past four years for the film, told the audience at a special preview screening in Glasgow that he was baring all about the darker side of the stratospheric rise to fame he's had in recent years.
How I'm Feeling Now follows a year in the singer's life as he attempts to balance fame with the search for a normal life, all the while under the pressure of following up such a successful debut album.
It features interviews with Capaldi and his family, footage from his early years as a singer, and behind-the-scenes footage of his performances and recording sessions.
The documentary also delves into his personal life, exploring his struggles with his mental health and living with, undiagnosed until recently, Tourette's .
"When I saw the first cut it looked like a film where I die at the end," he told viewers at the Everyman Cinema. "Luckily we had a few more bits of filming to do, things turned around and as far as I'm aware I don't die at the end. It's quite, I won't use the word harrowing because it's pompous, but it's pretty sad and vulnerable.
"There's a lot of things in the film that were beginning to be resolved, and that now are or are an ongoing thing. I had therapy today, a great thing to have if you can get to it.
"The interesting thing is that I didn't really know much about anxiety, stress, depression, Tourette's, any of these things. I didn't really know a lot of this was going on in my life, to what degree it was colouring my life. I didn't realise how much of my life was consumed by the things that are in this film and it's weird watching it back."
The documentary had been planned pre-Covid to be a more celebratory look at the process of making his second album.
But with the pandemic and increasing worries over his health, it turned into a different story.
"I was approached to do it in 2019, things were going well," Capaldi said. "I hadn't really noticed the twitch affecting my life that much, my anxiety was under control, I was riding off the back of Someone You Loved being big and the album was doing really well. I though it was going to be the f****** coolest documentary!
"I had all these massive shows booked for 2020 and I thought I was going to look the business in this… then Covid and all the rest of it happened and it became an intimate kind of thing. I'm nervous about it. I'm baring all and I'm excited for you all to see it."
Capaldi, from Whitburn, sky-rocketed to sudden, intense fame when his 2018 single Someone You Loved garnered 28 million streams worldwide, spending weeks at number one in the UK and US.
His on-stage banter, charismatic social media posts and hilarious TV interviews have built a legion of fans who have sold out arena shows worldwide.
"Initially I was very hesitant when it came to this documentary," Capaldi said. "I think I'm seen as someone who is very open, honest and forthcoming with information about themselves because of how I am on social media, in interviews or on stage. But in fact, there's quite a lot I like to keep to myself.
"The thing about the documentary is, you're given a bit more leeway to talk about [your life] that's not going to be sensationalized or taken out of context. I was nervous, and still am."
Capaldi is due to release his second album, Broken by Desire to Be Heavenly Sent, in May.
He is touring the US from the end of March before playing Radio 1's Big Weekend in Dundee and Reading and Leeds festivals this summer.
He's also set for two sold-out gigs at the Royal Highland Centre in Edinburgh on August 30 and September 1.
"I'm looking forward to people hearing the new album," he said. "I can't wait until it's out and it feels like a pressure valve's been released a little bit. I feel a bit tense now because no-one's heard it. It's exciting. I hope people connect to it and enjoy it."
---
Lewis Capaldi: How I'm Feeling Now premieres on Netflix on April 5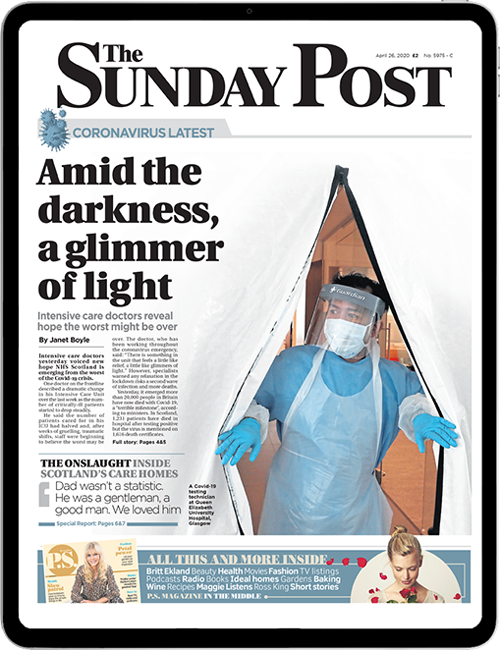 Enjoy the convenience of having The Sunday Post delivered as a digital ePaper straight to your smartphone, tablet or computer.
Subscribe for only £5.49 a month and enjoy all the benefits of the printed paper as a digital replica.
Subscribe