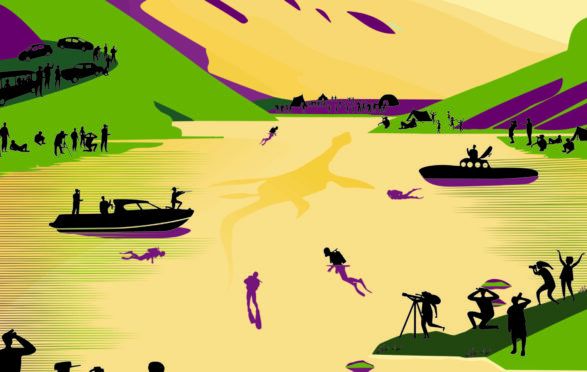 Cannes Film Festival is the height of glitz and glamour. This year's event featured huge gowns, a pristine red carpet, endless A-listers… and a few Nessie fridge magnets.
After decades of making "daft wee documentaries", Bafta-award-winning Scottish director John MacLaverty is taking on one of Scotland's biggest stories.
Since the first reported sighting of the elusive Nessie in 565AD, the world has watched Loch Ness with bated breath, desperate for answers.
But MacLaverty wanted to turn the focus 180 degrees, to those on the shoreline. "The Inverness and Loch Ness area brings in £200 million a year in tourism," he said.
"We couldn't get an exact figure, but to suggest Nessie might be about a quarter of that I think would be quite conservative.
"The film is called Loch Ness: They Created A Monster and I think the monster is the phenomenon itself. Those slightly mad people that came up and lived in caravans and were on news bulletins in the 1970s…they didn't find anything, but they created something."
Loch Ness Centre to reopen following £1.5 million transformation
The documentary will be released later this year, but a 10-minute section was premiered at Cannes Film Festival as part of a Scottish Screen delegation. MacLaverty said: "There are the celebrities, but I'm at the bottom of the glamour ladder. They are in the same place and that's exciting, but it's not like you are actually bumping elbows with Harrison Ford.
"For someone like me – I love my job, but I work in the small pond of Scottish film-making – it's great to be there in the epicentre."
Making sure the group's stall was stocked with Loch Ness rock, tea towels, postcards and other souvenirs, MacLaverty was keen to make sure people knew his documentary would be something different. "Loch Ness documentaries are synonymous with a cheap grab, someone doing a funny story they're not going to take seriously," he said.
"I had to make a bit of an effort to say 'this is better that you think it's going to be'. The film itself doesn't really make a judgment about what happened at Loch Ness – it talks about the people who came."
MacLaverty took his film to Cannes to drum up interest in its release and his choice of attire helped him embody the Scottish confidence he needed to do that. "I brought my kilt," he said. "If you've made a film about something traditionally Scottish, you might as well do it.
"It's probably the first time in 15 years I've worn one, but it was a great conversation-starter. On the nights of the premieres, every male is in a black tux and you get to swagger along. It was my charity-shop kilt; bought the week before for 60 quid."
And interest in the film did come, but from a different audience than expected. "Towards the end of the week there was excitement. Our film agent had news there was an incoming offer on our documentary," he said. "I pictured a cigar-chomping Hollywood mogul boss…
"Unexpectedly, the first territory we sold was North Africa and the Middle East. So sipping a beer on the Cannes beach, I pictured someone in cinema in Casablanca watching Dick from Drumnadrochit talking about the hunt for a plesiosaur…
"Hopefully, they'll think: Loch Ness…. there must be something in the water."
Fabled beast sightings date back centuries
Whether through a lens, a screen or our own eyes, most of us have peered out across the depths of Loch Ness.
Is there any movement? An unexplained splash? Surely that is not just a log floating there?
The first recorded sighting of the Loch Ness Monster was in 565AD by Irish monk Saint Columba.
She went quiet in the centuries that followed, but as visitor numbers to the area started to rise in the 1900s, so did reported sightings. More than 1,100 sightings have been recorded to date, the most recent being last month by a 13-year-old girl from Paisley.
The Loch Ness Centre in Drumnadrochit will reopen on June 10 following a £1.5 million renovation. It comes 90 years after one of the most famous Nessie sightings by local hotel manager Aldie Mackay.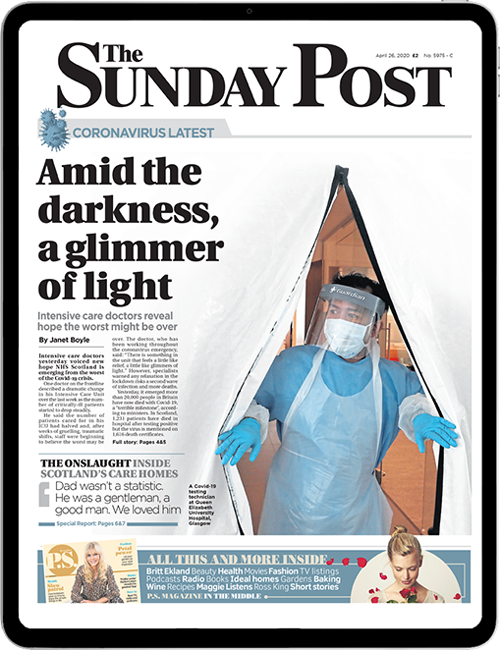 Enjoy the convenience of having The Sunday Post delivered as a digital ePaper straight to your smartphone, tablet or computer.
Subscribe for only £5.49 a month and enjoy all the benefits of the printed paper as a digital replica.
Subscribe