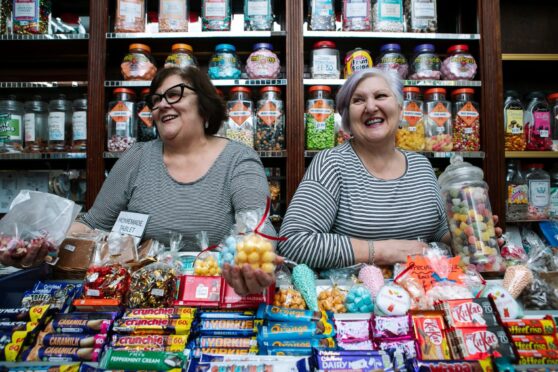 It's 3.45pm on a sunny Friday and the queue is out the door at the Cross Cafe.
Behind the counter, Alda Jannetta is scooping ice cream onto pokey hats and pouring quarters of sweets in silver wrapping into wee white paper bags.
Now 70, her life has been one of cones, crisps and quarters since she was 16 and she could serve them up with her eyes closed and not spill a single vermicelli.
Her younger sister Johanna, 67, looks on from the coffee bar on the mezzanine, sweeping the floor and rolling her eyes in mock exasperation at the flurry of sugar-coated mayhem below.
Purse-holding parents are fielding requests for goodies like bookies at Ayr races on Gold Cup day. It's a scene straight from Roald Dahl, with jars of boilings, creams and chews stacked high above the sisters' heads on oak gantries carved by an Italian craftsman from Glasgow in the 1920s.
A sign in the window, "Cross Cafe: End of An Era Sale" is only part of the explanation. Kids have been visiting the cafe, in Kilmacolm, Renfrewshire, on the way home from school for decades. I know. I was one of them.
The Jannettas' decision to close the Cross Cafe two years shy of its 100th anniversary has triggered a million memories and sent a steady flow of customers over its door in search of one last nostalgic taste of the home-made tablet, home-churned Italian ice cream and home-spun jaw-jaw.
"Our backs and knees are killing us," said Johanna, over a coffee once the shutters are down. "We should have been off our feet years ago."
The pair have worked in the cafe since they were teenagers, living in the family flat above the shop. The cafe dates back to September 1924, when the pair's grandfather Benedetto Pignatelli took on the premises.
His daughter, Mafalda (known as Mabel) and son in law Giovanni (Johnny) ran the cafe until their daughters were old enough to help, gradually taking over in the early 1980s.
The family's Italian roots extend to Casino and Bemonte via St Andrews in Fife, with links to other Italian cafes around the country, past and present.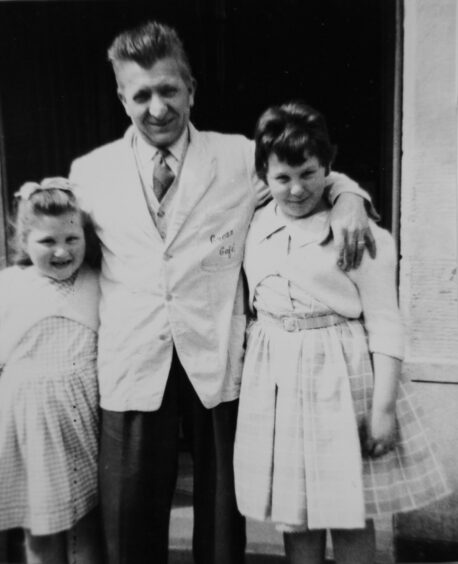 Both parents were born in Scotland, yet weren't immune to the prejudice faced by many Italians during the Second World War. "We had an uncle in Glasgow who ran the Cosy Neuk in Byres Road, and he boarded up the shop and came down to Kilmacolm," said Alda, acknowledging how Mussolini's regime led to Italian shops being smashed up in Britain. "Some of the Italians in Port Glasgow and Greenock got a hard time, but we were lucky. When they came up on the bus, the villagers came out and protected the cafe."
The local embrace has been repaid many times since. Alda and Johanna are the epitome of community mindedness. They've organised medical care for older customers, arranged funerals, and even been appointed guardian of a vulnerable member of the community.
Johanna said: "People phone us and ask for help with certain things and we'll help where we can."
The Cross is no hipster cafe. If you like your coffee with granola or avocado toast, try a few doors up. From the Italian creams in the glass cabinets, to the pictures of their ancestral homes in the lobby, it's steadfastly traditional.
Alda said: "We didn't change because we didn't have to. If you're doing something that works, stick to what you're doing."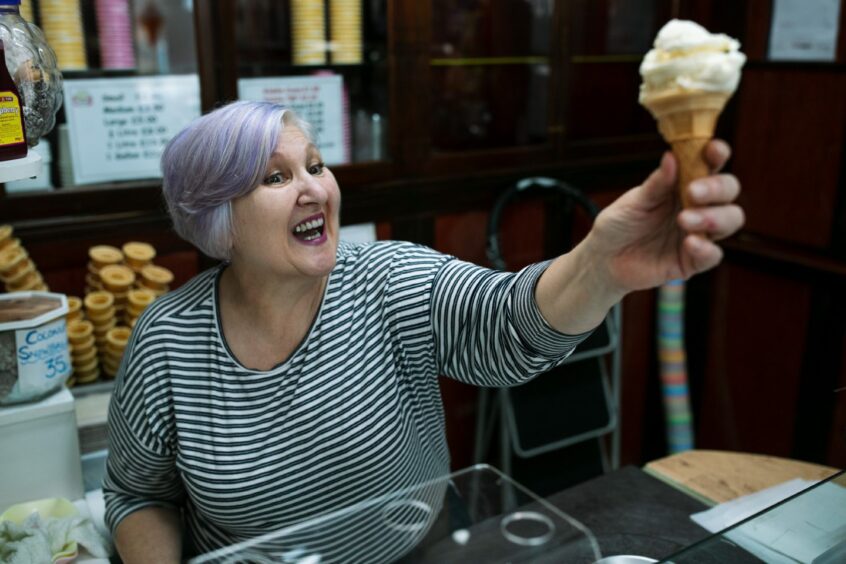 The girls recall their parents' stories of late nights in the cafe with soldiers based at Balrossie, a former children's home, and the Hydro Hotel. In the 1960s and 70s, it was popular for its juke box, but for many the main draw has been the ice cream.
"My grandfather churned it by hand in a wooden barrel out the back," said Alda. "He had a bike that he used to churn it, too.
"Dad made the ice cream after that and he'd just go and get on with it, so much so that when he died that was the recipe for the raspberry sauce away.
"I tried for weeks to get it right, I was pink from head to toe. I never did get it, always either too thick or too watery. If he came back he'd have a fit.
"Our recipe has changed slightly over the years. The milk came straight from the cows up in the fields in those days, the farmer brought it down."
The cafe was also a regular haunt for the 1960s Scotland teams who trained at the village's Birkmyre Park and stayed at the long-destroyed Hydro Hotel.
Alda said: "Denis Law and the rest would come in."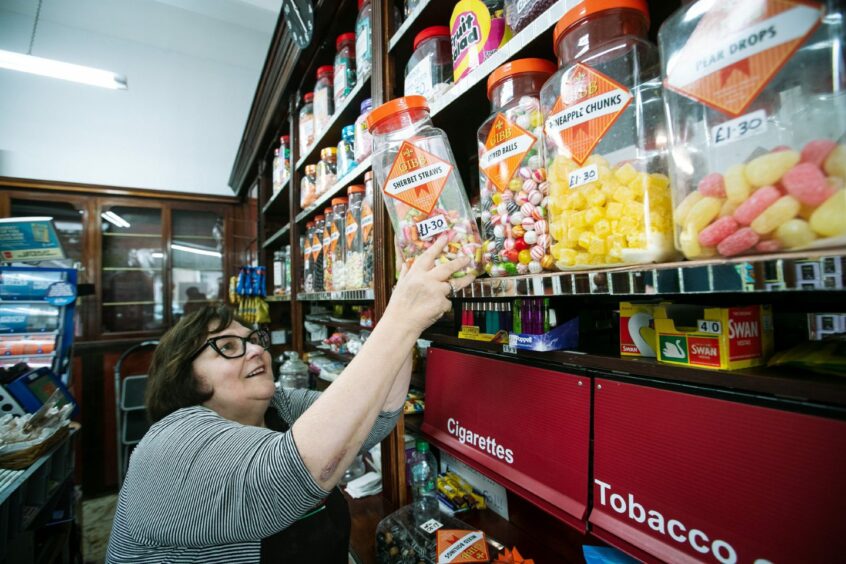 These days, Rangers favourite Ally McCoist is a regular. "He always gets a bag of soor plooms and jokes with us that he needs to make sure people don't see him buying bags of green sweets," said Johanna. And he's not the only one who still likes a poke of sweets.
"We have 150 different jars running at the one time," said Alda. "Kids still come in and ask for floral gums, cherry lips, sours, millions," said Johanna.
Like many Scots Italian cafes, none of the younger members of the extended family wanted to take on the business.
So when the Cross Cafe closes for the last time at the end of this month – on what would have been Mabel's 101st birthday – it will be the end of 98 years' trading.
Alda said: "It might be nice if it became a bistro or a deli. There's a niche for a deli rather than another coffee shop."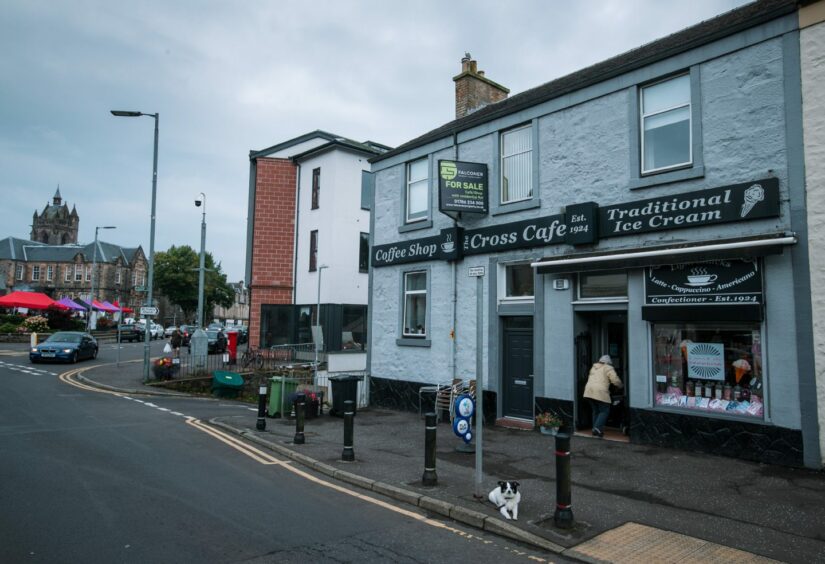 As I make my way to the door, the pair point to the photo collages of the cafe through the ages, back to the 1920s. What, I wonder, would their ancestors make of the shift they've pulled?
Alda said: "They'd definitely be surprised. None of them did it as long as we have."
"They'd be amazed," Johanna added. "Mum would have thought we'd have given it up years ago. But neither of us want to go out of the Cross Cafe in a box. So when we close, it'll be with a bit of sadness, but relief too."
Paper job gave me bagfuls of memories
By Paul English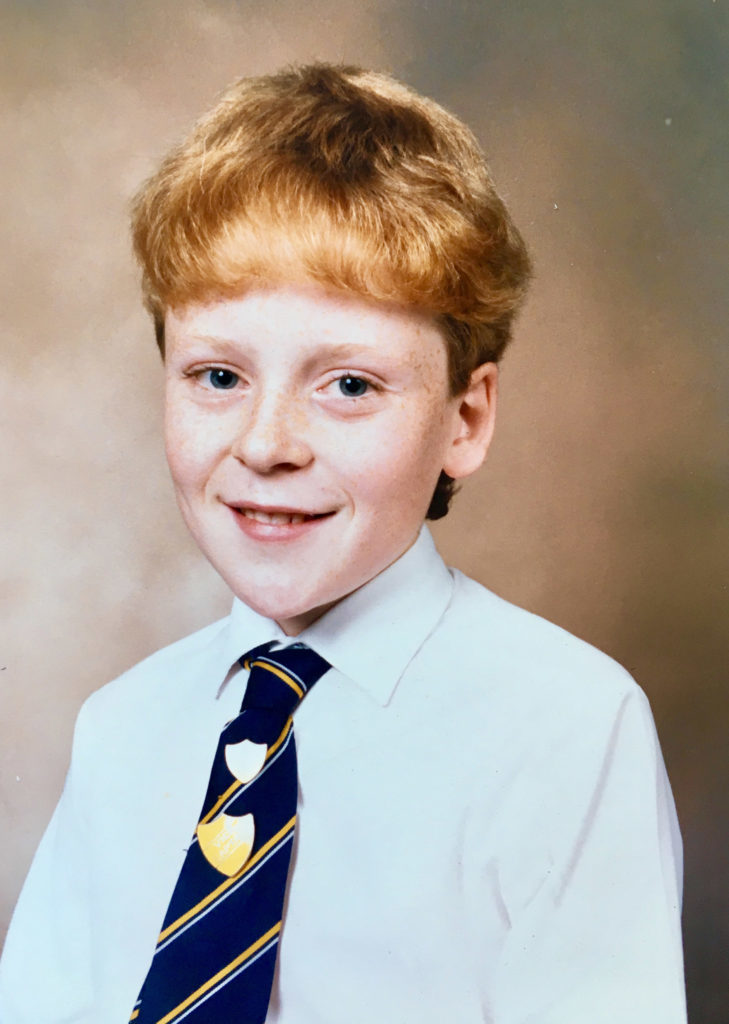 Alda and Johanna gave me my first job in Sunday papers.
At 15, I'd traded in my daily morning run around the mansions of Kilmacolm for a Cross Cafe run in the pocket of local authority houses I came from in this Renfrewshire village dubbed by some as Millionaire's Valley.
An interesting insight in socio-economics – smaller houses but bigger tips. The sisters – and spaniel Nico – were key characters in my childhood.
Blindfold me now and I'll tell you I'm at the Cross Cafe just by touching the Art Deco door handle, the door's weight and creak as familiar as the shout of an old pal.
Memories of the sweets are burnt into my mind like the fizzy bits on a Wham bar. Quarters of cola cubes and cherry lips, 10p mixtures and astro-belts, and long-forgotten crisps called Farmer Browns, my formative confectionary experiences at the top of Smithy Brae.
I left home aged 18, yet when I popped in last week to scoop up bags of violet creams and peppermints, I was soon balancing on a stool eating a cone and fixing their final window display.
I couldn't have been more chuffed if I'd been turning on the Christmas lights at George Square.
The shop's beautiful hand-carved oak gantries holding their final jars of sweets, have been gazed upon by generations of wide eyes, many who're no longer around to see it close.
The Cross Cafe has served its community much more than chocolate, coffee and ice cream for almost 100 years.
It'll be remembered – sweetly, of course – for many more to come.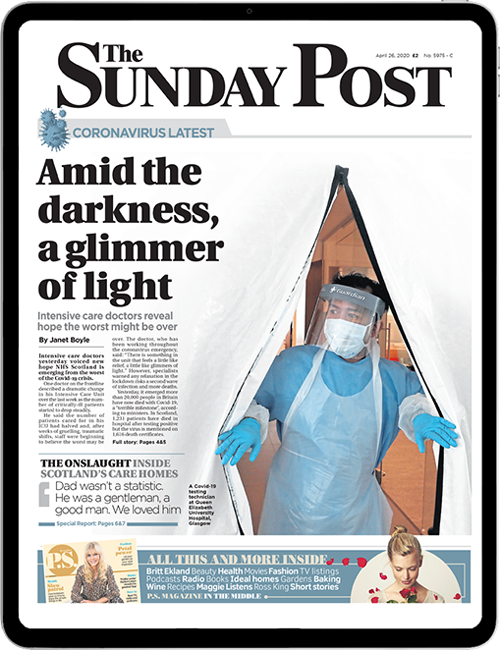 Enjoy the convenience of having The Sunday Post delivered as a digital ePaper straight to your smartphone, tablet or computer.
Subscribe for only £5.49 a month and enjoy all the benefits of the printed paper as a digital replica.
Subscribe