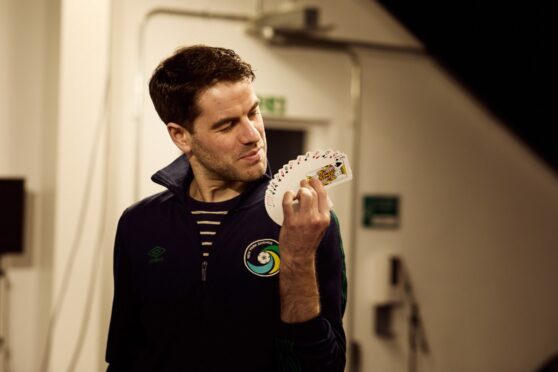 Writer Rob Drummond is asking the sort of question he thinks Roald Dahl might have asked if he had been working in our turbulent, perplexing, digital times.
"I don't understand how a teenager can have 20 million followers on social media and for it not to poison them," he said. "And I don't understand how an 18-year-old footballer can earn £100,000 a week and for it not to poison him."
Drummond has taken on the formidable task of adapting a new version of a lesser-known story from the canon of the much-loved children's author. The Wonderful Story Of Henry Sugar was published by Dahl in 1977 as part of a compendium of short stories, aimed at a slightly older audience than most of his children's novels were.
It told of an idle gambler who tries to master the magic art of "seeing through cards", inspired by the real-life Pakistani mystic Kudu Bux, who claimed to be able to see without using his eyes.
The story is a tale of moral redemption, and using gifts for the greater good. Next week the curtain will rise in Perth Theatre on the first theatrical adaptation of the story, put together in conjunction with The Roald Dahl Story Company.
And Drummond hopes the themes he's exploring through his vision of Dahl's tale will resonate with a present-day audience in the age of Instagram influencers and YouTube followers.
He said: "It's a story within a story and that's what I found really interesting. We've added another character called Miranda Mary Parker, which is a name Dahl had actually abandoned from Charlie And The Chocolate factory.
"It's a story about magic, real magic, and realising that with great power comes great responsibility, like Spider-Man. You can either achieve greatness or you can fall off a cliff, achieve something great or curse those around you."
Many of Dahl's novels explored issues of morality. His most popular, Charlie And The Chocolate Factory, had characters whose fatal flaws proved their undoing, while the impoverished humble hero of the novel, Charlie Bucket, proved to have the greatest virtue and won the day.
The new character of Miranda Mary Parker enabled Drummond to introduce a contemporary issue affecting modern society.
He said: "By adding this character we've contemporised the story with a layer of social media power. What it does to you to have one million followers, and whether you can use that for good or bad. It's not an anti-social media tale, it's a cautionary tale.
"When he was writing he was already saying society had its problems – no matter what time frame you tap into, the human compulsion for narcissism is always prevalent. The internet hasn't made us narcissistic, it's just the worst tool to give to a narcissist. Narcissism has always been there, this story just looks at it through different time periods."
Drummond's past theatre successes include his award-winning production Bullet Catch, based on the historic magic trick in which a participant appears to catch a bullet fired from a gun. Drummond's show caused a bit of rumpus among the magicians fraternity.
The production of Henry Sugar will include live magic on stage. He said: "I won't say too much about it because I revealed a magic trick in the middle of Bullet Catch and was castigated by the Magic Circle. But there's a moment in the book where one of the characters meditates and rises off the ground. So we're doing some big stage illusions as well as some cerebral tricks.
He added: "Roald Dahl knew that children loved going to dark places. Their brains are really fertile and they're discovering good and evil. There's real darkness to this piece, real high stakes coming from those powers and the message that your talents can be poisonous to yourself if you don't use them properly."
'The exploitation of the Oompa-Loompas has been discussed'
Roald Dahl's books about friendly giants, marvellous medicine, witches and champions of the world have played a major part in the childhood of millions.
They have spawned film and stage adaptations and turned his catalogue of work into a multi-million pound industry. It was bought by Netflix last year in a deal thought to have been worth around £500 million.
But with society ever-changing, aspects of Dahl's work have been criticised for his questionable takes on female characters, race and mental health.
Dr Dimitra Fimi, a senior lecturer in fantasy and children's literature at Glasgow University said adult "gatekeepers" have a responsibility to contextualise Dahl's work to a younger audience.
She said: "Dahl's writing is very funny. He's really good with language, inventing words, capturing a child's character and dealing with subjects that are often difficult to deal with in a humorous way.
"But there are instances of things such as body shaming with a character like Augustus Gloop in Charlie And The Chocolate Factory, and I've also seen discussions about the Oompa-Loompas asking why these native people are being exploited in this way.
"There are also throwaway comments which hark back to an imperialist attitude in British literature. But he's not the only one there.
"The way to deal with those things is to be open about them as a teacher or parent. There's been discussion about rewriting bits of Enid Blyton's racially aggravated language. Dahl's is not as in-your-face, but it still merits discussion."
---
Roald Dahl's The Wonderful Story Of Henry Sugar, Perth Theatre, from Thursday to April 2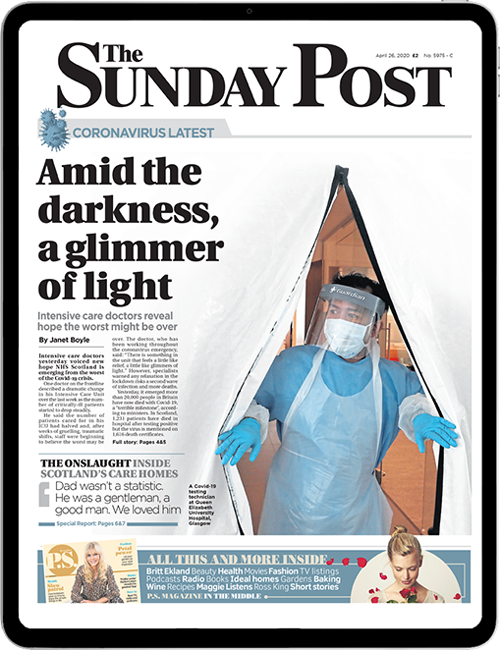 Enjoy the convenience of having The Sunday Post delivered as a digital ePaper straight to your smartphone, tablet or computer.
Subscribe for only £5.49 a month and enjoy all the benefits of the printed paper as a digital replica.
Subscribe