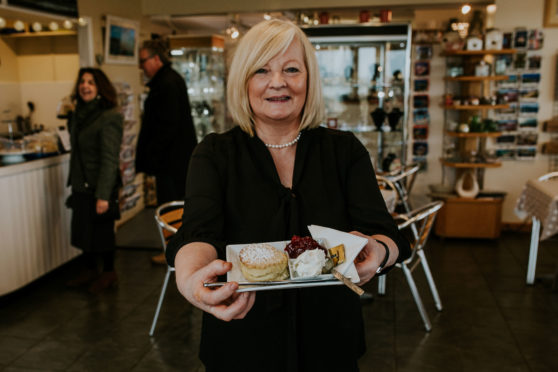 We are gazing out over the Atlantic Ocean and the uninhabited Monach Isles in the distance. Light spills and bathes our table in a glow as warm as the welcome we are about to receive.
This place may resemble a modern home on the outside, but inside is gem just waiting to be discovered.
"Hello," trills beaming cafe manager Jean MacLeod. "Welcome. I'm Jeanie but everyone calls me Jeanie Panini – even my wee grandson," she chuckles.
Scone Spy has come a long way to review this Outer Hebridean eatery and we're pleased we made the effort.
Although we arrive unannounced, Jeanie's welcome is like a home-coming.
We had intended to go straight to the scones, but we can't help but be side-tracked. Customers enter through the jewellery shop, which is mesmerising.
This place is also home to a team of highly talented jewellers who create some of the most beautiful pieces we have ever laid eyes on – most of them with Pictish and Celtic influences and all crafted in fine silver and gold.
On a tour of the workshop, we watch in awe as intricate creations, some based on the local cowrie shell, take form before our eyes – spellbinding!
By the time we get to the café we are ravenous, so decide to have a light lunch before testing the scones.
We're tempted by the smoked salmon, oatcakes and salad. We could go for the chicken noodle soup or any one of the wraps, bagels, toasties and ciabattas on offer.
But we decide to stick with Jeanie's namesake paninis. Then comes the decision on fillings – tuna melt, peppers, peperoni, sweet chilli, cheese, ham, red and green pesto, sun-dried tomato and mozzarella – the list seems endless.
Fortunately Jeanie, humming along to Gaelic tunes as they float from the cafe's radio, is there to guide us. We opt for a cheese and ham, and cheese with onion, followed by the most delicious scones. This cafe offers freshly-baked options of cheese, fruit or plain. But there are also cherry and coconut and apple and cinnamon varieties to choose from. For those who prefer a savoury option there is, rather unusually, a tomato, pesto and feta cheese scone.
We decide on cherry and coconut and apple and cinnamon, each of which is served with cream and jam and a pot of tea.
Of average size, the scones are extremely well baked with just the right degree of moisture and crumble. Deliciously sweet – but not overly so – they are even more scrumptious with cream and jam.
The workshop and jewellery store was first established in 1974. The café followed in 2005 and has been managed ever since by Jeanie who is backed by a friendly and hard-working waiting team.
Scone Spy is suitably impressed. When returning to the mainland we'll continue to dream of Jeanie and her team – and their top-notch scones.
---
Hebridean Jewellery Cafe, Bualadubh, Lochdar, South Uist, Outer Hebrides
Welcome
One of the warmest welcomes Scone Spy has encountered. The islanders make you feel right at home. 10/10
Location
Bang on the Atlantic coast at Lochdar, and breathtaking. 9/10
Scone
Hand baked and super-scrumptious. 9/10