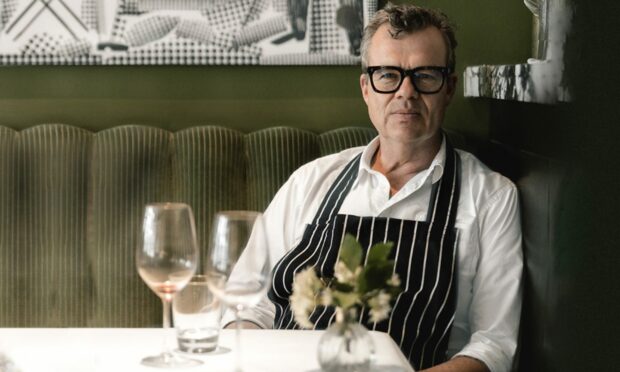 Childhood has a taste to it. For Jeremy Lee, it's the sweet sharpness of just-picked raspberries from the Carse of Gowrie on a bowl of freshly churned ice cream. Or maybe, he thinks again, it's the lentil soup that his gran used to make him for lunch.
"That's what I always associate with granny," Lee recalls. "It's practically the national soup of Scotland. It's just a great big bowl of warming comfort."
It is Saturday morning and Lee is sitting in the eaves of Quo Vadis, the historic restaurant in London's Soho where he is Chef Proprietor. Just for a moment, however, his head is back home on Tayside.
As he speaks, cooks appear and disappear behind him, getting on with the day's work. A wedding party has just arrived. "Rather stunning couple, I must say," Lee tells me. "I'm getting lunch ready for them. And I've got to go and buy some tart cases."
But for now he is talking to me about childhood and food, and the restaurant business and his new book, Cooking. It's a pleasure to listen to him talk. His is a lentil-soupy voice; deep and warm and comforting, with possibly just a pinch of devilment. He moved to London in 1984 at 21, but his accent has retained the flavour of his younger years growing up in Auchterhouse and going to school in Dundee.
Cooking, the book, is a monster of a thing but a beautiful monster; a rich, accessible gather-up of memories, recipes and advice that has already garnered praise from fellow chefs including Fergus Henderson and Nigella Lawson. It is also something of a love letter to the world Lee grew up in and to his parents who kindled within him a love of food.
"I am forever grateful to them," he says. "They made sure that life was always an adventure and they opened our eyes to all the great things in life. And eating was a daily part. They just loved it all and they made sure we knew that and enjoyed it as well.
"Mum was a domestic science teacher. Dad was an artist at DC Thomson. They thought nothing of throwing kids in the back of a car to cross from one side of Angus to the other to find lobsters and our favourite cut from our favourite butcher. We were driven all over the place. When any of us came home, dad had to have lobster, so to Crail we went.
"They made everything a great adventure. Food was a huge thing."
And so it remains for him. Quo Vadis in Soho's Dean Street was once home to Karl Marx and in a previous existence was a brothel. But it became a restaurant in 1926 and for the last decade Lee has been in charge.
Prior to that he had worked with such renowned chefs as Simon Hopkinson and Alastair Little and was head chef at the Blueprint Cafe in London's Design Museum. His cooking has won awards and Lee has done his share of television as a result, including appearing on The Great British Menu. Not bad for someone who hardly excelled at school.
"Growing up is a terrible business. I wasn't a great school person at all," Lee admits. This, he thinks, might be quite a common experience among those who work in kitchens.
"I was always very aware of cooks coming to cook with us who didn't fit that role of sitting at a desk in an office or the dental chair or whatever other profession they might have been groomed for. And to the kitchens they went. It's extraordinary."
He always cooked, he says. "I certainly baked a lot. The first time – talk about Alfred burning his cakes – I put a tray of raisin buns into an oven at full blast. I must have been about seven. I didn't realise you had to set the temperature. I almost set the house on fire."
Real flames? "Real flames."
It didn't put him off. He was inspired by TV chefs such as Michael Smith, who used to cook on the BBC's lunchtime show Pebble Mill at One, and Madhur Jaffrey.
"The first thing I ever cooked in my mother's kitchen was a rogan josh from An Invitation To Indian Cookery. That book I still think is a testbed for genius. If you are interested, she will hold your hand beautifully while you grind spices."
As a teenager Lee got a job at the Mansion House Hotel in Auchterhouse, where he was trained. "I hold it very dear that the boys at the old Mansion House Hotel took me under their wing back in the day. And something happened. To this day I don't really know what it was. But it just seemed that life in the kitchen and cooking had a very natural appeal to it."
It was Lee's bosses at the hotel who encouraged him to go to London. Who was that 21-year-old who made the journey south?
"Very green, very gawky, very gauche, very hard-working, very well trained. I had an apprenticeship and I survived it. Brilliantly, I managed to dodge the bullet of working in kitchens where everyone was called 'chef' and for that I am truly grateful. I managed to plot a course through kitchens that were enlightened and driven by produce and seasonality and good fun. And I made a lot of good friends."
That might surprise some. There is a notion that kitchens are macho, hyper-masculine, shouty, sweary environments full of wannabe Gordon Ramsays and Marco Pierre Whites. But that wasn't Lee's experience. For which he is very grateful. Still, he admits there is some truth in it.
"One of the issues that became abundantly clear was that a lot of chefs were catapulted to superstardom by their ability to cook. Their ability to manage was somewhere in the 18th Century. Beyond basic. And that is where all that stress comes from. This inability to manage yourself properly. Which means you don't manage your crew properly. You get tired very quickly.
"It's very easy to fall into the rut of doing back-to-backs and doubles and all this sort of thing. It all comes back to you and you've got to be able to look yourself in the mirror and go, 'You need to go home and have a sleep.' Because tired means grumpy and it's just that simple."
Lee has been a key figure in the revival of contemporary British cooking. What has helped over the years is the improving quality of the produce available. To everyone. "Lordy, I remember when a courgette was glamorous in Dundee," he laughs.
We sometimes have a weird attitude to food, he adds. "In this country it's quite interesting because the barometer swings so dramatically. Suddenly potatoes are evil, white bread is evil. Does it have to be so extreme? It's always extremes here, which I find ridiculous."
During the Covid pandemic Lee set up a kitchen in his home in Hackney to cook for charities. Now the restaurant business faces the fresh challenge of a post-Brexit landscape distorted by the current cost-of-living crisis.
"I don't know anyone who's not concerned. We are really up at the coalface here," he admits. Then again, he adds, "it's not our first time at the rodeo. We survived the Blitz. I'm sure we can survive another financial crisis.
"I grew up in the '70s. I remember the '90s. I remember them all too painfully and I think it's just a great shame that every time you think you are stepping into the sunlight the carpet gets pulled from under your feet."
It's time to go. He has tart cases to buy. I have, I tell him, a confession to make. After spending the previous day reading his book and delighting in all the culinary possibilities it offers I still stuck a ready meal in the oven.
"We all need our naughty treats. A microwave meal I'm sure is just the same as buying a naughty bar of chocolate or an occasional treat. I don't think it's a very healthy diet, long-term, but now and again do you know what? You just need to press that button."
Cooking by Jeremy Lee is published by 4th Estate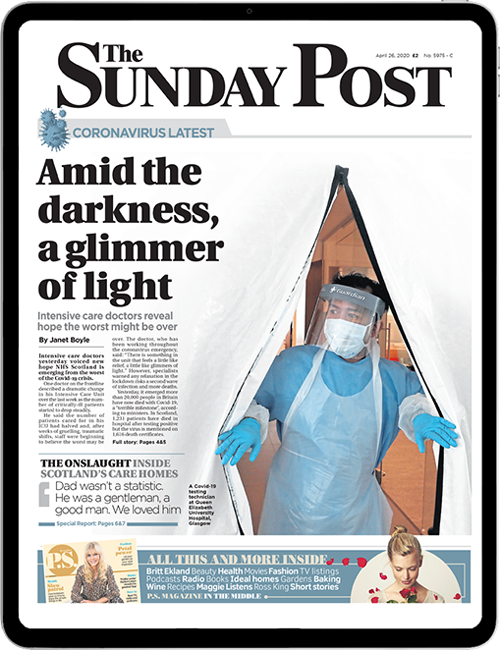 Enjoy the convenience of having The Sunday Post delivered as a digital ePaper straight to your smartphone, tablet or computer.
Subscribe for only £5.49 a month and enjoy all the benefits of the printed paper as a digital replica.
Subscribe