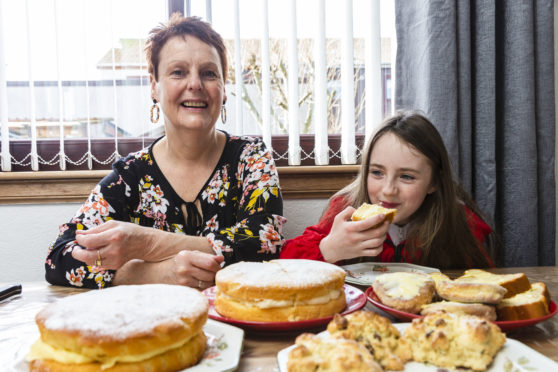 After 40 years successfully steering delicious meals from stove to table, Ann McLean knows how to cook.
The devoted grandmother feeds up to 10 members of her family every night at her home in Inverallochy, near Fraserburgh.
Baking? That too. She even makes scones for her neighbourhood ice cream shop where she has worked for more than three decades.
So, Ann was left simmering when a young technician arrived at her home to inspect a new oven she had complained about.
She said he proceeded to set her an "embarrassing" cooking test before criticising her technique.
Ann said the repairman watched and took notes as she heated a packet of chicken thighs, which he prodded at intervals with a temperature gauge.
"We set the oven at 180 degrees and waited until the light went out then put in the thighs," said Ann, 59. "After 15 minutes, he asked where the packaging was for the chicken.
"When I told him it was in the bin, he fished it out and read the instructions.
"He said the oven would have to be turned up to 220. He then said it should be in for another 35 minutes, instead of 35 minutes altogether.
"The cheeky so-and-so then said there was nothing wrong with the oven.
"He claimed I wasn't cooking things properly.
"It was a farce. This boy must have been in his 20s. I have been cooking chicken for almost twice as long as he has been alive."
Ann's woes started after she bought a Candy oven from electrical store AO.com last October for £160.
She said it was working well until the middle of December when it suddenly started taking a lot more time than usual to heat up food.
"I had 12 people coming for Christmas lunch and because of this oven it was almost a disaster," she said. "I put on a big ham at 6am but four hours later it had barely started to cook."
Ann said she only salvaged the meal by mobilising a spare oven. She later phoned AO to argue the appliance wasn't working properly. After a visit from an engineer in early January, Ann thought the device still wasn't right so she complained again.
Following this, a second engineer turned up and did the cooking test. After he gave the oven the all-clear while questioning her cooking abilities, Ann wrote to Raw Deal for help.
We contacted AO on her behalf and she was quickly offered her money back.
Ann instead chose to upgrade her oven and put another £150 towards a Hotpoint model, which she again ordered from AO. She is delighted with her new device.
AO apologised for letting Ann down "on this occasion" but declined to comment on her experience with the technician.
The firm said: "We pride ourselves on ensuring our customers are always happy.
"Though no fault was found with the original oven during the manufacturer inspection, we have agreed in this instance to replace it for Mrs McLean."