It's the 24th film in the wildly successful franchise, and comes complete with butt-kicking action, wisecracks and plenty of special effects.
On the face of it, nothing seems to have changed with Black Widow, the new superhero spy thriller starring Scarlett Johansson.
It being the first major Marvel movie since the pandemic, the huge box office for Black Widow almost seems like business as usual for Disney, who own the franchise.
But this is the one which may just change everything.
Not in terms of the plot, of course. New actors Florence Pugh, David Harbour and Rachel Weisz are on board and there's the usual race to save the world; don't expect things to be wildly different in terms of what happens to the Marvel Cinematic Universe.
This might be the movie, though, that really does confirm things won't be the same again for cinemas.
Black Widow premiered on big screens but also at the same time on premium streaming service Disney+.
They announced the opening box office figures for Black Widow last week and the figures were great: it has already made its budget back at nearly £180 million. Expect that to grow and grow.
Disney released the box office and streaming figures at the same time. Industry insiders here reckon that's a bit of a sea change.
We know the Covid pandemic has altered so many things, and cinemas may be part of that.
Instead of selling their movies to cinemas, Disney seem confident of selling them directly to the consumer.
Of course, classic cinemas will still operate for the time being but Disney now have that flexibility to offer you premium blockbuster movies at the touch of a button… and there's not much cinemas can do about it.
The Rubicon has been crossed and people perhaps aren't as desperate to get to cinemas.
Perhaps that will change and, post-pandemic, people will want real experiences. That might include going to a picture house with popcorn and hotdogs.
Yet also audiences might find, with their big tellies and access to snacks which don't cost a fortune, that staying at home is cheaper and more comfortable.
Black Widow costs £20 in the UK on top of your Disney+ subscription. That seems expensive, but compare it to cinema tickets for a family of four.
Those who do want to go to the cinema? Well that option will still be there… probably.
Movie industry people here reckon those cinemas which offer something a bit special will survive.
Luxury reclining seats, food and drink service at your seat? Yes, please. Smaller, independent cinemas showing carefully curated films, too.
It's just another way the world will change, post-pandemic.
Now I just need to check if the theatres here will accept an empty jam jar as an admission…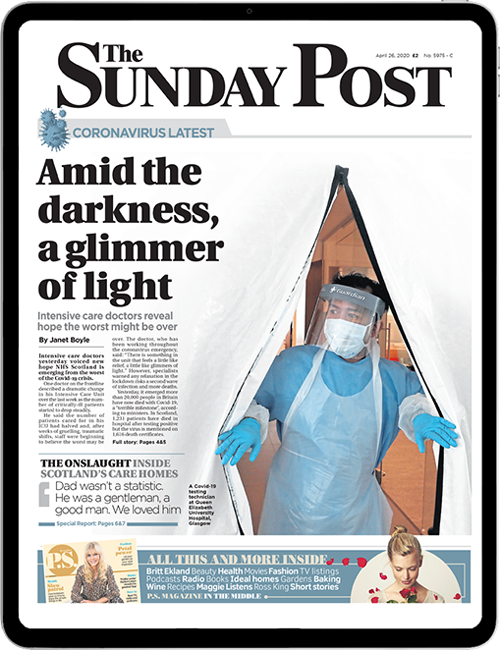 Enjoy the convenience of having The Sunday Post delivered as a digital ePaper straight to your smartphone, tablet or computer.
Subscribe for only £5.49 a month and enjoy all the benefits of the printed paper as a digital replica.
Subscribe