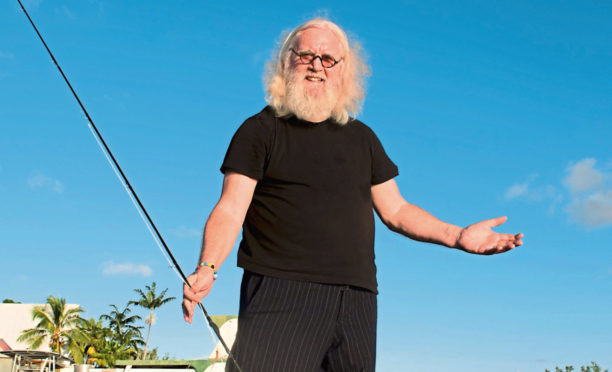 Billy Connolly is synonymous with Christmas for thousands of people, because his once annual live videos and DVDs would be found under the tree.
So it seems an appropriate time of year to celebrate the Big Yin's stand-up career, after he announced he will no longer perform live due to his Parkinson's diagnosis.
His comedy is rejoiced and remembered in new documentary, Billy Connolly: It's Been A Pleasure, which not only features clips from his career and a new interview with Billy and wife Pamela Stephenson at their Florida home, but also hears from fans and friends such as Sir Paul McCartney, Sir Elton John, Dustin Hoffman, Whoopi Goldberg, Russell Brand, Sir Lenny Henry, Aisling Bea, Armando Iannucci and Sheridan Smith.
Billy says the time is right to step off the stage permanently and insists he has plenty of good memories to look back on.
"Since the Parkinson's came along, I'm still the same in many ways but I don't think as sharply as I need to for the job," he explained. "I've done 50 years and that's plenty. Quitting is the right thing to do. I feel very content with the decision and I don't miss it.
"My career was extraordinary. It had such a growth rate. It just kept going up and up, right to the end. Most people's careers have a dip but mine never did. I understood it when I had Mike Parkinson to thank for that first breakthrough, but even after that it just kept growing. Unbelievable. But it's time to stop. It's much better to stop when it's still your idea.
"You don't want to turn up for a gig and there's nobody there, although that did happen to me once in Perth. I turned up for the gig but the place was locked up and there was nobody there. There was a wee notice on a piece of paper stuck to the door: 'Show has been cancelled due to lack of interest'. They could have at least told me!"
But Billy admits he won't miss the nerves that would grip him just before he went on stage.
"It's terrifying, like walking the plank. My nerves got worse as the years went by. I used to meditate for 20 minutes to calm myself down, except sometimes I'd turn up too late to meditate and would just have to rush straight on. The gig was just as good without the meditation. As soon as you walk on, the nerves go away. By the time you're halfway to the microphone, it's all gone.
"There's no sense in being nervous – the audience are there because they like you so it's entirely illogical, which makes it difficult to deal with."
Sir Billy Connolly admits he gets embarrassed watching himself back as festive TV special celebrates his legendary career
Billy has spent lockdown at the family home in Florida's Key West and has begun to write his memoirs.
"We've been locked down since April and at first it was frustrating, but we've actually come to like it. I've been doing a lot of drawing. The other day, the dog ate my hearing aid. Six thousand dollars' worth. It's an unusual problem to have."
He also spent time watching clips of his stand-up sets in preparation for making the documentary and admits he gets embarrassed watching himself.
"I dodge it if I can," he continued. "It's weird, sometimes I don't find myself very funny, and then I might watch the same thing again a year later and think it's terrific. I have a strange relationship with my own stuff."
But he does recognise he was a game-changer in the industry.
"Maybe. When I was growing up, the big comedians on radio and television were people like Ted Ray and Arthur Askey," Billy added. "I didn't have much in common with them. I belonged to another realm of comedy. I kind of invented my own genre.
"The fact you go on and do two hours… I remember talking to an old Scottish comedian and congratulating him on his set. He told me he'd been doing the same eight-minute set for 23 years. That's miles away from what we do now. I'd come off stage exhausted and with white hair.
"I always wondered how my hair got white. It was just a very long gig."
---
Billy Connolly: It's Been A Pleasure, STV, Hogmanay, 9.30pm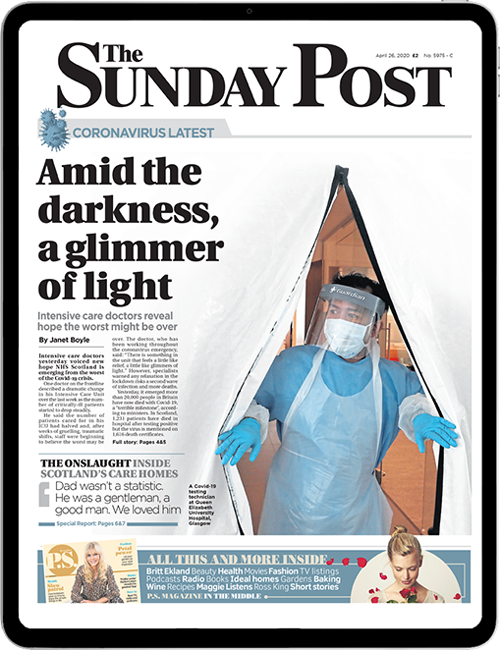 Enjoy the convenience of having The Sunday Post delivered as a digital ePaper straight to your smartphone, tablet or computer.
Subscribe for only £5.49 a month and enjoy all the benefits of the printed paper as a digital replica.
Subscribe