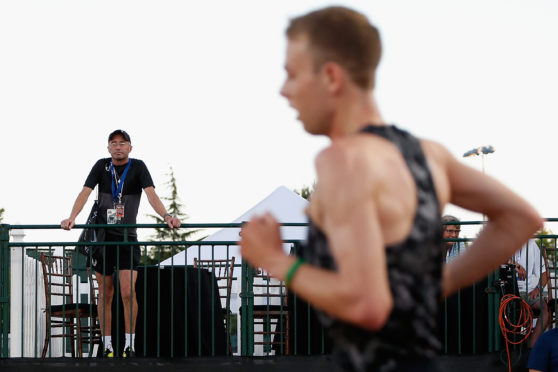 BBC Scotland investigations correspondent Mark Daly looks back on a week when his story exposing doping at the top of world athletics came to a head after five years
Two weeks ago, Alberto Salazar was banned. On Friday, Nike closed its famous Oregon Project. In 15 short days, five long years of hard work and waiting had come to a head.
The world's biggest sportswear company – nicknamed The Swoosh after one of the world's most instantly recognisable logos – is known for digging its heels in. It took longer than many observers thought acceptable to dump cyclist Lance Armstrong, after his fall from grace; the twice-banned drugs cheat Justin Gatlin still runs in Nike shoes; and golfer Tiger Wood's lucrative relationship with the sportswear firm continued even when his personal life was most turbulent.
So for Salazar's prestigious Nike Oregon Project to become too toxic even for Nike is more than noteworthy. Yes, outwardly Nike is still standing by Salazar as he appeals his ban, but dumping the Project – his project – signifies that Salazar and everything he stood for at the company is finished.
The American, famous here in the UK because he was Sir Mo Farah's coach for seven years, is disgraced. Two weeks ago, a panel of independent arbitrators agreed with the US Anti-Doping Agency (Usada) that Salazar had broken doping rules and banned him for four years.
The news, delivered in the middle of the World Athletics Championships in Doha, sent shockwaves through the sport. Most thought this case had gone away. There are many still involved in athletics at the highest level who fervently hoped it had gone away.
In 2015, in a BBC Panorama programmed called Catch Me If You Can, we alleged Salazar (as well as Scotland's 1980 Olympic gold medallist Allan Wells) had doped. Both strenuously denied the claims.
It was one of the most difficult and fraught investigations I had been involved in. The stakes couldn't have been much higher – Salazar was the most famous and powerful athletics coach in the world and we understood the scale of the potential reputational damage to the BBC if we got it wrong. The number of lawyers working on the programme outnumbered the journalists by two to one.
I recall the late nights, legal letters and searching questions from my editors. It felt like we were involved in something big, but we had to fight to get our programme to air, and right up until the verdict last week – our journalism was under the most rigorous examination.
As I awaited the arbitrators' decision on Salazar, I considered the ramifications if he had been cleared, certain that Nike's lawyers were watching as closely as I was.
Salazar, who has the famous Nike swoosh tattooed on his arm, was found to have "orchestrated and facilitated doping conduct". That means people need to take seriously what Usada found, not make excuses for him.
The BBC has its critics, but it was a brave decision to broadcast the film. That decision has been vindicated. BBC athletics commentators Steve Cram and Paula Radcliffe, who are also paid Nike ambassadors, were not then convinced by the case against Salazar, and urged us not to question Farah's integrity, while International Association of Athletics Federations' president Seb Coe was also reluctant to discuss his friendship with Salazar. "We broke world records together," he said, while accepting the charges were serious.
After the Russian doping scandal and corruption claims, many fans believe those leading world athletics must do more but, meanwhile, the painters will soon be arriving at Nike's sprawling 286-acre campus in Beaverton, Oregon.
Salazar has a building named after him there, in a tribute to one of its revered athletics pioneers. There used to be a Lance Armstrong building too, but it's now just called the Fitness Center. Much safer. Salazar's building is destined for another rebranding.
And the heads keep rolling. In Britain, Neil Black, the performance director at UK Athletics (UKAA) who once hailed Salazar a "genius", stepped down last week. He had given Farah the green light to carry on working with Salazar after an investigation by UKA, which seems to have involved looking the coach "in the eye" and believing his denials
UKA sent an investigator to meet me and my producer, Murdoch Rodgers, after our Panorama in 2015, and after spending four hours looking at our material, I sensed he was disturbed by the evidence. Yet just a few weeks later, UKA gave Salazar a clean bill of health.
Today, Sir Mo, Britain's greatest ever track athlete, lines up against his friend and former Oregon Project stablemate, Galen Rupp, at the Chicago marathon. This will be the first time Rupp competes in a serious race without his mentor, Salazar, by his side. Last week, the sport's watchdog, the Athletics Integrity Unit, contacted him, along with all of the other Nike Oregon Project athletes and ordered them to sever ties with Salazar.
Farah has never returned a positive drugs test, and denies ever cheating. In Chicago on Friday, he suggested racism was behind the media's continuing interest in his links to Salazar: "There is a clear agenda to this."
He hasn't been accused of doping, but people are still asking why he did not leave Salazar as soon as the allegations first emerged in Panorama in 2015 instead of staying with the coach for another two years.
He might regret that decision now, because his long association with an acclaimed coach turned doping pariah could still tarnish his many achievements on the track.
Journalism is still vital
I was in Potsdam, Germany last week, at the Prix Europa TV festival, which celebrates the best of Europe's current affairs productions.
At a time when traditional media platforms are under more scrutiny than ever, it has been heartening to see how colleagues from around the world are continuing to bash out really strong films without fear or favour.
Budgets are tighter and commissions are fewer, but I've watched programmes this week which have caused political resignations, seen corporate giants being taken on and the rich and powerful being held to account.
Many of the films have been harrowing, but it's a stark reminder that the need for investigative journalism has never been greater.
Predators unmasked
A big shout-out to my BBC Disclosure colleague Myles Bonnar, who this week broadcast his investigation into the seduction industry.
Exposing a bunch of sad but potentially dangerous misogynistic "pick-up artists" for what they were was a great piece of public service journalism.
Glasgow's Adnan Ahmed, known as "Addy A-Game" will have plenty of time to reflect on this as he awaits sentence for a string of charges relating to harassing women in the street.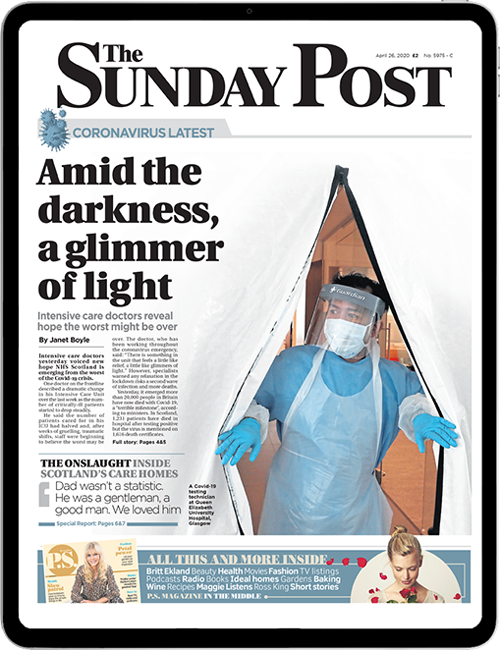 Enjoy the convenience of having The Sunday Post delivered as a digital ePaper straight to your smartphone, tablet or computer.
Subscribe for only £5.49 a month and enjoy all the benefits of the printed paper as a digital replica.
Subscribe