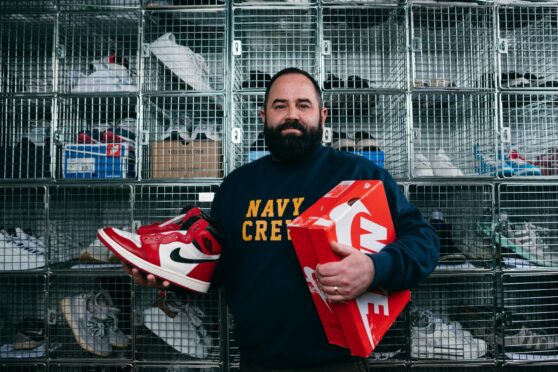 Three decades ago, Rob Stewart, then 13, saw a pair of trainers that would change his life.
His cousin had returned from holiday in Florida with a pair of Nike Air Jordans, unavailable in Britain, and that was that. Thirty years and 1,000 pairs of shoes later, his love is deeper and wider than ever.
He has made a career out of his sneaker obsession, and is co-owner of a booming business, Sneakers ER stores, which offer a premium service by restoring and repairing high-end trainers.
As the business goes from strength to strength, with shops in Glasgow and London, and two more opening in Manchester and Birmingham, one might think that Stewart's passion for sneaks might have waned now that it is his day job – but not so, says Stewart.
"Still, to this day, if I find myself with a spare minute in the house, or if I can't sleep, I'm right on option sites or market places just in case someone has listed a pair that I haven't got yet," he said. "That desire to discover hidden gems still burns brighter than ever."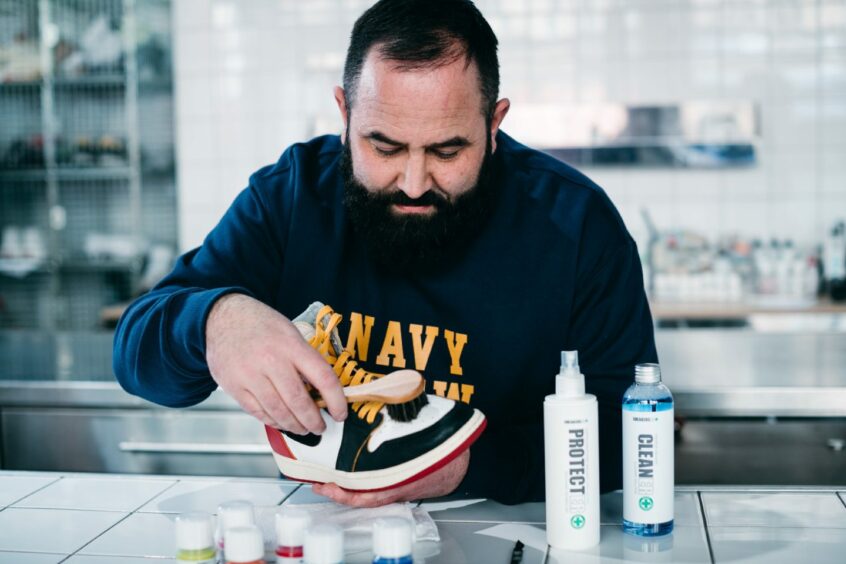 Stewart's particular obsession is New Balance, perhaps not the flashiest or the coolest brand, but to Stewart, a perfect design. He explained: "No one really cares about the old performance New Balance shoes, but the people who are into it are super, super geeky about it, like me.
"I'm from a manufacturing background, I studied product design at university and worked as a architectural model maker, and in Formula 1 making prototype designs. I really like that the UK and US still make New Balance shoes, they are the last global giant in footwear that still does that. I've had the pleasure of visiting both factories and to see generations of families building the shoes, that's definitely a big part of the love for me.
"Also with me getting on in years, I do now appreciate a much simpler colour palette! A lot of the colourful hype-y Nike and Adidas stuff doesn't appeal to me anymore, but New Balance with their more subtle tones really does it for me. I love nothing more than an all-grey New Balance shoe, which you can pretty much wear with absolutely anything.
"I love the craftsmanship and quality of the shoe – you will pay a premium price for a pair, even double what you would pay for a Nike shoe, but when you hold the two shoes together, from one brand to another, you can definitely see where your money has gone with New Balance."
Stewart is a self-confessed sneakerhead – sport shoes enthusiasts who collect hundreds, if not thousands, of pairs of their favourite shoe style or brand – with Stewart himself owning over 1,000 pairs of New Balance trainers. While Stewart has been collecting trainers for more than 20 years, the market in casual footwear has exploded in the last 10, with sneakers surpassing luxury handbags as flashy status symbols. In 2020, the global trainer market was valued at approximately £60 billion, and is estimated to reach £92bn by 2026.
Ligaya Salazar, a museum curator who curated 2021's Sneakers Unboxed, an exhibition about the history and cultural significance of trainers at London's Design Museum, explained that luxury fashion brands have only recently woken up to the lucrative potential of releasing designer sports shoes. Their sudden interest in the market means that business is booming, and Stewart and his fellow sneakerheads have more competition when searching for the newest addition to their extensive collections.
Salazar said: "In sneaker culture, there is an idea of finding a pair that is unique, or unique enough to impress your peers. Sportswear brands didn't start capitalising properly on that until the turn of the millennium by releasing limited edition shoes, or shoes that you can only get in certain countries or stores.
"I remember doing a show on fashion back in 2008, which isn't really that long ago in the grand scheme of things, and even back then Nike didn't see themselves as anything more than a sportswear brand, even though people were wearing their shoes for style, not just for working out.
"In the last 10 years, you're seeing new designers push the boundaries, and transcend beyond sneakers having to be functional. They're still trainers, but they don't function as sportswear anymore. Some of these new styles are pretty wild, fun, and futuristic. They are not everyone's cup of tea, but I think in terms of design and innovation they are very interesting."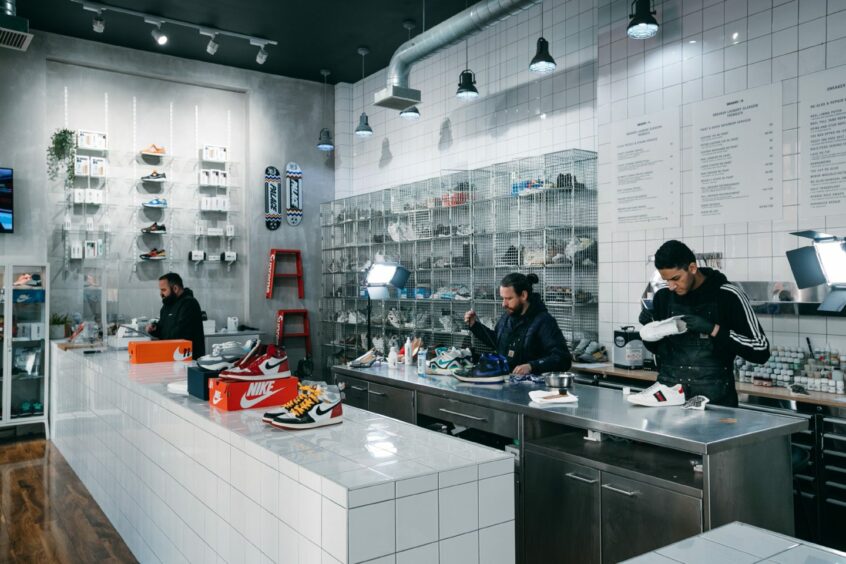 Stewart has said that he has noticed more and more of his clients are coming into his store with high-end and expensive sneakers. Like luxury handbags, expensive trainers are an investment as much as they are a style choice. Stewart said: "Someone can come in and spend £120 with us, but what they are getting back is a shoe that looks brand new. If they wanted to go out and replace the shoe with a brand new pair, they'd be looking at spending up to £1,000."
Luxury brands coming on to the market and releasing expensive, limited-edition shoes is a point of contention in the sneakerhead community. Sneaker culture started in working-class communities, and were a popular option as rubber-soled shoes were cheaper than leather. They were made popular by teens playing in basketball courts in the US, and by football fans in the UK heading to stadiums or abroad to see their teams play. Now, those from communities that put sneakers on the map could not dream of affording the latest Yeezys or Gucci trainers.
Stewart said: "If Nike and Adidas made enough shoes for everybody, then nobody would want to wear them. A big part of collecting is one-upmanship, of getting a hold of what others can't, and that's what drives people to queue up for days. It is all driven by very, very clever marketing from these companies."
Salazar added: "In sneaker culture, the idea of having a fresh pair is still quite omnipresent, and I don't know if that will ever change. However, you are getting more people using services like Rob's to look after the shoes they have and I think that it is going in a good direction. Looking after your collection has always been part of the culture.
"Even though it was more affordable back then, there was still many people in the culture who couldn't afford to buy a new pair every few weeks. There are iconic pictures from New York in the '80s of young men with toothbrushes behind their ears, ready to scrub up their trainers. You could customise them if they started to fade, and use a marker pen to change the colour of the stripes to update and customise them. Looking after your collection was always part of the culture."
For the uninitiated, the recent trainer boom may be bewildering, but Stewart is not one bit surprised. He said: "Trainers are the best chance you have of expressing who you are. You could express that through a jacket or a hat, but I think for someone who is into sneakers you start with what is on your feet and build from that. There's so many brands, colourways, materials, there are so many ways to express who you are through trainers. It allows me to express who I am more than any other part of the outfit that I am wearing.
"I'm not surprised by the demand for sneakers at all."
Scrutiny as trainer tech transforms track times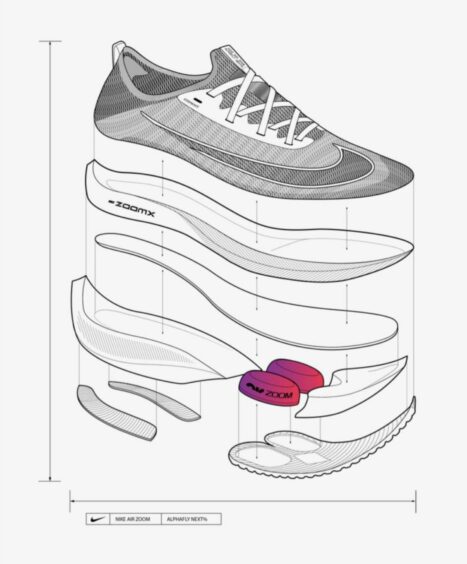 Clothing might not be the first thing you think of when it comes to cutting-edge technology, but trainers are often leading the race when it comes to innovation.
Running shoes have become so advanced that wearing certain lines is now considered "technological doping", with some trainers being banned from use in major sporting events, like the Olympics, due to the advantage they give the wearer.
In October, 2019, Eliud Kipchoge ran a marathon is just under two hours wearing Nike Alphafly shoes. Essentially like wearing little trampolines on your feet, a study funded by Nike said that they can increase the running efficiency of the wearer by 4%. The Alphaflys were banned from elite competition in January, 2020.
Rebecca Shawcross, senior shoe curator at Northampton Museum, explained that trainers have always been at the forefront of technological change in textiles. "Trainers offer designers the opportunity to look at new materials, styles, and technologies," she said. "Even different materials in the past that are not considered cutting-edge at the moment, like mesh and neoprene, were when they were first introduced. Design is constantly evolving to make the perfect trainer."
Sneaker design has gone beyond helping elite athletes perform well at major sporting events. Shoes such as the Nike Go FlyEase 21 allow the wearer to put their shoes on and take them off without ever having to use their hands, something that could be extremely beneficial to those with mobility issues.
Sneakers Unboxed curator Ligaya Salazar said: "There's been so much innovation in helping runners perform better, when you go and look at modern sports shoes, you see that they weigh almost nothing. But that's helpful for normal people who have to move about the city a lot, or be on their feet all day, too. There has also been laceless sneakers, and self-fastening sneakers. Sneaker innovation can help more people than just athletes."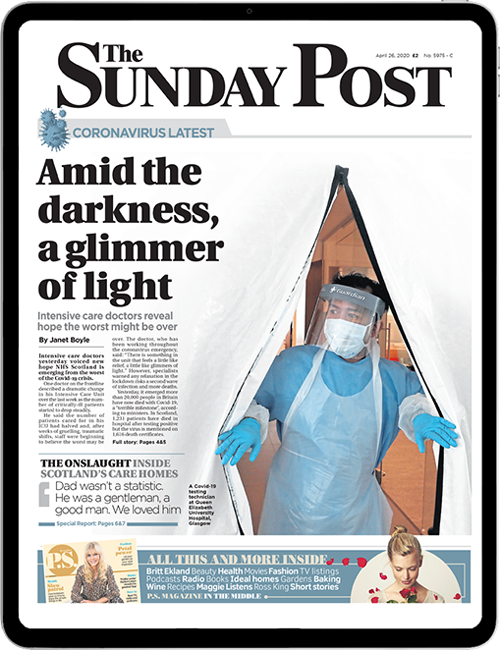 Enjoy the convenience of having The Sunday Post delivered as a digital ePaper straight to your smartphone, tablet or computer.
Subscribe for only £5.49 a month and enjoy all the benefits of the printed paper as a digital replica.
Subscribe