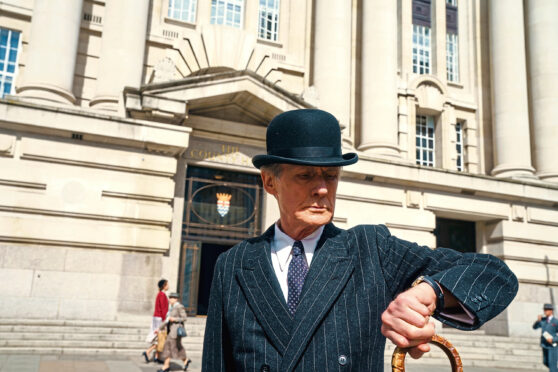 It has become a classic, one of the most evocative, popular Scottish folk songs, but 200 years after being written, The Rowan Tree is moving film fans to tears in one of the movies of the year.
Actor Bill Nighy, playing a buttoned-up, bowler-hatted bureaucrat in Living, is overcome by emotion and nostalgia after receiving a devastating diagnosis and, in pivotal scenes, sings it first in a bar then again at the movie's tear-jerking climax.
Today, Sir Kazuo Ishiguro, the Nobel Prize-winning novelist who wrote the script, reveals why the traditional song means so much to him after his Scots wife sang it to him as they fell in love.
Four-time Booker nominee, Ishiguro, who won the prize for his celebrated novel Remains Of The Day, met Lorna MacDougall at Christmas in 1979. Both were singers and Ishiguro recalls how MacDougall, a social worker from Glasgow, would play The Rowan Tree for him.
"We were a young, idealistic couple," Ishiguro said. "Lorna was a good singer and could play guitar and would sing me songs. And The Rowan Tree was one of those songs. It's always been important to us.
"Back then it was one of our signature numbers. We're quite nerdy about all kinds of music, and there were all kinds of Scottish and Irish folk songs we could have pulled out of the air but I felt that The Rowan Tree was the one."
The couple met when they both worked for a housing project in West London, married in 1986 and have a daughter, Naomi. Before becoming an author, Ishiguro, 68, also worked for a housing association in Renfrew for a short spell, as well as being a grousebeater at Abergeldie Castle. In 2017, he won the Nobel Prize for Literature.
He told The Post how he decided to include The Rowan Tree in Living after hearing Nighy sing another folk song in the 2017 movie Their Finest. He said: "Bill sang a Scottish song in a recent movie, Their Finest. It's a pretty good film, and he sings Will Ye Go Lassie (Wild Mountain Thyme).
"The scene is one of those party situations and the room goes quiet and he sings Wild Mountain Thyme.
"I thought, 'oh, that's interesting'. We could have had Will Ye Go Lassie (Wild Mountain Thyme) in Living, too, but it's quite well-known. The Rowan Tree is not as well-known, but for me it's a beautiful tune. It's a song that has been knocking about with Lorna and I for a long time."
The song is also covered by English folk singer Lisa Knapp over the closing credits, but it was almost removed from the script by South African director Oliver Hermanus.
He said: "The Rowan Tree was in the script presented to me for my first read, and has particular importance to the writer.
"In actual fact, I'd never heard it before and tried to take it out after I joined the team…
"I initially struggled to find a version that fit my tonal interests for the film. I was encouraged by my assistant to listen to the Lisa Knapp song Cuckoo, and this became the inspiration for our reimagining of The Rowan Tree."
Knapp recorded the song, first composed in 1822 by Carolina Oliphant, Lady Nairne, for the movie's credits. And, according to Hermanus, Love Actually star Nighy's version reduced some of his crew to tears. After revealing to the drinkers that his late wife had been Scottish, he breaks into an initially tentative rendition of the song, which describes happy family scenes in the shade of the eponymous tree.
"For the pub scene where Bill breaks down after singing The Rowan Tree, it was essential he performed live," Hermanus said.
"Fortunately, Bill's a great singer, so after rehearsing our arrangement he arrived on the day and did take after excellent take. He had various crew members in tears on the day, and the strength of that initial reaction has carried through to cinema screenings where audience members continue to find it deeply affecting.
"I was delighted by his performance, and happy we got to fulfil Ishiguro's desire to celebrate one of his wife's favourite songs in the film."
Ishiguro admits to being surprised the song was almost removed from Living. He said: "I knew there was slight resistance to the song, but Oliver never brought it up, which is odd given we had hours and hours and hours of talking about the film!
"This was during the pandemic when we were all locked down and we spent an unbelievable amount of time going over the script. But he never asked me, 'how about a different song?'
"Just about every other thing in the script was road-tested and stress-tested, but he didn't mention that one. I think the producer, Stephen Wooley said, 'don't upset Ishiguro about this…'
"The director is very particular and the other music choices in the film are good.
"Although I'm slightly annoyed that, in the film, the melody isn't quite right. Oliver must have got that from somewhere, which always annoys me when I hear it!"
Living, set in 1953, tells how planning official, Mr Williams, nicknamed Mr Zombie, by colleagues comes to terms with a diagnosis of terminal cancer before finding new energy and impetus in his final months as he fights to get a much-delayed children's playpark completed before his death. It is a remake of legendary Japanese director Akira Kurosawa's 1952 masterpiece Ikiru.
"In the Japanese original, the main character sings a very mournful song, the lyrics of which relate to the themes of the film, that life is short," he explained.
"I thought actually, when we did it, we shouldn't have a song with lyrics that referred directly to the themes of the story, and that it should be a more oblique relationship. I thought it would be quite poignant.
"And surprising, I suppose. In the film, Bill Nighy's character mentions his wife was Scottish, he's bereaved because his wife was Scottish, and he says he's got a bit of Scottish in him."
Despite being a fan of his wife's version, Ishiguro revealed he hasn't heard any other recorded version of The Rowan Tree other than his wife's live version.
"I've never actually heard a proper recording of The Rowan Tree, I don't know it from any famous recording except for Lorna and I singing it in a room together.
"Lorna's opinion of Bill's version? Yes, she enjoyed it. In fact she's almost disgustingly moved when she hears Bill singing it!"
Ishiguro has revealed that despite being nominated for the Booker Prize four times, and winning once (for Remains Of The Day), his wife remains his harshest critic.
He said: "She's really savage but it's only because she's been doing this from when I started writing. It's only because of the criticism that it works.
"She read my very early attempts to write fiction and said, 'you can't write it this way'.
"I don't know, it's not particularly pleasant at the time but, over the long term, it's probably a good thing, isn't it?
"I've had to ditch almost a year's work because of what she's said. One third of a novel? Out."
Ishiguro lives in London but is keen to visit Scotland, and one of his favourite book shops, once more.
"I'm looking forward to coming back to Glasgow to visit the Hyndland Bookshop, an independent bookshop in the West End," he said. "It's a small shop, but it's a great combination of having literary books, books about music and other local stuff about music. I think the guy who owns it also sells guitars like handmade guitars made by Scottish craftsmen.
"He also used to also have a DVD and Blu-Ray collection of really interesting films, like French gangster films.
"And they have a really good local section of locally published books, not just the usual kind of How To Walk The Such-And-Such Way. They have interesting books."
---
Broadly speaking, we have not heard of her because of sexism
The Rowan Tree is the work of Lady Nairne, an Edinburgh aristocrat who wrote songs and poems in the same era as more famous figures like Robert Burns and Robert Tannahill.
The song is one of her most famous songs and remains a folk favourite but many modern fans believe Lady Nairne, despite also being behind standards like Will Ye No' Come Back Again and Charlie Is My Darling, has been overlooked compared to her male contemporaries.
"This is down to, broadly speaking, sexism," said Dr Thomas A McKean, of the Elphinstone Institute at the University of Aberdeen, a centre for the study of folklore and ethnology, a folklorist specialising in Scots and Gaelic song
"Think of the titles and people would recognise them more than the songs of Tannahill and probably most of Robert Burns' material.
"The songs are a huge part of the Scottish psyche but the name is not, which is curious.
"It's partly because they were published in various bits and pieces, and not in a single publication, something like Fifty Songs By Carolina Oliphant for instance. And she wasn't a celebrity on the literary scene of Edinburgh, like Burns was."
Charlie was her darling: The secret songstress behind some of Scotland's most famous folk tunes
Lady Nairne often removed her name from her songs, publishing instead under gender neutral "BB" when submitting her contributions to The Scottish Minstrel – she did not even tell her husband of her songwriting.
"If you think about Lady Nairne not attaching her name to songs, well this was the time of the Bronte sisters publishing under male pseudonyms," added Dr McKean.
"She didn't attach her name to her songs because she wanted to get the songs out there but didn't want to bring herself into disrepute.
"In Gaelic tradition, there are many female poets but there are no professional female bards. And there are several stories of women song-makers being buried face down because composing songs was an unseemly thing to be doing.
"So there's this long-standing history that women aren't supposed to be out of the home, doing these things. And presumably the men didn't want any competition…"
"The music tradition, particularly the instrumental tradition, is seen as a manly thing. But the ballad tradition of Scotland, except perhaps the bothy ballads, was carried, or at least majority carried, by women.
"It's acknowledged within folk circles how important women were to the folk music tradition, but broadly speaking not in wider Scottish society."
Rowan trees, according to Dr McKean, were important in both the historical Highlands and Lowlands of Scotland, and would be found at most homes as a way of warding off evil spirits.
The song is also a favourite of acclaimed folk singer Karine Polwart, who last performed it in 2020.
"It's not a technically difficult song, it's a sort of bonny, spry melody. It's quite sweet. Lisa Knapp's version from Living has that sweet quality.
"The song it's most close to is maybe not a Scottish song, but Oh Danny Boy. Both songs have real sentimentality and emotion.
"The use of the song suggests reflecting on one's life. The last time I performed the song was in a friend's garden, in June 2020.
"Her mother had late-stage cancer and I did a little gig for her. I asked her to choose a song which meant something to her.
"It's a song which is probably special to a lot of people. Our parents' generation perhaps were taught it at school or remember it being performed when they were younger.
"Rowan Tree has this timelessness in its form, both in the melody and the words."
Polwart has suggested it is time there was wider acknowledgement of Lady Nairne's contribution to Scottish folk music.
"We could be doing better by acknowledging the role someone like Carolina Nairne played in Scottish folk music. Burns and Tannahill have had a lot of attention but she's been a little bit lost.
"But when you look at her songs, a lot of them have stuck."
Oh rowan tree, oh rowan tree

Thou'lt aya be dear to thee

Entwined thou art wi' many ties

O'hame and infancy

Thy leaves were aye the first of spring

Thy flowers the summer's pride

There was nae sic a bonnie tree

In a' the country side

Oh rowan tree…

We sat aneath thy spreading shade,

The bairnies round thee ran,

They pu'd thy bonnie berries red,

And necklaces they strang;

My mither, oh! I see her still,

She smiled our sports to see,

Wi' little Jeanie on her lap,

And Jamie on her knee.

Oh!, rowan tree.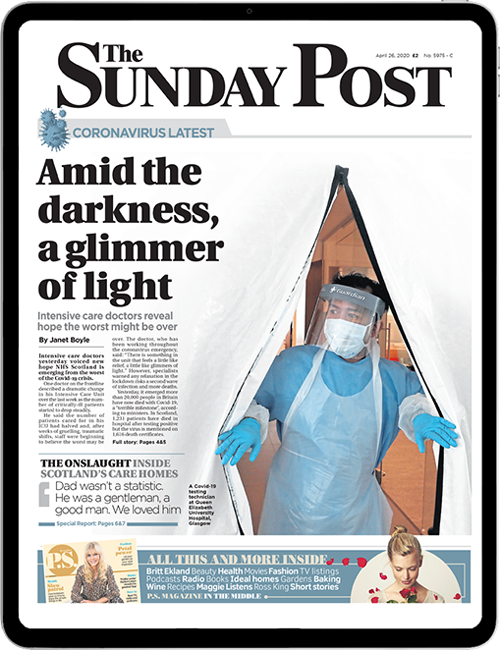 Enjoy the convenience of having The Sunday Post delivered as a digital ePaper straight to your smartphone, tablet or computer.
Subscribe for only £5.49 a month and enjoy all the benefits of the printed paper as a digital replica.
Subscribe