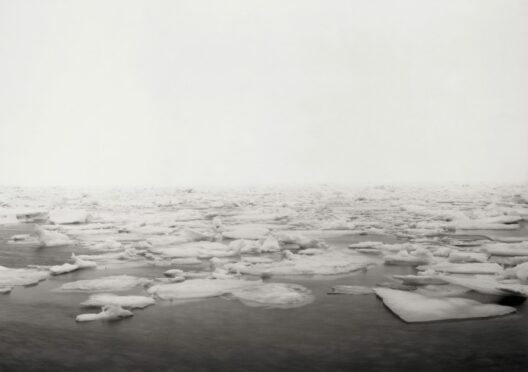 Thomas Joshua Cooper has travelled to the ends of the earth, literally, to capture his spectacular images.
The photographer's acclaimed career has been spent taking spectacular, evocative images of the most extreme locations surrounding the Atlantic Ocean. Over the last three decades, he's framed rocks, ice, sea and sand using the same bulky, large-format camera dating from 1898.
Taking a single exposure at each location, the photographer, above, who cannot swim despite his acclaimed seascapes, develops the negative and prints by hand back in his Glasgow darkroom.
The photographs, a series of which is on display at the Scottish National Portrait Gallery, contain an unintentional poignancy – each point will be underwater within 35 years due to the climate crisis.
California-born Cooper made Scotland his home having founded Glasgow School of Art's Fine Art Photography Department in 1982.
He said: "I have worked most of my life on this project and having an exhibition at the National Galleries of Scotland is the first time I have been able to show the work in my adopted homeland. I am hugely pleased and very grateful for this opportunity."
Cooper has set foot on uncharted land masses through his work, earning him naming rights of previously unknown islands and archipelagos.
The only artist to have ever photographed the two poles, he refers to this body of work as The World's Edge – The Atlas Of Emptiness And Extremity.
Thomas Joshua Cooper: The World's Edge is at the Scottish National Portrait Gallery until January 23.
---
It's about capturing one moment of a remote, fragile place
In 30 years' time, the places Andrew Wasylyk's songs are inspired by will be underwater.
"There's no escaping the feeling of responsibility I had about that when I was composing them," said the singer-songwriter. "There's no music on a dead planet, so we need to take responsibility, that's for sure."
Wasylyk's new album, which is winning acclaim from critics, is not a straightforward message about the climate crisis, no work of agit-prop.
Instead, the tracks are a considered response to the work of landscape photographer Thomas Joshua Cooper who has circumnavigated the globe taking photographs of the most extreme points and locations surrounding the Atlantic Ocean over the past three decades.
Wasylyk, also a member of Dundee indie band The Hazey Janes, will launch his latest solo work on the banks of the Tay with a prestigious gig at his home town's V&A museum. The record is a continuation of an association Wasylyk established with Cooper's work after an unlikely collaboration that saw the musician being commissioned to provide an accompaniment to the artist's exhibition, The World's Edge, at the National Galleries of Scotland last year.
Their creative association led Wasylyk to an unlikely recording location, a field trip that is now part of his new album, Hearing The Water Before Seeing The Falls, already garnering acclaim.
He modestly describes his part as "a supporting role" to the Glasgow-based photographer, the only lensman in the world to have photographed both north and south poles.
He said: "The initial commission was a long time in the making because just before it opened the world was turned upside down by the pandemic. It was uncertain whether the exhibition was ever going to happen. I wasn't very familiar with Thomas's work at that stage but I got to know it quite quickly and really grew to love it."
Delighted to share news of a new LP, Hearing The Water Before Seeing The Falls. Out 25th November on vinyl, CD & digital on the wonderful @ClayPipeMusic Pre-orders 28th October. 👂🌊👁️

(🎞️: Tommy Perman) pic.twitter.com/w6XZE0qzRe

— Andrew Wasylyk (@A_Wasylyk) October 14, 2022
The exhibition eventually went ahead, running until January this year. Wasylyk said: "A lot of his photographs are quite powerful and impactful. I had to write a handful of music to accompany the exhibition. You'd walk into the room and visit his work, put headphones on and listen to my response.
"Many of the cardinal points Thomas was photographing in The World's Edge exhibition are going to be underwater in the next 30 years or so because of climate change. It struck me that there was a door ajar to exploring further what I had written, taking the bits I'd learned about Thomas's work and threading it into my own experiences."
Multi-instrumentalist Wasylyk, whose evocative, instrumental music crosses genres from ambient and classical to jazz, will launch the album and his UK tour with a performance at the V&A, featuring visuals from video artist Tommy Perman.
He said: "There are seeds there that extend to Thomas's work. But it's not going to be photos of Greta Thunberg on screen or anything like that. It's going to be its own thing."
The collaboration saw Wasylyk visit an island in the Firth of Forth. He explained: "Thomas and I took a boat trip with his wife Catherine to Inchcolm in the Forth. We spent most of the day together and got to know one another. His main purpose was
to go there to make a photograph for a series he was working on and I made some field recordings that have ended up on this album.
"The island is really beautiful. It provides a completely unique perspective on Fife and Edinburgh and you can just about see round to Bass Rock at North Berwick. It has a ruined abbey in it and the remnants of soldier lookouts from World War Two. It's really fascinating. It's difficult not to feel inspired when you're out there.
"My abiding memory is pulling away from the island on the boat and looking back at Thomas and Catherine still on the island. It was nesting season for the gulls, and they become aggressive and protective.
"Thomas was resilient and went to the precipice to get the angle for a photo, and my memory of that last time I saw them as I pulled away was of them beneath this plume of gulls swooping around them, with Thomas underneath the blackout hood with Catherine holding a big golf umbrella as a shield. There was a slightly unsettling nature, with all these Hitchcockian gulls."
It's not the first time Wasylyk has written an album in response to the physical environment. In 2019 he released The Paralian, conceived and written at Hospitalfield House arts centre in Arbroath and inspired by the Angus coastline and North Sea horizon.
His latest work is "gently trying to convey the idea of solitude and that contemplative nature" from Cooper's photography, and at times features the photographer's narration.
Wasylyk said: "A lot of his work is about the adventure, getting to this remote fragile place and capturing one moment of it.
"It's quite an incredible practice, really. Quite often his photos are landscape or seascape in black and white with really evocative, ethereal qualities to them that don't necessarily always reveal themselves instantly.
They have an impactful nature – the more time you spend with them it feels like they have a heavy presence."
The musician says the V&A "feels like the right place to start – not only because it's my home town but I can see echoes between the music and the nature of the architecture of the building".
He added: "Every show is significant because I still think that nobody's going to be interested. But this one sold out in a day and a half.
"To be performing at the V&A, which I'm a huge fan of, in front of my pals is going to be really special. But I'm trying to keep those thoughts out of my head so I don't get too nervous."
---
Hearing The Water Before Seeing The Falls, V&A Dundee, December 6; CCA Glasgow, December 16. The album is out on November 25 on Clay Pipe Records.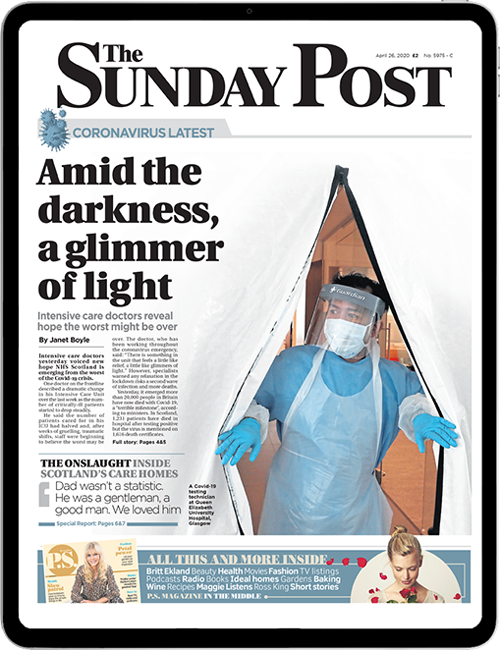 Enjoy the convenience of having The Sunday Post delivered as a digital ePaper straight to your smartphone, tablet or computer.
Subscribe for only £5.49 a month and enjoy all the benefits of the printed paper as a digital replica.
Subscribe