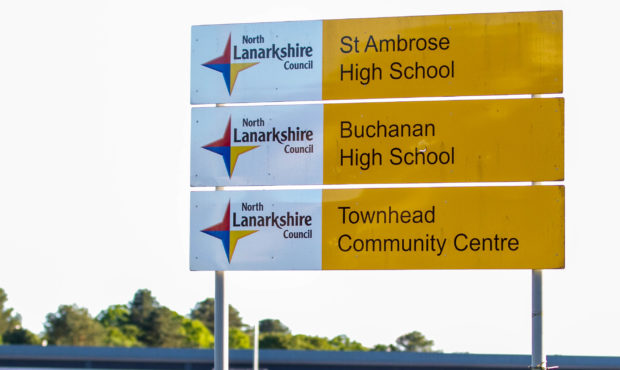 Campaigners who fought in vain to stop a £44 million school campus being built on a toxic dump have revealed how their warnings were dismissed almost a decade ago.
Last week, Deputy First Minister John Swinney ordered an inquiry after The Sunday Post revealed four teachers who worked there – three in the same corridor – were diagnosed with a rare form of cancer and that teachers were ready to strike over health concerns.
The two schools which share a site, St Ambrose and Buchanan High, in Coatbridge, were approved by North Lanarkshire Council in 2010 despite nearly 600 letters of objection. Site contamination and former landfill were among the concerns raised.
The schools were to be built on a site used by Gartsherrie Ironworks for industrial waste, including arsenic, nickel and lead.
Council papers say site reports "concluded that there are no landfill gas or site contamination implications that would prevent planning permission from being approved".
But in December pupils and teachers at Buchanan High were told not to drink tap water, after the main supply turned blue, a sign of high levels of copper. However, the council has now admitted blue water was first reported at the school in 2013.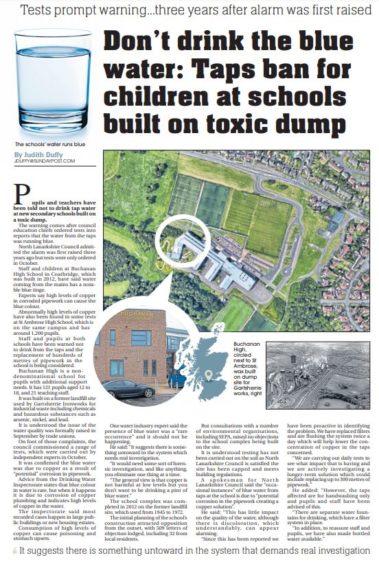 Former independent councillor Martin McWilliams said the objections in 2010 against the school being built on the site were "overwhelming".
He said: "I'd never seen anything like it. There were so many letters from people objecting to the school campus being built there.
"That was because locals knew full well that the site had been used for decades as a toxic dump.
"There were hundreds of objections, but when councillors like myself spoke about those concerns, the local Labour group just drowned us out and didn't want to know.
"Two other possible sites were suggested, but it was clear that minds had already been made up and all our warnings about possible contamination have come true.
"I simply refused to put my name to support building a school on a site where I believed there was a very real chance of people being hurt down the line.
"I feel really terrible for the people who have been affected. There is still real fear and concern among parents and staff who have to continue to be there.
"This scandal should never have been allowed to happen. If only we had been listened to back then."
Former SNP MSP John Wilson spent four years campaigning to prevent the school campus being built because of his concerns over contamination risks.
He said his protests "fell on deaf ears" even when he approached the Scottish Government about his concerns over building schools on a toxic dump.
He said: "That is why I don't believe any inquiry should be headed up by government officials who have vested interests in protecting public services and what was done back then.
"I remember asking government bodies such as the Scottish Environment Protection Agency at the time about what they were doing about the contamination concerns and their answer was that they relied upon their local enforcement teams, which just happened to be local government.
"I've listened to what John Swinney has said about what is going to happen now, and I'm still not happy because it sounded to me that it was more or less a 'done deal'.
"I welcome an inquiry, but it must be led by truly independent experts if we are to get the full facts of what the risks are, what was done and what wasn't, and what the risks for the future will be."
SNP MSP Richard Lyle, who was a councillor at the time of the planning decision, said: "Thousands were against building on that site because they all knew for over 30 years it had been used as a dumping ground for tonnes of waste.
"Almost 600 of them were moved to write letters of objection and that is a huge response for a council to receive.
"I was appalled and aghast when I read the reports of what had been put in that dump site, and despite all the objections and our resistance at the time, the council seemed determined to push ahead and that was it."
Alex Neil, SNP MSP for Airdrie and Shotts, said : "I have stressed to Mr Swinney that given the anguish and frustration and anger felt by staff, pupils and parents, the Scottish Government has to find some way of involving them in the inquiry.
"The outcome of the inquiry has to command the support of all those involved in this scare. The best way of doing that is by involving the people who are most affected by events at St Ambrose and Buchanan High Schools."
Labour MSP Mark Griffin was vice-convener of North Lanarkshire's planning committee when the full council approved the plans to build the schools on a toxic dump.
He said: "The council was given all the environmental assurances by independent experts at the time.
"We were also confident that we weren't the final stage in the decision making. It was referred to the Scottish Government and looked at by a further level of experts.
"Investigations have been carried out by the council and NHS Lanarkshire, and now one commissioned by the Scottish Government.
"My understanding is the council and health board haven't found anything, and we are waiting to see what the Scottish Government commissioned report highlights."
Asked if he had any regrets about the council's decision in 2010, he said: "We took a decision based on expert evidence. That's what we are expected to do in our role."
Deputy First Minister Swinney said on Wednesday the review should be completed before the start of the next academic year.
"It will be completed as soon as possible and ahead of the next school year to identify if additional evidence or action is needed to provide reassurance to the community.
"It is in absolutely nobody's interest for children to be uneasy about going to school because they are concerned about the condition of the site and that is why the government has acted, working with North Lanarkshire Council and NHS Lanarkshire."
---
Tommi's no better and tests are now showing low white blood cells
The Buchanan High schoolboy who suddenly went blind is now showing further health complications according to his mum.
Josie Morgan said she is meeting with Lanarkshire Health Board public health expert John Logan next week over her concerns for her son Tommi, 13.
Mum Josie said: "Things are not any better, and we are still struggling to get answers about why Tommi suddenly went blind and whether this has anything to do with what has been happening at the school.
"I've repeatedly requested his medical notes and for some reason these are not forthcoming the way they should be, and the small number we have received have several glaring inaccuracies which my lawyer is looking at right now.
"Tommi's most recent blood test has shown a low white blood cell count, and we have more appointments with doctors in the coming days and weeks to see why this is happening.
"Apart from a few minor issues, Tommi's eyesight was perfect and he had no issues with his blood cell count until after he started at Buchanan High, so of course we are concerned there might be a link."
Josie said Tommi is becoming increasingly angry over the situation.
She said: "He has autism, but he is extremely bright and inquisitive so of course he is getting angrier and angrier because I can't explain to him why this has happened to him.
"I was supposed to be getting help from the local authority and hoped for some respite care, but we've still not been assigned a social worker."
A spokesman from North Lanarkshire Council said they will investigate the concerns.
---
Doctors challenge council's claims
North Lanarkshire Council's insistence that none of the bladder cancer cases at Buchanan High can be linked to working at the school has been challenged by a doctors' professional body.
A spokeswoman for The Royal College of Surgeons England said that, while bladder cancers could take up to 30 years to develop, research carried out after the 9/11 terror attack suggests some cases can develop much faster.
She said: "One of our leading urologists points to research that says a minimum latency of four years between exposure and cancer has been reported for bladder cancer."
An information leaflet available to parents says none of the four teachers – including three in the same corridor – who developed bladder cancer developed it as a result of working there.
It says symptoms of bladder cancer usually take 15 to 40 years to appear after exposure to a harmful chemical or substance. And, as the school opened in 2012, cancers among teachers at the school could not have been caused by anything there.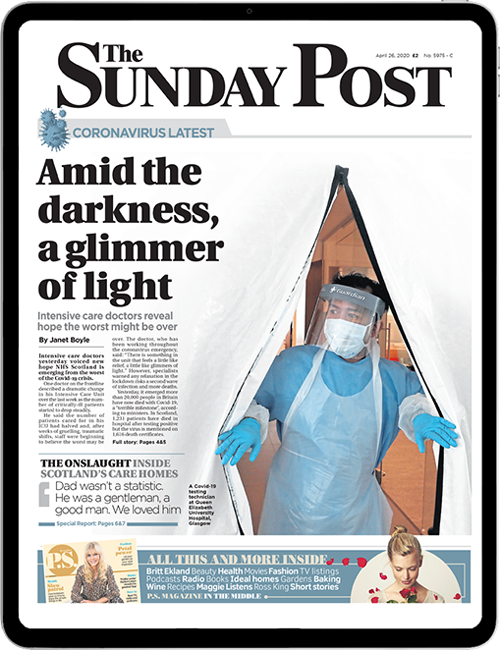 Enjoy the convenience of having The Sunday Post delivered as a digital ePaper straight to your smartphone, tablet or computer.
Subscribe for only £5.49 a month and enjoy all the benefits of the printed paper as a digital replica.
Subscribe