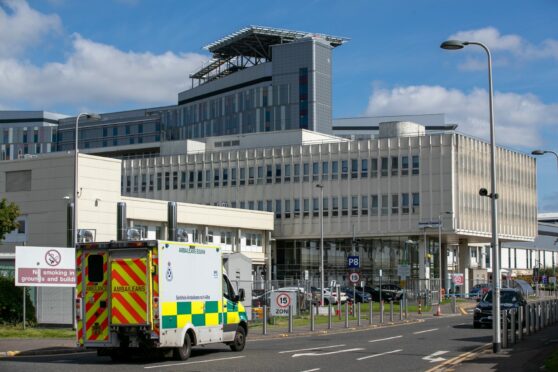 An immediate safety audit of every public building in Scotland must be ordered amid escalating fears unsafe concrete could collapse with no warning, according to union leaders.
GMB Scotland, representing more than 20,000 public service workers, has urged the Scottish Government to launch a nationwide risk assessment after the potentially-calamitous concrete was found in hundreds of buildings, including schools, hospitals, council buildings and, we can reveal, fire stations.
Fourteen fire stations in Scotland have now been found to contain the concrete amid rising calls for a safety review of all public-sector buildings – including colleges, prisons and sports grounds.
GMB Scotland secretary Louise Gilmour said widening concern about the historic use and current risks of reinforced autoclaved aerated concrete (RAAC) demands emergency action and full transparency. She said: "This is not a ­situation where ministers should be thinking about politics or presentation. It is a situation where they should be thinking about ensuring the public are as safe and well-informed as possible.
"It demands urgent, ­comprehensive action to protect everyone using them, whether staff and pupils or patients and prisoners. This is not just about schools and hospitals. That would be grave enough but we are learning about more public buildings affected every day."
Concrete concerns
Officials have been aware of the concerns around the concrete but safety fears escalated suddenly on Thursday when 104 schools and colleges in England were ordered to stay closed, fully or in part, just days before the start of the new term.
The concrete at the centre of the safety alert was widely used in construction of one or two-storey public buildings from the 1930s to the 1990s. It resembles standard concrete but contains bubbles, making it lighter, more mouldable – and cheaper.
Experts warn it can fail after 30 years, collapsing suddenly and without warning. It has already been found in 35 Scottish schools across 14 local authorities; 250 NHS Scotland buildings, including hospitals across 11 of the 14 health board areas; 14 fire stations and three Police Scotland buildings. Further checks are under way.
GMB Scotland is now ­writing to the First Minister urging him to order an audit of every public building but Gilmour said the checks would have been completed already had earlier warnings been taken seriously.
She said: "The risks ­inherent in this concrete have been raised repeatedly. It is deeply concerning that only now do they seem to be getting taken seriously.
"Every public building in Scotland must be audited now – not next month, not next year – to establish the true scale of the problem and what must be done to make Scots safe."
After the school closures were ordered in England, Scottish Education Secretary Jenny Gilruth confirmed 35 schools were affected in Scotland but said specialist advice "suggests there should not be school closures at this time". She said: "We will continue to adhere to the Institute for Structural Engineers guidance on this."
It is understood expert ­guidance suggests there is no need to remove concrete unless it is in poor condition and regarded as high-risk.
Gilruth said she remained unclear why such dramatic action had been taken in England but ministers there said concrete panels thought to be in good condition had "turned out to be unsafe".
First Minister Humza Yousaf yesterday said he did not expect to see immediate school closures in Scotland. He said: "I don't think at this stage there is any need for schools to shut."
At least one beam in a school thought to be in good condition has collapsed and, in 2018, a report found RAAC panels "increase the risk of structural failure, which can be gradual or sudden".
Calls for school safety audit
The EIS, Scotland's ­biggest teaching union, echoed calls for a safety audit and said ministers and local authorities had so far failed to properly inform teachers or parents about which schools were affected and what action would be taken.
The union said: "In order to reassure ­parents and school staff, councils should be undertaking immediate risk assessments to establish and, where necessary, give effect to appropriate procedures to be followed in the event of serious and imminent danger.
"Further, councils should provide parents and staff with comprehensible and relevant information on the risks to their health and safety identified by the assessment. The results of the risk assessment should be made public."
The Scottish Lib Dems raised the alarm about the concrete in public buildings in June and party leader Alex Cole-Hamilton accused ministers of needless delay when they could have been using the summer to mount a full risk assessment.
He said: "We know from England that beams previously assessed as safe can still catastrophically collapse. Must Scotland have a tragedy before ministers take this seriously?"
Meanwhile, Cosla, ­representing Scotland's local authorities, suggested some council areas would not be affected, but added: "That said, the safety of everyone in Scotland's schools and all other council buildings is of paramount importance. We treat the safety of everyone within our facilities extremely seriously.
"We would reiterate that safety is the central consideration and there is robust guidance to ensure these settings are safe for the public to be in."
Justice Secretary Angela Constance said in June the Scottish Prison Service was "not aware" of its jails containing RAAC concrete.
A Scottish Government spokesperson said: "Building safety is an issue the Scottish Government takes very seriously and we are aware of significant issues with some RAAC. Reviews of RAAC have been conducted by local authorities, NHS Scotland and other public-sector organisations for some time so we can all fully understand the scope of RAAC including in the school estate.
"In addition, we established a cross-sector working group on RAAC to ensure action is taken where required so people are safe and feel safe in buildings."
---
What we know so far about building probes
Schools
The presence of a potentially deadly form of concrete that can collapse without warning has been found in 35 schools across Scotland.
It was reported in May that East Lothian Council had closed off more than 20 rooms in Preston Lodge High School in Prestonpans following the discovery of reinforced autoclaved aerated concrete (RAAC).
The concrete has also been found in schools in Aberdeen, Aberdeenshire, Argyll and Bute, Dumfries and Galloway, Dundee, Edinburgh, Highland, Moray, North Ayrshire, North Lanarkshire, Perth and Kinross and West Lothian.
Hospitals
There are 254 buildings under investigation, which could take up to eight months to complete.
Buildings that could potentially contain RAAC include Ninewells Hospital in Dundee, University Hospital Crosshouse in Kilmarnock and the Queen Elizabeth University Hospital in Glasgow.
NHS Grampian had the most buildings that could contain RAAC, with 53 identified by the health board.
Police stations
Three Police Scotland buildings have been found to contain RAAC after an investigation of 65.
The concrete was found during maintenance work carried out on the roof of the Fettes garage workshops in Edinburgh, then in an external boiler room at Perth police station and in two blocks at Baluniefield police station in Dundee.
Fire stations
Fourteen fire stations have now been found to contain the concrete.
They are Crewe Toll, Cumbernauld, Dalkeith, Galashiels, Hawick, Helensburgh, Huntly, Liberton in Edinburgh, Livingston, Marionville in Edinburgh, Milngavie, Portree, Stewarton, and Tranent.
---
£75m bill to remove RACC from 14 Scots fire stations
We can reveal 14 fire stations across Scotland have roofs made of aerated concrete.
The cost of replacing them is at least £75 million.
Officials have known about the use of Reinforced Autoclaved Aerated Concrete (RAAC) for five years but have not had the funds to carry out permanent remedial work, adding to the £800m already overdue to maintain fire stations across the country.
RAAC-affected stations include Crewe Toll, Cumbernauld, Dalkeith, Galashiels, Hawick, Helensburgh, Huntly, Liberton in Edinburgh, Livingston, Marionville in Edinburgh, Milngavie, Portree, Stewarton, and Tranent.
Scottish Regional Secretary of the Fire Brigades Union, John McKenzie, said: "The Scottish Government has effectively kept the capital budget flat for so long, there has been no money to properly maintain or replace buildings for many years.
"In stations where RAAC was found, firefighters have been left working in buildings propped up by internal scaffolding because, although initial reports were carried out in 2019, there wasn't enough money to do anything other than make sure the roofs were safe from falling.
"It has made these stations difficult to work from and there is no control over contaminants in the properties. It's hardly what you expect from a modern fire service.
"Because of the continuing lack of capital funding from the government, the Scottish Fire Service already faced an £800million deficit for maintenance before the extra added cost of sorting out the 14 stations affected by RAAC.
"It could cost billions of pounds to sort out the RAAC problem in public buildings across Scotland."
In 2019, the Scottish Fire Service carried out an investigation across all 448 buildings and stations to highlight which contained RAAC.
They discovered 21 buildings at 14 sites with RAAC panels.
A report to the fire board at that time stated: "Temporary propping has been installed. Guidance from the Standing Committee on Structural Safety is clear that RAAC panels have reached the end of their design life, so roof replacement or provision of replacement fire stations would be required."
And a report earlier this year stated: "The asset investment backlog is growing and insurmountable.
"The Service will use its scarce capital resources to tackle the most urgent issues."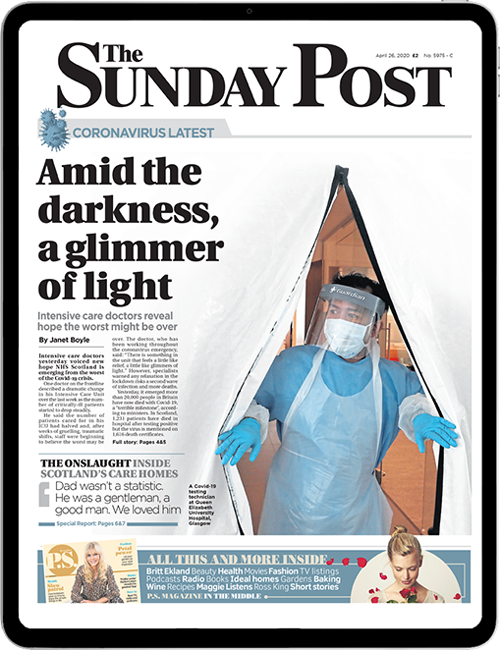 Enjoy the convenience of having The Sunday Post delivered as a digital ePaper straight to your smartphone, tablet or computer.
Subscribe for only £5.49 a month and enjoy all the benefits of the printed paper as a digital replica.
Subscribe