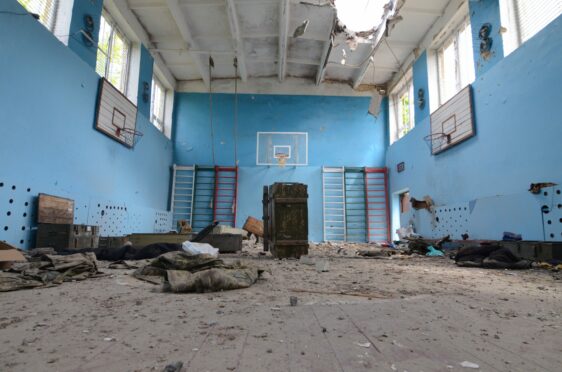 Not far from Kharkiv, Ukraine's second-largest city, a rough dirt track winds through a series of little villages, once dotted with lakeside summer houses, apple trees, small schools and shops. All around are rolling green hills and rich farmland. Only ruins remain.
Fierce battles to recapture the villages in late March from Russian occupiers have turned these communities to rubble and dust. The rusting wreckage of tanks lie where they were halted, burnt out and sinking into the soft ground on streets lined with shattered houses.
Vilkhivka, with its blue lake and pretty, golden-domed church, had a population of about 8,000. Hardly anyone is there now; most fled to Kharkiv, or safer parts of Ukraine. Some were allegedly taken over the border into Russia – as has happened elsewhere in the country.
Aleksei Borbik, 40, stands on the dusty track in neighbouring Sorokivka, where his home used to be, and describes what happened on the eve of the area's liberation.
He says: "The Russians went around all the houses and told everyone there would be an airstrike. 'Get your stuff, evacuate to Verkhnya Rokhanka (the settlement to the north)'. Just until the bombing is over.
"Well, people were afraid. They were walking down this road with only documents in their hands, 300 or 400 people."
When asked why he didn't join them, he says he simply had a "premonition" that the threatened airstrikes were just a ruse. He was right.
Of those neighbours he knew who went with the Russian soldiers, he hasn't heard from any since that day.
In Vilkhivka, an older man who doesn't want to give his name says he saw with his own eyes locals being taken to Russia, in trailers hitched to the back of vehicles.
Nothing is untouched here: from grand villas to very humble cottages, barely a house stands whole. Bomb craters pock roads and fields alike, huge mounds of black earth thrown up where crops should have been sown by now. Outside one modern, red-roofed house a Ukrainian flag flies but it's been punctured with bullet holes, in a neat row. The roof of a neighbouring house has been completely burnt out, leaving a red-brick shell, satellite dish still attached. A phone mast has been wrecked – one of the first things the Russian troops do is to take out communications and lock down escape routes, leaving people isolated and helpless.
Kharkiv rights activist Nataliya Zubar walks slowly down the street, capturing the scene with a selfie stick. Her job, since the invasion, has been to document war crimes – the destruction of buildings and infrastructure. Evidence for future prosecutions. It is meticulous, grim and dangerous work; the boom of big guns sounds frequently near us. "Outgoing", she says casually, after a particularly loud bang splits the air, enough to make your ears ring.
The destruction is there for all to see and documenting it is straightforward but a huge, daunting job for Zubar and her team of volunteers. But as with the stories of disappeared residents, other consequences of the occupation are harder to detail. In this north-east region, so close to the border, pro-Russian sentiment is common – particularly among the older generation. At least, it was until the invasion and mass killing of civilians.
Known to have infiltrated all levels of Ukrainian society with spies and informants, Moscow was relying on the collusion of local officials to smooth the path to victory – as previously happened in the east and Crimea.
And now in the soldiers' wake, accusations of collaboration with the occupiers are rife. Last week the Ukrainian secret service arrested the secretary of Vilkhivka's village council, Nadezhda Antonova, sharing video of her, head hanging, being led out of her home by soldiers.
She faces life in prison for treason, accused of assisting Russian soldiers by giving them buildings and information about local residents.
But none of the few residents left in Vilkhivka want to talk about this grim subject. "I don't know, I wasn't there," says Valeriy Pavlenko, uncomfortably. "Of course, if she did help them, it's right… and her punishment should be in public, because so many people suffered."
If he knew of anyone who collaborated, he said, he would "string them up myself", though he then adds: "I couldn't kill them. But my mother would. She was injured in a rocket attack, she has to walk with sticks now."
Pavlenko admits he knew many people in Vilkhivka who were pro-Russian and looking forward to the so-called 'Russkiy Mir', as Kremlin propaganda calls the imposition of Russian rule.
"They're gone now," he says bitterly. "I'd spit in their faces if I saw them."
He's from western Ukraine originally, moving east at the age of three, and says the community here was peaceful – Russian and Ukrainian speakers living side by side "without problems".
"We always lived in friendship," Pavlenko protests. "There are no 'fascists' here!"
One man, visibly drunk, comes over to make his own point. "I am a Ukrainian German," he shouts, "but I'm faithful to this land. See how they destroyed my home, I built it with my own two hands."
"Now I'm drinking," he admits, starting to cry, "but only now." He is not the only person in these villages using alcohol to cope with what has happened.
Another man who'd been drinking heavily reacts angrily when asked about collaborators in the village. "We didn't!" he retorts, gesturing to his family, and leaving the question unanswered.
In Sorokivka, Aleksei Borbik is also uneasy when asked about the arrested village leader Antonova. "Maybe she was forced to do it," he suggests, shrugging. "We don't know."
There is so much that is still unknown. As we drive on the dirt road between the two villages, a horrible sight: the body of a grey-haired man, lying face down on the verge. What looks like a shrapnel wound is visible in his back, a puckered grey hole. He has been dead for a long time, but no one has been able, or bothered, to move him. A tin of food is tucked inside one of his boots, which lie next to his body.
In the village school, now a blackened shell, we find discarded Russian equipment – gas masks, ammunition boxes, a tin helmet full of holes. We'd been told Russian troops holed up here, their final stand. But going further into the sports hall, the uniforms strewn over gym benches are Ukrainian, as are the food rations left on the floor. "We don't have the correct information", says Zubar, as she picks through the debris.
She admits it's often hard to know what's actually happened. It takes time, investigations. "We see just the outcomes, the destruction, but we don't know what happened exactly."
The reckoning here, and in all the places occupied by Russian troops, will be long and grim.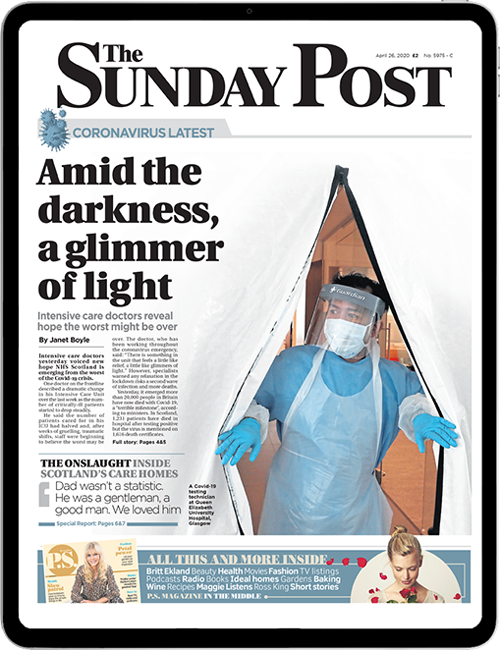 Enjoy the convenience of having The Sunday Post delivered as a digital ePaper straight to your smartphone, tablet or computer.
Subscribe for only £5.49 a month and enjoy all the benefits of the printed paper as a digital replica.
Subscribe