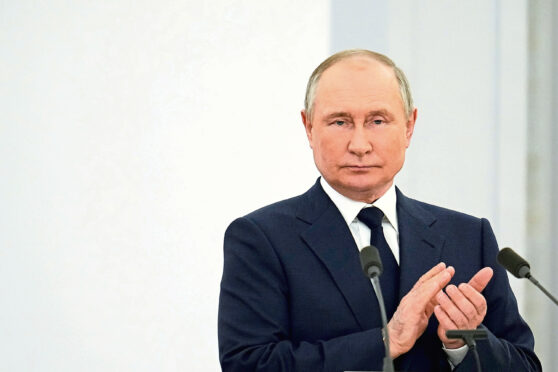 The Russians have failed in their bid to seize Kharkiv, Ukraine's second largest city, its mayor said yesterday.
Ihor Terekhov said the Kremlin's forces have retreated in what military analysts believe might prove a significant victory in the conflict.
He said: "There were no Russian troops inside the city of Kharkiv. Russian tanks and armoured fighting vehicles were eliminated by Ukrainian fighters.
"And due to the efforts of the Kharkiv territorial defence and Ukrainian armed forces, the Russians have now withdrawn far from the city, towards the border."
He said the Russians had only ever managed to breach the outskirts of the city, adding: "The Russians were constantly shelling Kharkiv because they were staying very close to the city.
"People are gradually coming back to the city. We provide water, gas and electricity supply to all the citizens.
"However, unfortunately, many residential buildings are destroyed or damaged. So, in the future we will have to do huge reconstruction."
The US-based Institute For The Study Of War confirmed Russian forces appeared to be dropping back and aimed to replace their own troops with mercenaries.
Kharkiv, which is only 31 miles from the Russian border, has been under bombardment since the war began in February.
An institute spokesman said: "Ukraine thus appears to have won the battle of Kharkiv. Ukrainian forces prevented Russian troops from encircling, let alone seizing Kharkiv, and then expelled them from around the city, as they did to Russian forces attempting to seize Kyiv."
Russian troops have been falling back and "generally not attempted to hold ground against counterattacking Ukrainian forces over the past several days, with a few exceptions".
Samuel Cranny-Evans, a research analyst at the Royal United Services Institute, said both sides were making advances elsewhere in the conflict but also suffering heavy losses.
He said: "It's approaching a stalemate. There is an emerging narrative that Ukraine is winning.
"A more realistic picture is that Ukraine is not losing and Russia is not winning.
"It's approaching a point where neither side can push much more, I would say."
In a phone call yesterday morning, Vladimir Putin reportedly told the president of Finland that he was making a "mistake" by seeking to join Nato as his nation was not threatened.
Finnish leader Sauli Niinistö said his conversation with the Russian president was "conducted without aggravations" as both sides tried to reduce tensions.
In a transcript of the call, Putin said: "Abandoning the traditional policy of military neutrality would be a mistake, since there are no threats to Finland's security."
Meanwhile Turkish president Recep Tayyip Erdogan threw doubt on possible Finnish and Swedish membership of Nato. He said he did not have a positive view of their bid to join the military alliance after Russia's invasion of Ukraine.
Membership of Nato would require ratification by all existing members. His comments are believed to have been directed at the Kurdistan Workers' Party, which Turkey regards as a terrorist organisation, and Kurds living in the Scandinavian nations.
Erdogan said: "We are currently following developments regarding Sweden and Finland but we don't feel positively about this.
"We don't want to commit a mistake. Scandinavian countries are like guesthouses for terrorist organisations. To go even further, they have seats in their parliaments, too."
The G7 – which comprises Britain, Canada, France, Germany, Italy, Japan and the US – has warned that war in Ukraine could trigger a global food and energy crisis threatening poor countries.
German foreign minister Annalena Baerbock, who hosted a meeting of top G7 diplomats, said the war had become a "global crisis".
She said: "Up to 50 million people, particularly in the countries of Africa and the Middle East, will die in the next few months."
In statements released at the end of the three-day meeting on Germany's Baltic Sea coast, the group of leading economies pledged to provide further humanitarian aid to the most vulnerable.
A statement said: "Russia's war of aggression has generated one of the most severe food and energy crises in recent history which now threatens those most vulnerable across the globe.
"We are determined to accelerate a co-ordinated multilateral response to preserve global food security and stand by our most vulnerable partners in this respect."
The news follows reports that Putin is "very ill with blood cancer". An oligarch close to the Kremlin was recorded discussing Putin's health with a Western venture capitalist in mid-March.
The Russian says in the recording, which first appeared in a US magazine, that Putin has had surgery on his back linked to his blood cancer shortly before ordering the invasion of Ukraine.
There has been growing speculation about Putin's health after he was seen on several occasions walking with a limp.
During a meeting last month with defence minister Sergei Shoigu, Putin was seen gripping the side of a table.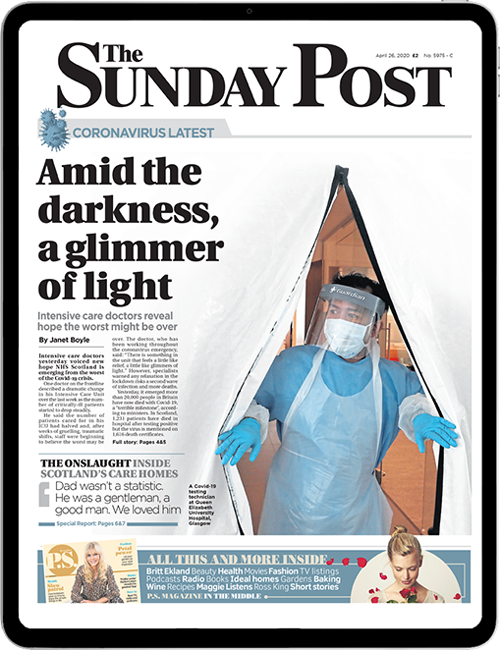 Enjoy the convenience of having The Sunday Post delivered as a digital ePaper straight to your smartphone, tablet or computer.
Subscribe for only £5.49 a month and enjoy all the benefits of the printed paper as a digital replica.
Subscribe