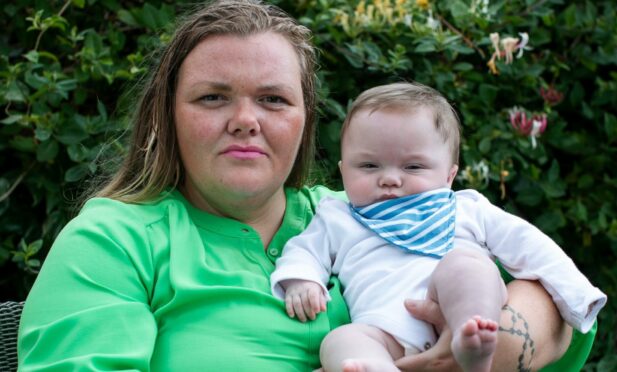 Carrie O'Donnell was warned that she would never be a mother after suffering the severe side effects of endometriosis.
A surprise pregnancy at 33 was the miracle she never dared dream for. But it also made her an "at-risk" mum, and baby Oliver was born at 27 weeks weighing just 685 grams, one of the smallest and most premature in the country.
Carrie believes neither she nor Oliver would have survived if she had not accessed a private scanning clinic which correctly identified a life-threatening condition and immediately sent her to the hospital which had sent her home over and over again.
The traumatised mum said: "I had suffered a series of complications one after the other, but NHS Ayrshire and Arran repeatedly told me to go home.
"If I had continued taking their advice to just go home and wait, I don't believe Oliver or I would be here today."
Trained chef Carrie, now 34, from Maybole, Ayrshire, is calling for a new inquiry into maternity services at the health board which came under scrutiny five years ago over the deaths of six babies.
She has already raised her concerns with staff at the hospital and had a meeting there.
She said: "After the way my concerns were dismissed and I was repeatedly sent home despite a number of red flags and problems, I fear NHS Ayrshire and Arran have not learned from past tragedies.
"That is why I believe there needs to be a new independent inquiry."
Carrie said: " I developed vaginal bleeding and I was sent home after waiting five hours in agony to be seen.
"Then I lost amniotic fluid, and despite my concerns, I was sent home again. I was sent home once again after being told my baby had stopped growing at 24 weeks with no real explanation why this had happened or what the risks were to my baby.
"By then, I was frantic with worry.
"I was so concerned something was wrong, I booked a scan at a private clinic.
"That was what saved our lives."
Hospital 'in a panic'
Moments into her £90 scan at the ABC4D clinic in Ayr on November 23 last year, senior sonographer Karen Connolly recognised that Carrie's placenta was breaking away, a condition that could be fatal for both mum and her unborn baby. Carrie was told she had to get to hospital immediately.
She said: "I was told I needed emergency medical attention.
"I was rushed to Crosshouse Hospital where I was told I needed an immediate emergency Caesarean to save baby Oliver and my own life."
Carrie said the hospital appeared to be "in a panic" over her condition.
She said: "Ironically, I saw the very same people who had previously sent me home suddenly in a panic over what was happening to me. I was taken to theatre.
"When my boy was delivered, Oliver was almost blue and so tiny, I initially thought he was dead. I was inconsolable. But the quick action of the surgeon in charge was incredible.
"My heart soared when I heard the obstetrician say "Happy Birthday Oliver" and he held him up to let me see my son.
"I could not thank that man properly because I was so traumatised at the time. But I would dearly love to be able to take Oliver to visit him now."
Oliver was so fragile that Carrie was not even allowed to hold him before he was whisked away to a specialist high dependency unit at the Queen Elizabeth University Hospital in Glasgow.
Carrie said: "Oliver was so small he could have fitted in my hand.
"Touching him was terrifying. His body was almost translucent. Oliver was kept alive by an array of tubes and machines.
"I was told he was one of the smallest and most premature babies that had survived without having some kind of disability."
Carrie said she was later told that she had suffered placental abruption, a complication which could have killed little Oliver.
The condition means the placenta, which ensures food nutrients and oxygen reach the baby, was breaking away.
Tests also revealed there had been a reduced blood supply to the placenta, a condition known as maternal vascular malperfusion. And Carrie has been diagnosed with suspected thrombosis as a result of what happened during her pregnancy.
A letter from a senior obstetrics specialist to Carrie said: "I have received the histopathology report of your placenta, which was sent away for testing, and this has shown maternal vascular malperfusion.
"Essentially what this means is that there has been a reduced blood supply to the placenta, which may account for Oliver being small for his gestational age and also the reason for his distress and your need for early delivery."
---
Timeline
October 24: Carrie attended Crosshouse maternity assessment unit with bleeding. A smear and bloods were taken and she was sent home.
October 25: Carrie returned for a scan and was told baby had stopped growing at 24 weeks. Despite Carrie begging to be admitted and monitored, she was sent home.
October 25: Later that evening, Carrie suffered more bleeding and returned to Crosshouse. Waited five hours. One doctor attended her and other emergencies. Sent home.
November 18: Carrie suffered substantial loss of amniotic fluid and was rushed to Crosshouse, where a nurse said: "Is that you back here again?" A baby heart monitor failed to find a heartbeat. A foetal monitor eventually found a faint heartbeat. No ultrasound scan. Carrie was diagnosed with a bacterial infection linked to miscarriage and premature births. Sent home.
November 23: Minutes into a private scan at ABC4D, Carrie was informed of placental abruption which could kill her and her baby. Oliver was born by emergency caesarean and rushed to the QEUH.
---
Calls for inquiry
Carrie is calling for an inquiry into the actions of NHS Ayrshire & Arran's maternity services, which previously came under scrutiny in 2017 after the deaths of six babies.
The review five years ago by Healthcare Improvement Scotland ruled that some of the stillbirths could have had different outcomes, and revealed "suboptimal care" in some cases.
The report also highlighted concerns over the handling of adverse incidents, with staff unsure how to respond, and compromised care because of staffing pressures.
Another report by Leicester University also recommended a series of changes which included staff training, leadership and culture.
Then Health Secretary Shona Robison was severely criticised by bereaved parents after she refused a public inquiry like Nottingham, which announced last week it is to examine 1,700 cases, the biggest maternity scandal of our times.
Carrie believes lessons have not been learned at NHS Ayrshire and Arran.
And she also alleged that Oliver received an overdose of medication on two occasions.
She said: "I was not informed about this and only heard about it much later. I have asked NHS Ayrshire & Arran for Oliver's medical notes as I suspect these two occasions have not been flagged up as adverse incident reports."
New Women's Health Champion believes tackling inequality is one of her biggest challenges amid a range of issues
After Oliver was released from Crosshouse, his umbilical cord became infected.
But Carrie claims she was told at the hospital's paediatric unit that there was no infection, despite photographs which show otherwise.
She said: "I did not believe the doctor at Crosshouse and took Oliver to the QEUH as the swelling was extreme. They immediately said there was an infection and treated him with antibiotics.
"I am eternally grateful Oliver is doing well now. But I still have nightmares and flashbacks to what happened.
"It was a miracle that I became pregnant, and it was an even bigger miracle that both Oliver and I survived such a traumatic birth.
"I want to ensure that no other mum has to go through what I did.
"It concerns me that despite previous issues surrounding maternity services in NHS Ayrshire & Arran, I do not believe the service is recognising and responding to all the red flags that come with at-risk mothers like me.
"I believe there were a number of times where potentially devastating issues were missed.
"NHS Ayrshire and Arran said lessons were learned when they were previously held to account over concerns over maternity services.
"But my experience shows the same worrying attitude prevails."
Baby Oliver was finally discharged from hospital on February 15. He now weighs 14lbs and is thriving, much to the delight of his mother.
She said: "After being told I would never be a mother because of my endometriosis, it was a miracle to discover I was pregnant.
"With my age and health problems, I now understand that I should have been treated as an at-risk mother.
"However, I do not believe NHS Ayrshire & Arran fully considered me to be at risk.
"I certainly did not feel they listened to any of my growing concerns, and felt they demeaned me and dismissed me when, in fact, I was correct to have the concerns I expressed about my baby.
"I fear they have not learned anything from previous inquiries and, while there are brilliant professionals like the man who delivered my baby, I believe there is a malaise and poor attitude with too many of those we all rely on to keep us well and safe."
Brian Williamson, managing director of the ABC4D clinic, said: "Karen Connolly is one of most experienced and highly skilled sonographers and, as soon as Carrie's scan was under way, she immediately recognised the placenta was breaking away.
"This meant both Carrie and her baby needed emergency hospital treatment.
"Karen acted instantly and appropriately.
"If she had not done so, there could have been a tragic outcome for either Carrie or her baby, or indeed both of them."
Williamson said: "Unlike many baby scan companies, we are not simply offering pretty pictures of unborn babies.
"We are registered with Healthcare Improvement Scotland and provide a highly skilled service with vital health checks included in every scan, which is why we were able to act appropriately when we examined Carrie."
Rab Wilson, of campaign group ASAP NHS, which is calling for an independent health regulator for Scotland, said: "This case highlights a number of deeply concerning issues surrounding maternity care in NHS Ayrshire and Arran.
"Despite previous reports which highlighted issues requiring action following the deaths of a number of babies at NHS Ayrshire and Arran, we do not believe this health board have learned all the lessons from previous tragedies."
NHS Ayrshire & Arran's Nurse Director, Jennifer Wilson, said: "We are sorry that Ms O'Donnell has had to raise concerns about the care provided and will continue to engage with her directly on this matter.
"We are unable to comment further."
---
Endometriosis: One in 10 women has condition
As many as 1 in 10 women may have some symptoms of endometriosis.
Around 100,000 women have been diagnosed in Scotland.
It can take eight-and-a-half years for a diagnosis.
The condition causes painful, heavy periods, exhaustion, and difficulty getting pregnant.
Some women respond to laparoscopy treatment, cutting away adhesions which attach to internal organs, causing major health issues.
The most severe cases are treated by hysterectomy, removal of the womb.
A woman with endometriosis is at 77% higher risk of miscarriage, according to a 2016 study.
---
COMMENT: 'It's not right that people like Carrie are let down'
By Monica Lennon MSP, Convenor of the Cross Party Group on Women's Health and Scotland's foremost campaigner on endometriosis.
Endometriosis is one of the main conditions targeted in the Women's Health Plan in Scotland, which is overseen by Women's Health Champion Professor Anna Glasier who was appointed in January.
I have met with Professor Glasier and know she is deeply committed to do all she can to improve the healthcare and support for women with endometriosis, that is why I am sure she will be greatly upset to learn of what happened to Carrie O'Donnell.
I believe Carrie's experience highlights the difficulties women with endometriosis continue to suffer, from having to wait an average eight and a half years to get a diagnosis to experiencing difficulties accessing the correct care.
This is particularly worrying during pregnancy when there can be increased risks to both mother and baby. While the Scottish Government have said all the right things year after year about improving endometriosis care, unfortunately the rhetoric fails to reflect the reality.
Far more investment must be made to improve diagnosis services to reduce waiting times.
The Scottish Government must do more to ensure we have enough healthcare staff, and they are given the time and resources needed to study conditions like endometriosis so our women can feel confident we have the best most up to date care and expertise available to them.
As many as 1 in 10 women suffer the symptoms of endometriosis. Given that, it is simply unacceptable that so many women like Carrie feel so let down.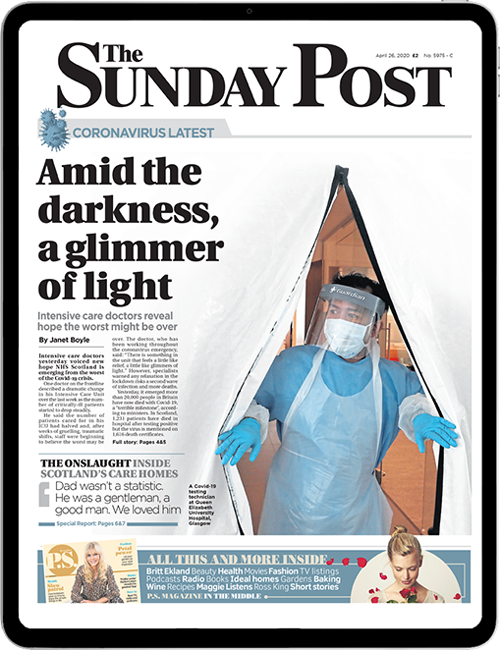 Enjoy the convenience of having The Sunday Post delivered as a digital ePaper straight to your smartphone, tablet or computer.
Subscribe for only £5.49 a month and enjoy all the benefits of the printed paper as a digital replica.
Subscribe