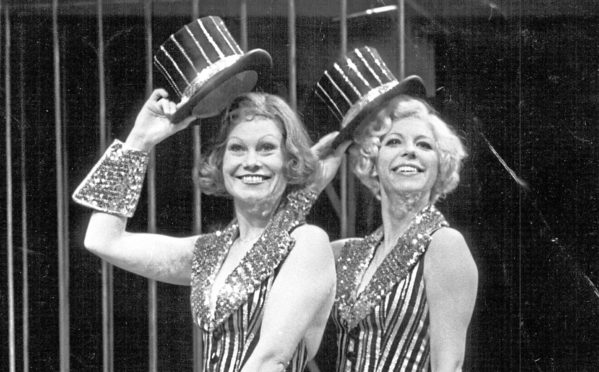 Trained dancer, singer and actress Jenny Logan will forever be known as the Shake n' Vac woman.
The carpet freshener ad ran between 1979-88 and was named one of ITV's Best Adverts of all time.
Jenny, now 77, says: "It's true, most people remember me for playing the Shake n' Vac woman but I've been acting since I was 12, initially playing a Liquorice Allsort in pantomime at the London Palladium."
During the 1960s, she appeared in the last two series of Dixon Of Dock Green playing WPC Sally Reed and was busy in the theatre and making other commercials before the Shake n' Vac job came along.
"I was playing the lead in the first production of Chicago when a friend's brother, who was directing the advert, invited me to a casting session.
"He'd seen me sing and dance in the show and thought I might be right for the job. But performing eight shows a week in the West End, however, meant I was exhausted and when offered the part, I initially turned it down."
Eventually, she was persuaded to take the job. It took two days to record the song and complete the filming.
"I thought it would be just another advert but its popularity grew and eventually people started recognising me in the street. Even comedy shows contained scenes imitating the advert."
After the advert finished running, people continued to recognise Logan – she was even spotted on a Nile cruise in 1990.
"I used the product myself occasionally but was never given 300 tonnes of the stuff or anything like that. I didn't do any promotion, like some people do with products they advertise.
"I decided not to use the advert for my own gain when my children got embarrassed at school because other kids kept doing the dance in front of them. I could have gone on lots of chat shows and become a personality but chose not to."
Despite only making one version of the ad, it ran for nine years before finishing in 1988. Two other versions were made but their lack of success saw the original return to our screens time and time again.
"I think its popularity was due to it being silly and having a catchy tune. My legs even got fan mail. And people said I was their first pin-up, which I find amusing."
After making the advert, Jenny Logan continued working in the theatre and appeared occasionally on TV in, among others, three series of The Two Ronnies during the 80s.
"My biggest role on The Two Ronnies was leader of the female police force, wearing black leather, in the mini-series The Worm That Turned where females ran the country.
"I received plenty of interesting fan letters, as you can imagine. Some were OK but others were quickly thrown in the bin.
"But despite everything I've done, it's amazing that even now, after all these years, people still talk about the Shake n' Vac ad.
"Appearing in adverts back then wasn't as lucrative as now. People think I'm a millionaire because it ran so long.
"I was paid around £200 and received repeat fees whenever it was shown, which helped pay off the occasional overdraft, but it never made me rich.
"It was also a double-edged sword. I couldn't do any commercials for about 20 years after Shake n' Vac because being so recognisable I was unemployable.
"Fortunately it didn't bother me because I was busy doing other work.
"I'm proud of what I've achieved during my career, including the ad, which was fun.
"I've done some wonderful work but it's amazing to be remembered for a couple of days' work all those years ago."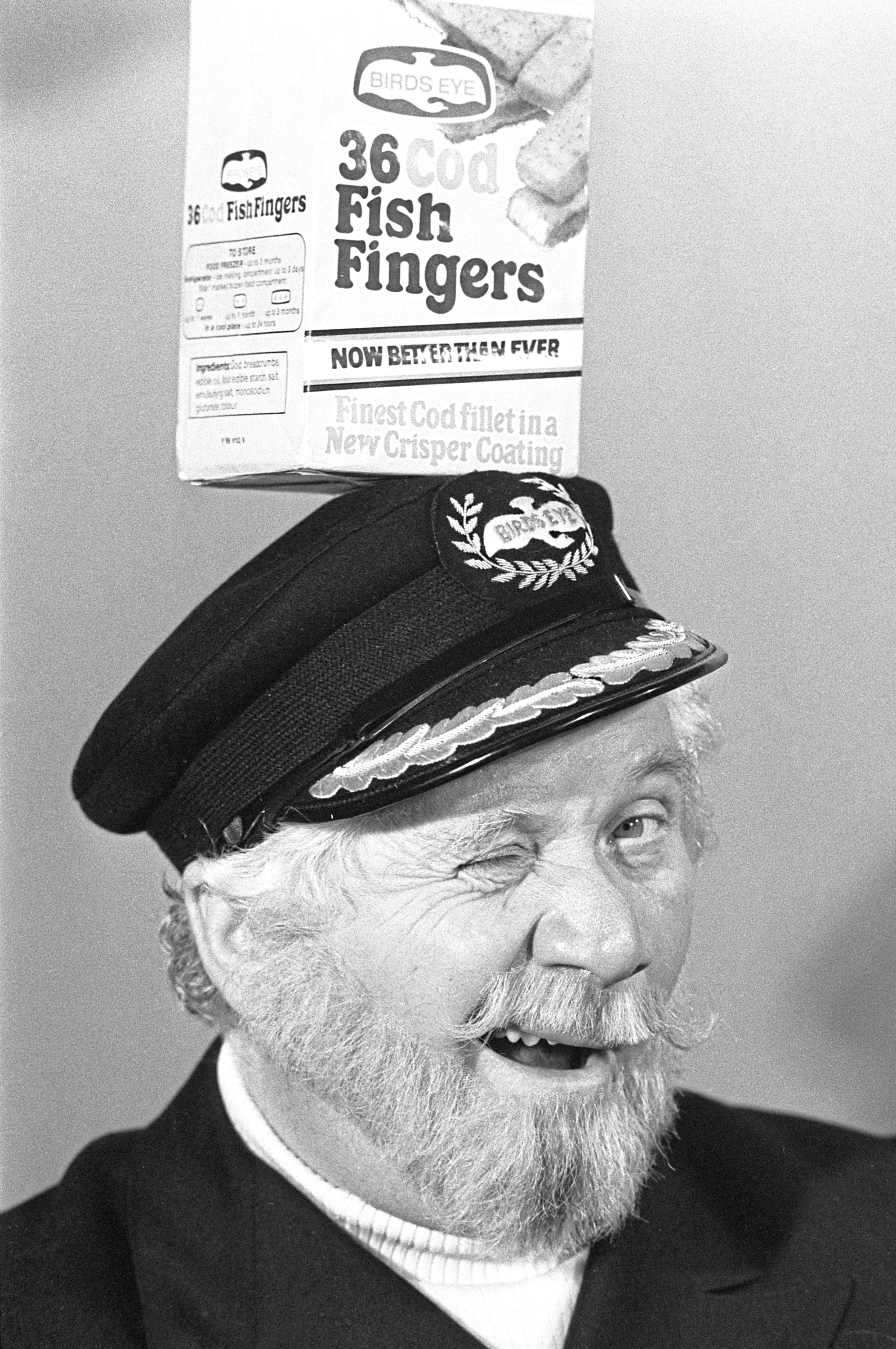 For 30 years, actor John Hewer played Captain Birds Eye in one of the longest-running television adverts.
First seen donning a white beard and sailor's attire in 1967, he became the face of fish fingers, becoming so popular that when replaced by a younger actor, consumer pressure soon led to the old bearded captain's return.
Hewer, who died in 2008 aged 86, once told me about the exciting phone call he received from his agent which introduced him to Captain Birds Eye.
"He asked if I'd like to go to the West Indies for Christmas? That's an offer no one could refuse.
"Birds Eye were making an advert and wanted me to audition for the captain's role. I'd been working for the company for years, making training films and directing their annual sales conference, so agreed to try my luck."
The audition took place on the Cutty Sark, moored in Greenwich, London. "After being fixed up with clothes and a stick-on beard, which I wore throughout the run of adverts, I had to walk around the ship saying 'Ahoy' and 'Aha' – and all that rubbish."
The commercials were filmed all over the world, including several West Indian islands, Malta, Hawaii and even New Zealand. Hewer admitted he lost count how many different versions he made during the 30 years.
Filming could be perilous at times. "They always wanted a shot of me coming ashore in a boat rowed by three or four children.
"I used to direct them as much as possible but it was nerve-racking. Occasionally members of the film crew would wade out, get behind the boat, where they couldn't be seen and push it to the shore.
"Once I fell in. We were coming to the shore and this forceful director kept saying: 'Jump, John, jump.'
"I glanced down and knew there was still about seven foot of water so stayed inside the boat. But he kept on shouting, so in the end I leapt into the water and disappeared for a while. That was the end of filming for the day."
Hewer received plenty of fan mail, usually from children saying how much they liked fish fingers or how they'd like to be in his ship.
Earnings from the adverts, including repeat fees from the myriad countries which screened it, weren't to be sniffed at.
"My earnings enabled me to move from a flat in London's Marylebone High Street to a five-bedroomed property in Essex and live comfortably.
"My children used to tell their friends about me playing Captain Birds Eye, which caused much interest, but fortunately people didn't expect to be dished up fish fingers if they dined at our house.
"We used to eat them occasionally, but my wife was an excellent cook, so we didn't need to resort to them when it came to entertaining."
Filming the adverts only took about 10 days, so Hewer worked on stage and screen in between.
"My last advert was made in 1997 and I retired from the profession in 1998. By then, I'd spent over 50 years in the business, but knew I'd always be remembered as Captain Birds Eye, which was fine by me."
---
Between 1983-86, Robbie Humphries, then just 10, became one of TV's most recognisable faces when he began playing the Milky Bar Kid.
Despite only recording two adverts promoting the white chocolate bar, he was rarely off the screen.
"I'd already appeared in a couple of adverts, promoting beef burgers and computers, when the big one came along. I went through about five auditions to become the Milky Bar Kid and was the first to have a girlfriend.
"The advertising company thought it was about time the Milky Bar Kid had a girlfriend so they auditioned boys and girls. I was chosen from thousands and loved every minute of it.
"As for the girl, all I can remember is that she was called Victoria. We became good friends, as did our families, but we lost contact as soon as the adverts were over, which is a shame."
Unlike other Milky Bar Kids who dressed up as cowboys, Humphries played a spaceman.
"For the first advert, I was in space saving the princess while the second, completed when I was 13, saw me return to Earth on a jet pack.
"That scene was shot in Battersea Park and involved me hanging 30 feet up on the end of a crane, strapped to a jet pack.
"For the last two years of my reign the adverts were repeated constantly while I was out making promotional appearances at fêtes and charity dos.
"My father was so proud when at one event I ran a stall with Kenny Lynch. I was more amazed that Bob Monkhouse was there, to be honest.
"Wherever I went, I was accompanied by a driver-cum-bodyguard and a PR guy. I'd be picked up from home in a slightly stretched Ford Granada with blacked out windows – I felt so cool being driven off in that."
Fortunately, Humphries was never teased by friends for appearing in the adverts. "They were all happy because for five years I had free access to Milky Bars."
Humphries, now 46, was happy with the money he received for making the adverts.
"For a kid, it was serious money. I got about £500 per ad, which was a lot in those days, but the contract itself was worth much more.
"I earned between £5,000-£10,000, which doesn't sound a lot but how many kids get their hands on that sort of money?"
After hanging up his Milky Bar spacesuit, he made occasional appearances in the theatre and on TV, including The Bill, before studying drama and, subsequently, psychology at university.
Plans for his future, however, were put on hold when a long-term kidney problem caused turmoil in his life.
"I spent most of 1996-98 coping with that and travelling to Guy's Hospital before finally, in 1998, having a kidney transplant from my mum. I'd known that I would need a transplant for years and fortunately it was successful."
After recovering he qualified as a teacher and now works as artistic and course director at Kent-based Walk Tall, a charity dedicated to providing theatre and performing arts opportunities.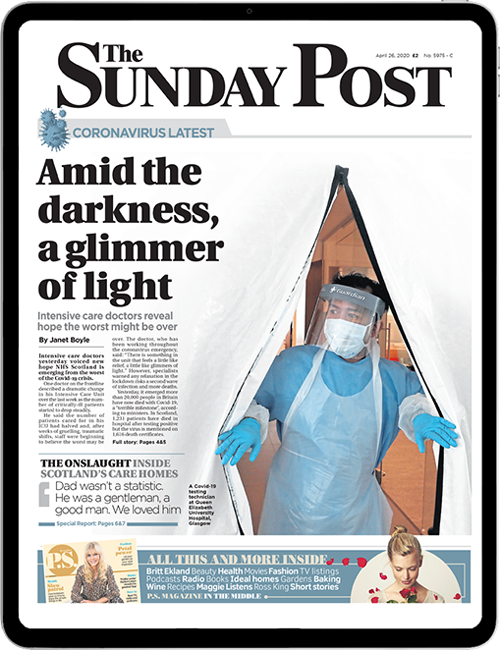 Enjoy the convenience of having The Sunday Post delivered as a digital ePaper straight to your smartphone, tablet or computer.
Subscribe for only £5.49 a month and enjoy all the benefits of the printed paper as a digital replica.
Subscribe