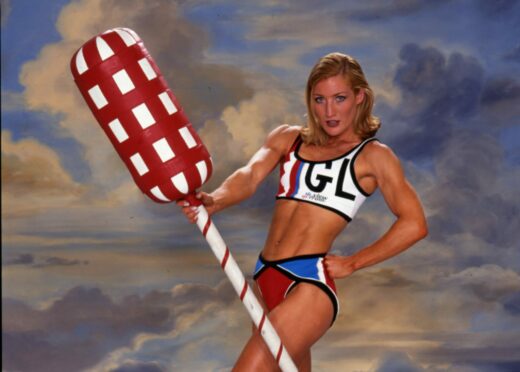 "Contender ready! Gladiator ready! Three! Two! One!"
Referee John Anderson's iconic call to action will still be familiar to fans of Gladiators, the adrenalin-pumping, prime-time show that became a Saturday night staple during the '90s.
However, one of the show's stars, Ali Paton, who will always be Siren to fans, admits, as a reboot is announced, that she was not at all prepared for the gladiatorial battles or the massive popularity of the ratings hit. She casts her mind back 25 years and hearing Anderson's catchphrase while clinging to a swinging pendulum raised 40ft above a packed Birmingham crowd, ready to make her debut as Scotland's first, and only, Gladiator.
"Moments before I'd been in this cherry picker with John," said the former athlete from Edinburgh. "We were supposed to look down the camera all mean and menacing but I must have looked like I needed help getting dressed in the morning. John turned to me and said, 'Siren, you've got your helmet on back to front!' I hadn't even realised. I thought, that's not a good start!"
Despite her early wardrobe malfunction, Paton quickly negotiated the swinging pendulum to catch her contender, cementing her status as a formidable and popular Gladiator during the latter years of the show's original run between 1992 and 2000 on ITV, before a further two seasons on Sky in 2008.
Presented by Ulrika Jonsson and John Fashanu, the action-packed show pitted contestants against super-fit Gladiators in games designed to test their speed, strength and endurance, ending in the fan-favourite eliminator challenge. At its peak, 14 million viewers tuned in.
Television bosses will be hoping to tap into that success again, after they revealed Gladiators will be rebooted on BBC next year.
"It's wonderful," said Paton of the show's future revival. "It was such a fun show that the whole family could watch together. We only really had five channels back then but I think everyone watched it thinking, 'I could do that'!
"I hope they put a new spin on but keep it a genuine competition because that's what every game was for us. It was live so there were never any retakes unless something went drastically wrong. Every game was a real battle."
Paton honed her competitive nature on the basketball court before she taking on the role of Siren. She competed at a national level during her 20s and was spotted at Meadowbank Sports Centre in Edinburgh by Anderson, the show's Glaswegian referee and coach.
"They took on four girls that year so timing was on my side and I was already doing the right training," said Paton. "John sent me to a contender try-out in Gateshead with Pauline Richards, who ended up as Rocket in series six. We tried out as Gladiators but they put us in the contender outfits. Pauline was 6ft 1in and I'm 5ft 11in so people in the changing room were looking at us and saying, 'you should be trying out as gladiators!' So at least we looked the part."
Paton thereafter joined the ranks of lithe, strong and super-fit bodybuilders and athletes including Wolf, Hunter, Cobra, Lightning and Vogue, making her debut in 1997. Stepping into the world of reality TV was a surreal experience.
"I was naïve to it all. I had no idea what I was getting into," she admitted. "I thought it would be great fun to scramble about on cargo nets and hang upside down but the TV and media side was new to me and a bit tricky at first. But I loved being out of my comfort zone and rising to a new challenge so it was a perfect role for me.
"When I joined there were 21 games and we had three days to train, so I was just as clueless as the contenders that first year. They actually stopped the show just as I was getting the hang of it!"
Behind the scenes, there was one commodity that was in higher demand than weights or protein bars. "Backstage we were always looking for that special tape to fix our costumes in place because obviously we didn't want any malfunctions," said Paton.
"That was almost above trying to find weights or food – and everyone was obsessed with food – it was finding who had the tape. That was a premium, and for the boys too!"
While their backstage jokes and antics sometimes gave the show the feel of a "kids' camp", Paton remembered Anderson, a leading coach who trained Commonwealth and Olympic athletes including former 5,000m world record holder David Moorcroft and Dundee-born former 10,000m world champion Liz McColgan, making sure everyone stayed in line even when the cameras stopped rolling.
"John was actually quite strict," recalled Paton. "He was a genuine athletics coach so he really did favour people who put in a lot of training and arrived for filming as fit as they could be.
"We didn't get much time to practice when we arrived at the studio so you really had to be fit and on your game. Hunter probably trained the hardest."
There is a simple explanation for why Paton, even now, refers to her castmates by their Gladiator names. "The producers were so worried that we would mess up an interview by referring to each other by our real names so it was an absolute rule," said Paton. "We had to use our Gladiator names the whole time. Even in the hotel. At dinner, I'd ask, 'Can you pass the salt, Wolf?' It was ridiculous but quite funny."
The action, adrenalin and fun of Gladiators captivated TV viewers for years and the contestants became household names, idolised by their younger fans.
"I always tried to be a decent role model for kids because they really loved the show," said Paton. "Whenever I did panto they'd always be waiting outside for an autograph. They were so excited to meet us. It was cute but I was always very conscious of them looking up to us in the right way."
Kim Betts, who played Lightning, echoed those views during a recent appearance on This Morning, saying: "I still get lots of stories being sent to me saying, 'you inspired me so much, you changed my life, you motivated me,' and you think, 'wow'. It really was quite powerful, how it did inspire and change people's lives."
Gladiators opened many doors for Paton. Following the show, she landed presenting jobs on radio and TV, was a host on the QVC shopping channel, became a basketball commentator, and hosted the Edinburgh Marathon.
Today, she has returned to Edinburgh where she runs her own property portfolio and renovates houses with a friend. She remains in touch with fellow Gladiators two decades on. "I'm still friendly with Vogue (Suzanne Cox-Roberts). She lives in London so we meet up when we can," said Paton. "I keep up with the others on social media. When I opened a small boutique fitness centre in Glasgow, Hunter and Trojan came up to help me open and do some press. We all help each other."
Now 51, fitness remains a huge focus for Paton, who trains regularly at her local gym. Yet she laughed off the idea of returning to Gladiators. "I don't think that will be an option," she admitted. "I think they'll want some young whippersnapper!"
Instead, she is happy to reminisce about the good times: "The actual competition and athletic element of it was really fun because you're hanging upside down and you're climbing up cargo nets, it's just like being a big kid. Being on the show also opened so many doors for me afterwards. It's really shaped my life so I'm really fortunate to have had that experience."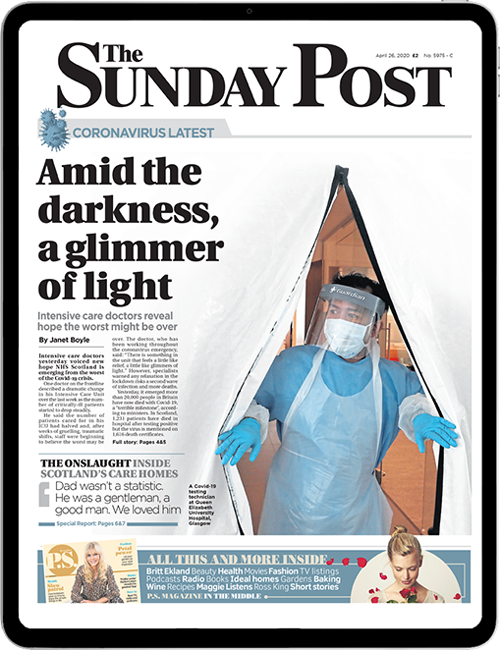 Enjoy the convenience of having The Sunday Post delivered as a digital ePaper straight to your smartphone, tablet or computer.
Subscribe for only £5.49 a month and enjoy all the benefits of the printed paper as a digital replica.
Subscribe