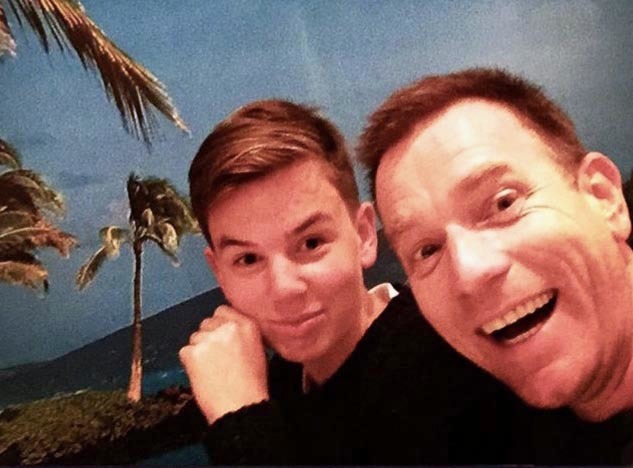 THE nephew of Trainspotting actor Ewan McGregor is following his famous footsteps into movies.
Teenager Jamie McGregor is plotting a life in showbiz like his uncle Ewan and great-uncle Denis Lawson, star of 1983 cult classic Local Hero.
But it's from behind the camera where Jamie, 17, hopes to make it big.
The teenage film-maker is studying media at the University of the Highlands and Islands.
But in his spare time he's been learning the tricks of the trade with trips to the famous Pinewood Studios with Denis, 69.
And uncle Ewan, 45, even arranged for Jamie and his former fighter pilot dad Colin to be invited on to the set of the Trainspotting sequel as it was being filmed. He met the cast – including Robert Carlyle, 55 – spoke to the technical crew and gained invaluable work experience.
Jamie, who has made several short films which are already available on YouTube, said: "Meeting Danny Boyle was the highlight.
"Uncle Ewan has given me some advice and tips but he is more used to being in front of the camera rather than behind it.
"I may eventually look to become an actor, but my main interest is making films and Danny was very encouraging and inspirational."
Jamie, who was able to tread the red carpet at the T2 premiere, added: "Watching Trainspotting 2 being made was very exciting.
"My dad filmed a cameo role in the first one – the scene in the pub – but he didn't make the cut.
"However, he will be in the sequel – appropriately on a train.
"Although I am not in the film, just being there to watch part of it being made was a fantastic learning experience for me.
"Hopefully one day I will enjoy my directorial debut and join the family film dynasty."
T2, which opened in cinemas on Friday night, has been winning rave reviews.
It's now 21 years since the original movie was released.
Plans for the sequel had been hampered by a spectacular falling out between star Ewan and director Danny over a supposed film role snub.
Now firm friends again, the pair discussed the disagreement on The Graham Norton Show on Friday night.
"It was a misunderstanding and a mishandling of a situation," Ewan said.
"It's a big regret of mine that it went on for so long and a real shame we didn't work together all those years."
Boyle, 60, added: "I handled it very badly and I've apologised to Ewan."