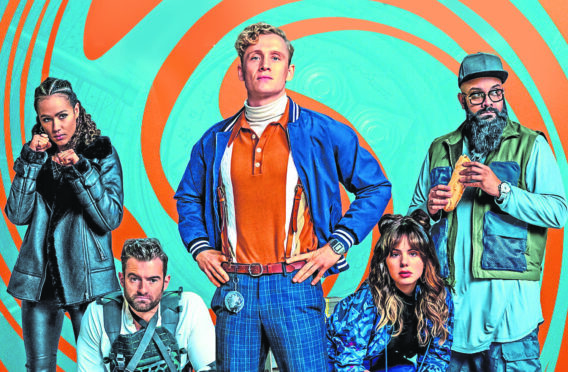 When he was a drama student, Stuart Martin sat in the cinema, open-mouthed as Gerard Butler conquered Hollywood in stunning blockbuster film, 300.
This week, he's hoping to follow in his fellow Scot's footsteps by making his action movie breakthrough with Zack Snyder, the director who masterminded Butler's big Hollywood moment in 2006.
Martin is the tough guy in Snyder's Netflix heist movie Army Of Thieves, and can't believe he got to work with a film-maker whom he has hero-worshipped ever since Butler's Spartan hero Leonidas became a screen icon.
The movie, which also features Game Of Thrones star Nathalie Emmanuel, is a prequel to Snyder's successful zombie action film Army Of The Dead which topped viewing charts earlier this year and Martin, from Ayr, is thrilled to be part of the expanding action franchise.
He said: "Zack Snyder is a real hero of mine. I remember seeing 300 in Glasgow and coming out of the cinema I was like, 'what was that?' and dreaming of doing something like it.
"I also loved Man Of Steel and all his other films. When the part for this came up and I saw his name, I thought I'd have no chance of getting it but I put in a couple of taped scenes and two days later – it's never usually that fast – I got the call saying I'd got it.
"Recently we did a panel via Zoom, and I'm like, 'I'm on a panel with Zack Snyder,' and he's in his office with Leonidas's helmet on the wall and Man Of Steel Superman stuff around him."
So would the 35-year-old like to emulate Butler's 300-inspired Hollywood break with his new film?
Martin admitted: "You get so excited about jobs because you love the film and the script and the team, and you think 'I love this, it could be big'. But there's so much brilliant stuff out there, all you can hope for is that people get to see it and, luckily with this, it's on Netflix and people can see it.
"You can't get your hopes up, you can only hope people watch it and like it. I ended up working with Zack again right after Army Of Thieves as he brought me in to work on an anime animation film, about Norse mythology. To be directed by him is a dream."
Living a dream
Martin, who is married to Mum actress Lisa McGrillis, has been enjoying living the dream since making his telly acting bow in Taggart 12 years ago.
Parts in soap River City and The Field Of Blood, based on the Denise Mina newspaper thriller followed in a busy rush of roles post-RSAMD/Royal Conservatoire of Scotland studies and in 2014 he won his first major gig, in Slumdog Millionaire director Danny Boyle's fast-paced drama series Babylon.
The size of the parts and the productions have been growing and growing since then, including working with Succession's Brian Cox, Richard Madden of Game Of Thrones, and Oscar winner Dustin Hoffman in Italy-set intrigue series Medici and Sky drama Jamestown with Max Beesley.
In the last three years, things have sped up significantly with one of the lead roles in international hit Miss Scarlet And The Duke, shown in the UK on Alibi, a period drama about London's first female detective, and now his action movie bow.
He has also fitted in a great part in Trainspotting author Irvine Welsh's eagerly awaited TV drama debut, Crime, alongside Dougray Scott, Jamie Sives and Joanna Vanderham.
Martin's busy streak post-lockdown has meant he has hardly seen much of wife Lisa or their young son in the last year. He is shooting season two of Miss Scarlett in Belgrade, and before that had spent months in Prague helping bring Netflix's crazy crime caper to life.
He plays a film-obsessed hero, named Brad Cage – presumably in honour of his favourite action movie actors – in the crime heist which on paper seems like an unlikely prequel to the biggest-budget zombie film ever made.
Army Of The Dead, which starred Dave Bautista, was a hit when launched earlier this year but even before it hit screens Netflix executives were so impressed by production footage that they swiftly commissioned a spin-off.
They were so taken with that first film's eccentric safe cracker played by German actor/director Matthias Schweighöfer that they asked him to create a prequel based around his character. Snyder produced, while Scweighofer directed and reprised his role as the effervescent robber, and brought in Martin for the "muscle".
Martin explained: "I really enjoyed Army Of The Dead and what's really exciting about this is that it's a completely different genre. This is a heist film.
"I loved working with Matthias as director. He's like 'wooh, yeah!' and he's there with you the whole way getting the performances.
"There are little references to what's happening in the world with the zombie outbreak, but this is not a zombie film.
"It's a good, old-fashioned heist film. It's a total shift and one I was really excited about.
"Zack said it's interesting to go back and watch Army Of The Dead after seeing this, and I did watch it again the other day and there are connections and a few easter eggs around the place. It's really nice the way they're expanding the universe.
"It'll be really cool to see what happens with our heist crew."
The tough guy
As part of the experience of working with long-time hero Snyder, Martin loved bringing the brilliantly named Brad Cage to life.
"He's the tough guy of the crew," said Martin. "Everyone's got their roles and he's your action guy so he gets to do all the bangs and the guns and the fights. He's amazing.
"What was really interesting to me is that he's got all this bravado and being tough, but when you see where he comes from, he adored all the '90s action heroes, as I did.
"But he got beaten up at school and at one point thinks, 'I'm not having this any more' and builds this image of himself from the '90s action heroes. We get to poke fun at him a bit, and though he's this macho guy, you get to see where he comes from and have a laugh, and I really loved that."
And does he see himself as an A-list action star in the making?
"Maybe a Z-list action star," he joked. "I loved doing this and it's brilliant because we've now got characterisation as well as the action, and I loved doing that. It all comes down to the role and if I get to do a bit of that in it, then great."
And if working with a mentor of Snyder's calibre was a thrill, collaborating with The Acid House writer Welsh, a literary hero, and Mission: Impossible 2 star Scott, one of his acting role models, was the icing on the cake. He said: "Scotland is my favourite place to film and before I came to Belgrade for Miss Scarlett And The Duke I was in Glasgow doing Crime.
"It was great. Dougray was a big actor I looked up to, watching him in things like Twin Town.
"And with Irvine Welsh, I loved Trainspotting and everything he's done since then, so to get to do this and be a little part of that with them, that's what's lovely about it.
"That's when the job is so fun, when you get to meet your heroes and discover that they're all brilliant, lovely, people."
---
Army Of Thieves arrives on Netflix on Friday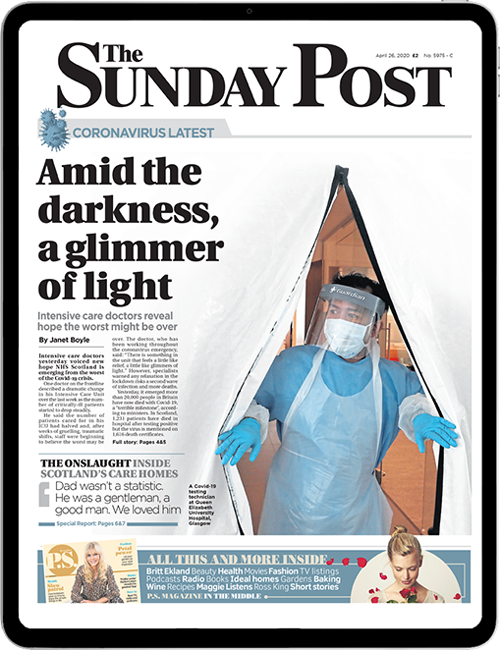 Enjoy the convenience of having The Sunday Post delivered as a digital ePaper straight to your smartphone, tablet or computer.
Subscribe for only £5.49 a month and enjoy all the benefits of the printed paper as a digital replica.
Subscribe