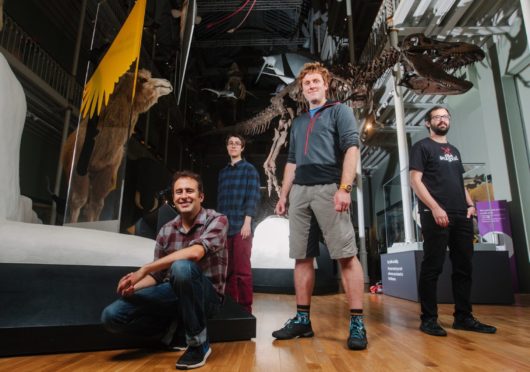 They call it a "dinosaur disco" – the biggest find yet for a crack team of international scientists who came to Scotland with a shared purpose and passion to unearth our Jurassic past.
And what they discovered on the Isle of Skye took their breath away. On a shore exposed by a receding tide, in the shadow of Duntulm Castle, the small group found more than 100 hand and footprints – tracks laid down 170 million ago years by sauropods; giant, long-necked dinosaurs who roamed a land that time forgot. Theirs was, the scientists say, a dynamic environment of rivers and lagoons, shallow seas and deep seas; a place of wonder.
That track site, one of only a handful worldwide, is the largest in Scotland. And, along with other later finds, it has propelled the country into a place of global palaeontological importance.
That this has happened in the space of the last seven years is down in no small part to Dr Steve Brusatte, 36, from the United States and the men and women who are part of Scotland's only university-based dinosaur research team.
Steve, who leads the group at the University of Edinburgh, is joined by Dr Tom Challands from Cumbria, and Dr Davide Foffa from Italy, but he also had support from  PhD researchers Paige dePolo and Dr Elsa Panciroli and an army of students.
Elsa, from the Highlands and a fully-fledged palaeontologist attached to Oxford University, in August hit headlines when she announced, with Steve, her dinsosaur bone discovery during one of their expeditions on the isle of Eigg.
It was the first published find outside of Skye. Between them their range of expertise covers everything from dinosaurs to prehistoric reptiles and fish.
Reliving the moment when they came upon the sauropod site in 2015, Steve told The Sunday Post: "It was like a dinosaur disco. There are over 100 tracks made by these giant, long-necked dinosaurs, these brontosaurs and brachiosaurs. That is the largest dinosaur site in Scotland in terms of size and the number of footprints preserved. It is probably the most important discovery."
Tom added: "We had had this long day and were literally just walking up the beach to get back to the road and meet the others when out of the corner of my eye I glimpsed this structure, and it just made me stop for a couple of seconds.
"I looked at Steve, and he looked at me and we both realised at the same time what it was. Then we spotted some here and there, they were everywhere. It was exciting."
Steve, who developed his passion for the mid-Jurassic period as a teenager while watching the movie Jurassic Park with his brother, said: "The very first dinosaur from Scotland was found in the early 80s. It was a single footprint – that was a couple of years before I was born.
"It has been less than 40 years since we have realised you can find dinosaurs here. That was one footprint that had fallen off a cliff at Brothers' Point on Skye and inspired other people to go looking. In the early 1990s Dr Neil Clark (who curates palaeontology at the Huntarian Museum in Glasgow) did a lot of work with Skye native Dougie Ross who runs the dinosaur museum in Staffin.
"The first dinosaur bone in Scotland was discovered on Skye by them in 1995. A little over a decade later, the first footprint was found. But over the last six or seven years, we have been able to find more because we have more boots on the ground and are working together."
Steve, who joined the University of Edinburgh in 2013, said: "We have made other discoveries at Brothers Point. We found bigger trackways that are still in the rocks…Tom found one of those. Davide found another one of those sites.
"Then, there is a third found by one of our visiting international students from Brazil.
"There are a bunch of different dinosaur tracks at Brothers' Point; long-necked dinosaur tracks, tracks made by meat eaters – cousins of T-Rex – stegosaurs and plant eaters related to duck-billed dinosaurs.
"The Eigg find in 2017 was a field trip I led funded by National Geographic. The team was fanned out when the bone was discovered by Elsa who was my PhD student. She was ahead of us on the beach and was coming back to meet us when she noticed it.
"Nobody had found anything on Eigg before; nobody had found anything in Scotland outside of Skye before. There are not many dinosaurs from that age known in the world. Anything we find on Skye potentially can tell us something really important, not just for Scotland's sake, but for the sake of dinosaur research around the world.
"Skye is one of handful of places globally where there are dinosaurs of that age. There are some in England in Oxford area, in China and Argentina but it is very limited."
---
Follow the Scottish Fossil Code produced by Scottish Natural Heritage. Visit nature.scot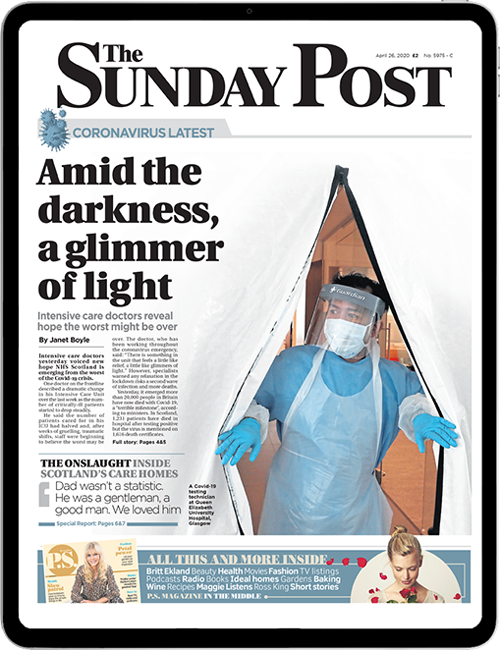 Enjoy the convenience of having The Sunday Post delivered as a digital ePaper straight to your smartphone, tablet or computer.
Subscribe for only £5.49 a month and enjoy all the benefits of the printed paper as a digital replica.
Subscribe