I wasn't holding out much hope that we would see Skye's famous dinosaur footprints.
We had been warned we'd need the tide and weather on our side as seaweed and silt often obscures the tracks.
When we reach An Corran Beach, by Staffin, there's an information board but scant advice on how to find the fossils (18 in total) scattered across ancient mudflats, long since turned to stone. The general location is given away by the handful of tourists who, with heads bent, are scanning a patch of algae-covered rocks.
At first, there is no obvious signs of Jurassic activity. My partner and our eight-year-old son give up after a few minutes to play at the water's edge but my persistence is soon rewarded when, like a magic picture, a rock pool begins to take the shape of three perfectly pointed toes. Looking around for someone to share my wonder, a man standing a few feet away smiles at me and says: "It's amazing, isn't it?"
"It really is," I smile back, feeling genuinely awestruck. It's one thing to see dusty dinosaur bones in a museum but walking in the footsteps of a megalosaurus (think T-Rex but a quarter the size), made more than 160 million years ago, is something else entirely.
This was just one of the highlights from a short but memorable family holiday to Skye during the Easter break.
We based ourselves at The Sligachan which, nestled among the Red and Black Cuillins mountain range, has been welcoming hillwalkers and climbers since 1830.
The family-owned hotel is perfectly positioned at an important crossroads in the heart of the island, opposite The Old Sligachan Bridge. Passed down the generations, it is now run by husband and wife team Deirdre and Gary Curley who have been careful to protect its heritage and rustic charm.
On our arrival, after a five-hour drive, we were glad for some downtime in our large, comfortable family room which has monumental views of the Cuillins. I spent a mindful hour, sitting by the window, cup of tea in hand, soaking up the dramatic landscape.
Dinner is at the adjoining Seumas' Bar which, as well as serving fresh food, is also renowned for it's impressive collection of over 400 malts from every part of Scotland. The menu includes local seafood, wholesome pub fare and daily specials. For starters, we enjoyed Cullen skink chowder and Skye scallops with black pudding, followed by a venison burger with onion relish and rustic fries and Cuillin Ale-battered haddock and chips. The child's fish and chips and ice cream went down well with our son.
With only 48 hours in Skye we needed a firm plan and Deirdre, who grew up on the island, kindly helped us with our sight-seeing itinerary.
Setting off the next morning after a delicious full breakfast, we first drove to the famous Fairy Pools in Glen Brittle. The gentle uphill hike following the pools, which are fed by the cascading waters running off the Cuillins, took us an hour to complete. Though it's not a tough route, there are some streams to cross by way of stepping stones so sturdy footwear is advisable (the group of Japanese tourist attempting it in very fashionable trainers obviously missed the memo).
Having worked up an appetite, we next head to The Oyster Shed, in the village of Carbost, 15 minutes away. As the name suggests, don't expect a fancy affair, but I can honestly say the freshly seared scallops served straight from the gridle, and eaten off the top of an old whisky barrel, were the best I've tasted. It's worth noting the Talisker Distillery is nearby but we skipped this to head north east on the trail of those dino prints.
We followed the spectacular coastal road which takes you past Skye's capital, Portree, and the Old Man of Storr, an imposing pinnacle that can be seen for miles around. We stopped off at Kilt Rock to take in the heady views from the 180ft cliff face, a huge waterfall tumbling to the sea below providing the soundtrack. It was just a few more minutes along the coast that we found the fossil beach.
Later, driving back to the hotel, shafts of late evening sunshine slashing through the clouds, I reflected on our adventures and was struck by how unique Skye is.
Of course, Scotland is stuffed with stunning scenery, mountains to climb, and historic sites, but where else in the world can you find dinosaurs, fairies and waterfalls, all in one day?
P.S.
Stop in at The Staffin Dinosaur Museum, established by Dugald Ross in 1976 when he was only a teenager, for more information and advice on the best places to discover Skye's dino prints.
Factfile:
A family room at the Sligachan is £215 per night B&B. To book www.sligachan.co.uk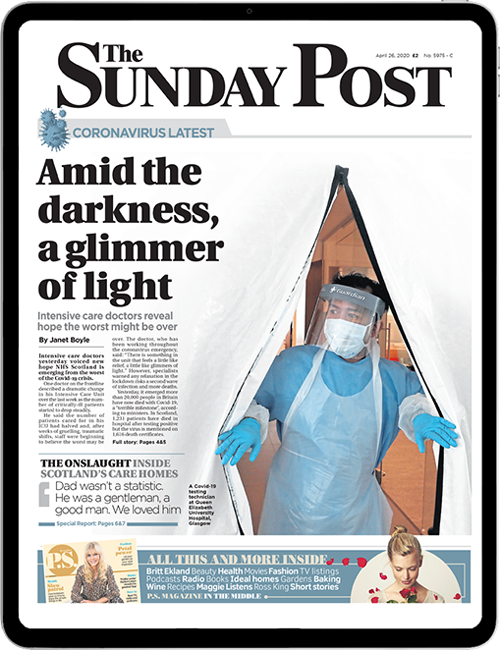 Enjoy the convenience of having The Sunday Post delivered as a digital ePaper straight to your smartphone, tablet or computer.
Subscribe for only £5.49 a month and enjoy all the benefits of the printed paper as a digital replica.
Subscribe