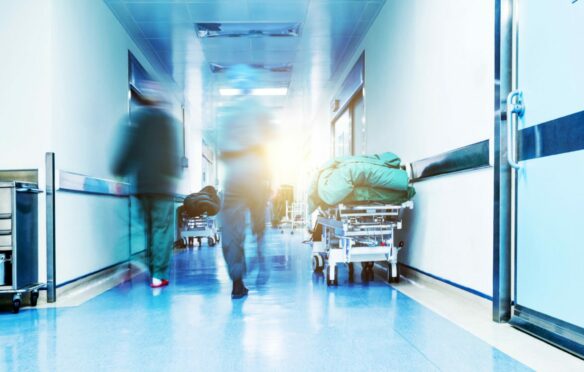 Secrecy over almost 400 patient deaths and 70 serious incidents at maternity units could hinder discovery of killers like Lucy Letby, experts warn.
Despite promises of greater transparency following two Scottish hospitals' investigations over 11 avoidable baby deaths, the public still has no access to detailed reports highlighting what happens when mistakes are made.
Between January 2020 and October 2021 Scottish hospitals reported 1,182 preventable incidents, 207 unexplained patient deaths, 188 patient suicides and 264 serious events involving frail, elderly patients.
But health boards are not making Serious Adverse Event Reviews (SAER) – reports detailing why incidents happened – available for public scrutiny despite promises of a culture of "openness, transparency and learning".
Some health boards are not even using the supposedly improved reporting system to flag up all avoidable deaths, sparking concern that the real figures could be much higher.
After a damning review of six baby deaths at NHS Ayrshire and Arran, shortly after an investigation also found that "sub-optimal care" led to five baby deaths at Caithness General, the Scottish government called for a shake-up of the SAER reporting system.
In March 2018, Healthcare Improvement Scotland's Chief Executive, Robbie Pearson, promised a new national framework would provide an "open, just and positive safety culture".
Pearson wrote to a campaigner, former psychiatric staff nurse Rab Wilson, who turned whistleblower after almost 30 years working in NHS Ayrshire and Arran, and assured him: "Our organisational priority is to work to create a culture of openness, transparency and learning. Next month, it will be a legal requirement for NHS Boards to publicly report on adverse events where duty of candour has been applied and on learning and improvement actions resulting from the review."
Wilson, who was instrumental in the review of SAER, said the promises were never kept.
He said: "It is devastating that, a decade on, hospitals here have simply become even more secretive and more determined to keep avoidable patient deaths and mistakes hidden from the public, with virtually no detail on websites.
"After listening to all the concerns raised regarding the Lucy Letby case and the difficulties staff had when they tried to raise concerns, it horrifies me that the system supposed to be in place across Scotland to 'red flag' similar scandals is virtually inaccessible to the public."
Professor of Healthcare and Medical Law Alison Britton of Glasgow Caledonian University warned that "lessons will never be learned unless the NHS is open with the public".
She said steps should be taken to protect the identity of patients, but after that, details of serious incidents should be available to the public.
Professor Britton said: "Unless these reviews are made public, how can the NHS learn and improve? What became clear in the Letby case was the conflict between NHS managers and doctors.
"Managers' concerns were to maintain the reputation of the hospital and public good faith whilst the focus of doctors was on the wellbeing , preservation of life of the patient.
"If we have transparency over SAER, it would ensure we learn from mistakes, everyone will raise their game and make sure we have good practice in place. Everyone gains.
"It also means we can spot any anomalies and act more quickly to prevent further harm.
"We cannot do that when all we are seeing are figures with no narrative about what happened, how it happened and what has been done to prevent it happening again."
A culture of cover up: "I believed the doctors when they said my baby's was an isolated case. Now I feel like a fool."
Campaigning dad Fraser Morton, whose baby son Lucas was one of six babies whose deaths at Crosshouse Hospital in Ayrshire were found to be avoidable, fought for greater transparency over flawed investigations and the series of errors that led to an official review being ordered in 2016.
He said: "Families fought so hard to get answers when our babies died. I never thought I would be standing here today saying that the secrecy we faced back then is even worse now. There is no doubt that the NHS directors who refused to act over Lucy Letby should have been standing in the dock beside her rather than sitting in high paid new jobs."
The Scottish government said: "NHS boards are responsible for applying the National Framework for Adverse Events, which ensures an appropriate level of scrutiny is conducted on all Significant Adverse Event Review reports.
"Healthcare Improvement Scotland is working closely with boards to address any variation in implementation of all elements of the framework".
A spokesman for Healthcare Improvement Scotland said: "Each NHS board is responsible for applying the current National Framework for reporting, reviewing and learning from adverse events through its own local incident reporting systems and governance processes, and we recognise that there continues to be variations in how NHS boards apply this National Framework."
Promised probe into husband's Covid death did not take place
The widow of top Scottish government official Andrew Slorance says no Serious Adverse Event Reviews (SAER) was carried out into his tragic death from two hospital acquired infections.
Louise Slorance said: "Andrew's death should have been investigated by SAER because of how he died, from infections caught while he was in hospital being treated for cancer. But that never happened. We were never told about any SAER or given access to any findings, so even the comfort of knowing that lessons would have been learned from Andrew's death were denied to us."
Andrew, 49, who headed up the Scottish government's response to Covid-19, was killed by the virus while being treated at the Queen Elizabeth University Hospital in December 2020.
Andrew's official cause of death was Covid pneumonia- but after requesting a copy of his medical notes Louise discovered he had also been treated for an infection caused by the mould aspergillus which was involved in other patient deaths.
When she was First Minister, an emotional Nicola Sturgeon insisted her government would do "everything possible to ensure that Andrew's family get the answers that they are seeking".
But mum of five Louise said the promises made had not been kept, and she is still seeking answers amid what she describes as a culture of cover-up and secrecy.
She said: "It is chilling that hundreds of patients are dying every year through hospital incidents, and the public are not being made aware about the circumstances or of what has been done to ensure there are no repeats.
"Unless there is far greater transparency and less secrecy, our NHS will continue to be at risk from others like Lucy Letby or Tayside's disgraced surgeon, Sam Eljamel."
Louise said she has had to fight to get any answers at all and is still a long way off from knowing the full truth of what happened to Andrew.
She said there is far too little oversight when things go drastically wrong.
Louise said: "Nothing could bring Andrew back.
"The only comfort I had was the thought that if there was an open and transparent multi-disciplinary investigation of the events leading up to Andrew's death, failures would be identified, lessons would be learned, and care would improve for others. But none of that has happened.
"It is significant that some of NHS Greater Glasgow's own officials helped draw up the national guidelines for SAER, so you could say they are even writing their own rule book now."
One of the senior NHS officials who helped draw up the national guidelines for SAER was the now retired executive nurse director Dr Margaret McGuire, who currently sits as a member of the Nursing and Midwifery Council, the regulatory body for nurses.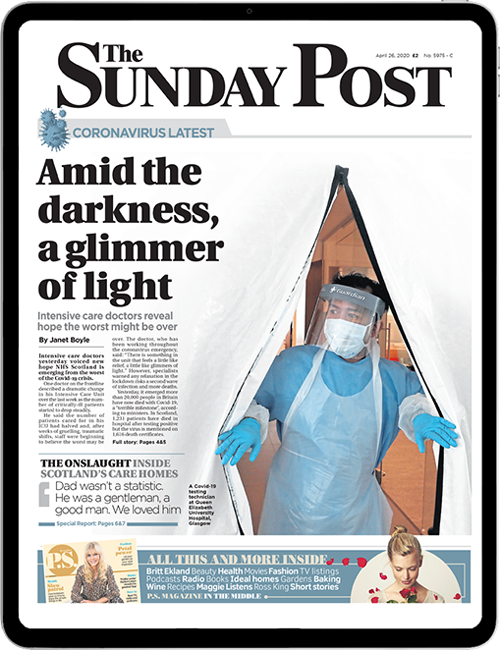 Enjoy the convenience of having The Sunday Post delivered as a digital ePaper straight to your smartphone, tablet or computer.
Subscribe for only £5.49 a month and enjoy all the benefits of the printed paper as a digital replica.
Subscribe