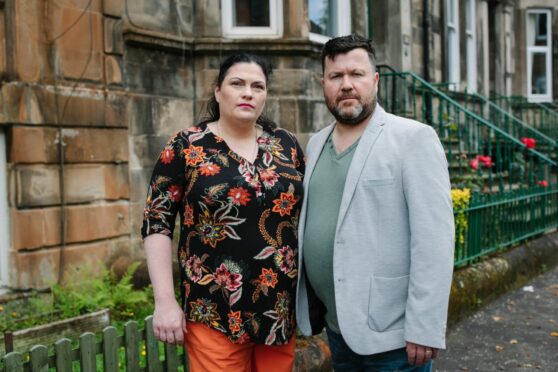 Excoriating evidence given by a bereaved mother to a public inquiry into a flagship NHS hospital is to be kept secret after official lawyers objected to her testimony.
Theresa Smith, whose baby Sophia died 12 days after being born at the Queen Elizabeth University Hospital, in Glasgow, is "devastated" her evidence will not now be made public.
She was allowed to give evidence in full to the inquiry led by Lord Brodie but, after legal applications by the Scottish Government and the Greater Glasgow and Clyde Health Board, much of it will remain private and is redacted on the inquiry's website.
The judge agreed with the official lawyers that parts of her evidence could "cause public alarm" and damage the reputations of clinicians and officials, who had no chance to contest her claims.
The official moves to keep her evidence secret can be revealed days after Nicola Sturgeon promised she would not "tolerate cover-ups or secrecy on the part of any health board," adding "where there are concerns, we will address those concerns."
Yesterday, Mrs Smith and her husband Matthew, said they were dismayed by the ruling: "Obviously we are devastated the restriction order means people will not be able to see or hear our full evidence but because of those legal restrictions we can't say more."
Sources close to the couple said they are angry at being asked to give evidence only for it to be kept secret.
One said: "They have been asked to wait four years for the chance to explain how their daughter died and ask why in an official forum. Why were they asked to give evidence at all? It seems an odd sort of public inquiry that asks for evidence but refuses to make it public."
The inquiry is into the troubled construction of two flagship hospitals, the QEUH and the Royal Hospital for Sick Children, in Edinburgh.
In Glasgow, the building of the hospital was linked to ventilation and water supply problems blamed for the spread of viral infections and the death of patients, including children. The hospital has been repeatedly accused of concealment and cover-up of the problems.
Scottish Labour leader Anas Sarwar, has led political calls for answers. Yesterday, he questioned why Mrs Smith's evidence was ruled too contentious to be made public and said such orders must only be used as the very last resort or it risks public confidence in the inquiry.
He said: "Nicola Sturgeon last week told MSPs she will not tolerate cover-ups or secrecy from health boards but in this case her own officials acted to ensure evidence was heard in secret. The culture of cover-up and secrecy which has dominated the Scottish Governments response to this crisis cannot be allowed to shape the inquiry as well."
The Smiths have waited more than four years for answers over why Sophia died at the £840 million hospital from a strain of the MRSA bug 12 days after being born in March 2017.
Legal teams acting for Scottish Government ministers and NHS Greater Glasgow argued that Mrs Smith's statement contained allegations suggesting potential misconduct in public office, and criminal behaviour, which they strongly rejected.
They said if the allegations from the Smiths proved to be unfounded, the inquiry would have provided what they described as a "platform for the public dissemination of allegations with wide-reaching harmful effect on both public and private interests".
Lord Brodie said: "At this stage the inquiry cannot properly ascertain or examine the factual basis for the allegations in the absence of further evidence. The public interest would not be served by publication of such allegations which are, by necessity at this stage of the inquiry, evidentially unchallenged."
He said there was a clear risk of harm to the personal and professional reputations to the individuals named in the allegations.
However, leading lawyers said, when it came to public inquiries, such orders could only ever be the last resort. One of the UK's most respected QC's Michael Mansfield said: "As a general rule, all relevant evidence should be heard in public unless there are pressing reasons of national security or confidential matters that might endanger the health of a witness."
Lawyer Des Collins, who has been involved in some of the country's highest profile public inquiries, including the investigation into the contaminated blood scandal, described the order as "highly unusual".
He said: "The whole purpose of a public inquiry is exactly that. Inquiries need to be public so they can determine what happened, why it happened, so steps are taken to ensure it never happens again. Restricting the evidence of grieving parents, especially so early in this inquiry, is highly unusual."
On Thursday, the first minister promised cover-ups would not be tolerated as she addressed criticism from Louise Slorance, the widow of former government official Andrew Slorance, who died last year at the QUEH while receiving treatment for cancer.
She said doctors had not told her that her husband was being treated for a virus before or after his death.
After promising cover-ups would not be tolerated, Sturgeon said: "In relation to the QEUH and other issues raised, there is under way right now a public inquiry and I think that, I hope that, is a sign of our determination to ensure that any issues that are raised are properly investigated and that answers are forthcoming."
The Sunday Post view: A public inquiry into the hospitals scandal? Well, the clue is in the title
Miles Briggs MSP, who was the Scottish Conservative's health spokesperson as the scandal unfolded at the hospital, said: "This inquiry is supposed to shine a light on the biggest public health scandal Scotland has ever seen. Babies died. Children died. Adults died. We need to know why and how this happened so it never happens again.
"The very ethos of a public inquiry is that people's voices are heard, not silenced, muted or redacted. The public expect and deserve the full truth."
Professor Andrew Watterson, a health expert, said: "For any inquiry to work, basic principles, the right to know, the right to be heard and the right for those involved to see and, if necessary, challenge evidence, need to be applied for all parties involved."
Roger Livermore, a former Health and Safety Executive prosecutor said Scotland has already seen too many ineffective public inquiries, including the Vale of Leven inquiry over 34 fatalities caused by C-Difficile and other infections. He said: "That cost £12m, took five years and achieved very little for the public."
The Scottish Government said: "Lord Brodie, chair of the independent public inquiry, has set out that a restriction order was necessary in the public interest and he has explained his reasons publicly. We are completely committed to ensuring that issues raised at QEUH are properly investigated and that answers are forthcoming."
NHS Greater Glasgow & Clyde said: "Due to the nature of comments made in the witness statements, and on legal advice, an application for a restriction order was made by the board and by another core participant. This is the only restriction order that was applied for by NHSGGC."
The Scottish Hospitals Inquiry said: "Lord Brodie considered applications for a restriction order. He granted Restriction Order 6 following those applications. This order allowed Mr and Mrs Smith to give their evidence in full."
---
I believed the doctors. Later, I felt like a fool
In a statement to the inquiry – much of it redacted at the request of lawyers – Theresa Smith told how the short life of baby Sophia had been a maelstrom of emotion.
Her newborn daughter went from being so poorly because of breathing difficulties that parents Theresa and Matthew had an emergency christening to recovering so quickly the hospital were discussing her being able to go home.
She said: "I remember being so full of joy that I very nearly somersaulted, then remembered, 'You've just had a baby and you're not 16 anymore'."
But, Mrs Smith added: "Everything changed on Day 10. She was looking very pale. I started to say to them the baby's pale, and they said, 'No she's not'. I said, 'Her skin tone has changed. She's very white'."
Unknown to the couple, the hospital had put Sophia on strong antibiotics as they suspected she had the MRSA-type infection which ultimately killed her, 12 days after being born in March 2017. Her parents believe the infection was passed on from her central line, a tube inserted to give fluids or medication.
Her parents fought for six months before receiving her post-mortem report. Hospital letters did not even spell their baby's name correctly.
The family have been told Sophia's death is being investigated by the Crown Office but have never been told what aspect of her death will be covered. They have been warned any Fatal Accident Inquiry could take another decade.
Mrs Smith said: "I only got to hold Sophia twice, once to change her nappy and when she died in my arms."
She said she "felt like a fool" for believing doctors, who assured her Sophia's death was "an isolated case."
She said: "They said we were the only ones. That it's never been heard of, 'There's no problem in this big fancy hospital of ours, no one else has died of this. We've never heard of anyone else dying of this, nothing like this has ever happened in this hospital before, you're the only ones, you're an isolated case.'
"I said, do you need to tell anyone, do you need to do anything about this? He told me no, as Sophia was an isolated case, that it's never happened before, it will probably never happen again.
"I read all those same sentences verbatim in a newspaper about another mother talking about the death of her child.
"She had been told her child was the only one that had passed away from an infection at the hospital; that this is isolated; nothing like this has ever happened here before.
"There's no problem with infection control here, nothing like this will probably ever happen again. 'It's such a lightning strike' was the phrase he used.
"I felt like such a fool when I read that in the paper because I had believed him.
"Because you don't know: you can identify that they're arrogant and you can identify that they have very little people skills, but you still have this level of respect where you think well, they're the doctors, they're the consultants, they're geniuses in their fields.
"You believe them until you start reading it in the papers that they've told every other family that too."
The inquiry
The Scottish Hospitals Inquiry was announced by the Scottish Government in October 2019 after growing public concerns over problems at two new hospital sites.
An investigation earlier that year had found widespread contamination of the water supply at the Queen Elizabeth University Hospital in Glasgow which had opened to patients in 2015. A total of 23 children contracted blood infections in the cancer wards in the first nine months of 2018. Two children's wards were closed and remain shut to this day.
The public inquiry will investigate the construction of the QEUH Campus, which includes the Royal Hospital for Children, and also look into Edinburgh's Sick Kids hospital and adjacent Department of Clinical Neurosciences. The chair, Lord Brodie will report at the end of the inquiry and make recommendations aimed at ensuring any past mistakes are not repeated in future NHS infrastructure projects.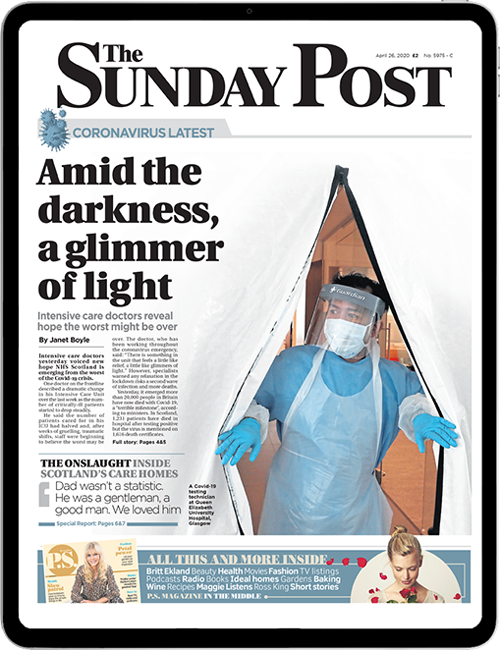 Enjoy the convenience of having The Sunday Post delivered as a digital ePaper straight to your smartphone, tablet or computer.
Subscribe for only £5.49 a month and enjoy all the benefits of the printed paper as a digital replica.
Subscribe