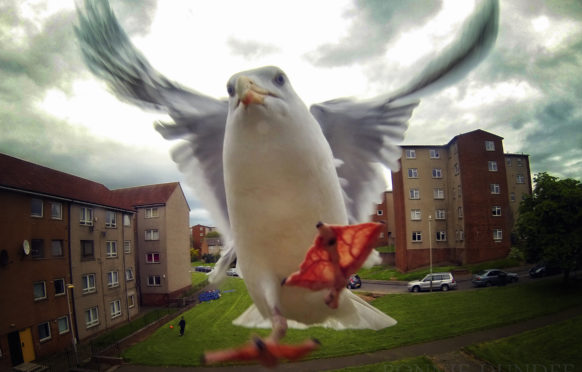 Invading flocks of seagulls are menacing the towns and cities of Scotland as complaints hit an all-time high, we can reveal.
Local authorities logged more than 1,200 complaints in the first seven months of 2019, including from the parent of a seven-year-old girl who had the tip of her finger sliced off by a dive-bombing gull.
Dozens of other attacks on children, the elderly and pets have been reported, with more than 4,000 complaints filed over the past three years.
There have also been more than 150 calls to police since last year. These have included incidents where the gulls have been implicated in neighbourhood disputes, assaults and road traffic incidents.
Experts say the gulls are moving inland for easier pickings with some suggesting council spending cuts have meant fewer bin collections and more litter.
Politicians are calling for action to curb the birds which are protected under law. Oliver Mundell, Conservative MSP for Dumfriesshire, said: "These shocking figures reveal the growing misery seagulls are causing in many coastal communities.
"It is about time local authorities stated taking the issue more seriously."
Last month, Queen of the South FC threatened to eject fans who fed seagulls at their Dumfries stadium after dozens of the birds took up residence on a Palmerston Park stand roof.
Dumfries and Galloway Council have received almost 400 seagull-related complaints since last year.
The local authority said: "We operate a gull egg and nest removal program within the Dumfries town area. This is free to businesses and non-domestic premises on request.
"We recognise there are other areas within the region where seagull numbers are rising and we will look to review our future approach."
Angus Council recorded the highest number of complaints of any authority. With a population of just 116,000, there have been more than 1,100 seagull-related issues since 2017, about one for every 105 people.
The council said: "We operate a free seasonal egg and nest removal service available to the owners or tenants of affected residential properties.
"Once eggs hatch and gulls start swooping to protect their chicks, we cannot take action."
The next-highest number of complaints came in Aberdeen, where there have been more than 400 incidents in the past three years, and South Ayrshire, with 380.
Aberdeen City Council said: "Life has become very easy for urban gulls due to the discarding of food, particularly in the city centre, and people deliberately feeding them.
"Our environmental health service has no statutory powers to take action against gulls and the key to reducing numbers lies in reducing the ability to breed and limiting the supply of food."
South Ayrshire Council said: "We have an active Feed A Bin, Not A Gull campaign to persuade the public and traders to reduce the availability of food and, therefore, over time, the number of gulls.
"Gulls can swoop on people and pets to drive them away from their chicks, however it is not common for them to actually attack humans or pets."
Last year, it emerged HMP Grampian had been forced to spend £2,000 tackling nuisance gulls.
Steve Milton, of Total Bird Control, confirmed gulls were moving inland to find food. "It's thought difficulties in finding wild food caused gulls to move inland where they find scraps readily available in towns and cities," he said.
"They are very clever birds and can work out, for example, if bins are collected on certain days or if collections are once a week or fortnightly.
"It's easy to feed off scraps lying around in urban areas – it's less work than looking for their traditional food. Chicks born in urban areas will then stay there and the population increases."
The Royal Society for the Protection of Birds said: "There is a scarcity of reliable data on gull populations as it is difficult to accurately count them.
"However, we do know the two species that predominantly feature in urban areas – the herring gull and lesser black-backed gull – are struggling overall if maybe not in urban environments."
They added: "Gulls are attracted to urban areas by the unintended provision by humans of good nesting sites and available food waste.
"Outwith the breeding season, councils can take steps to reduce the number of nesting sites."
Graeme Taylor, Scottish Natural Heritage's licensing manager, said: "All breeding birds are protected by law, but this doesn't mean nothing can be done. If gulls are a safety hazard – for example, if they are dive-bombing people – licences are available to allow people to carry out actions to help resolve these issues.
"Licences can allow nests or eggs to be destroyed and can also permit lethal control.
"These actions should be a last resort and there are often other measures that will reduce the risks to people by urban breeding gulls.We advise not feeding gulls as this allows the birds to associate people with food."
The Scottish Government said: "While local authorities are responsible for gull management on council-owned property, the responsibility for dealing with gulls on private property lies with the owner.
"A range of options are available including visual, auditory or physical deterrents or removal of nests and eggs in accordance with the appropriate licence."
---
Rise in gull terror
Ayr, June 2018
An 11-year-old girl on her way to school is attacked by a seagull. The bird is very aggressive and swoops down six times. The pupil is "absolutely terrified".
Edinburgh, Silverknowes, July 2019
Reports of seagulls nesting on roof of a house and trying to attack passers-by. They are seen trying to dive on people walking past for a week. The gulls swoop down and people have to dive out the way.
Greenock, July 2019
Householders regularly leave bin bags outside tenement. Bins are scattered by seagulls, while cars are scratched and covered in bird droppings. As many as 20 birds spotted swooping down on the vehicles. Nappies and food strewn over road and pavement.
Ayr, May 2019
Seven-year-old girl is disposing of waste in a seafront bin opposite a play area when a seagull flies down and slices the top of her right index finger with a vicious snap of its beak.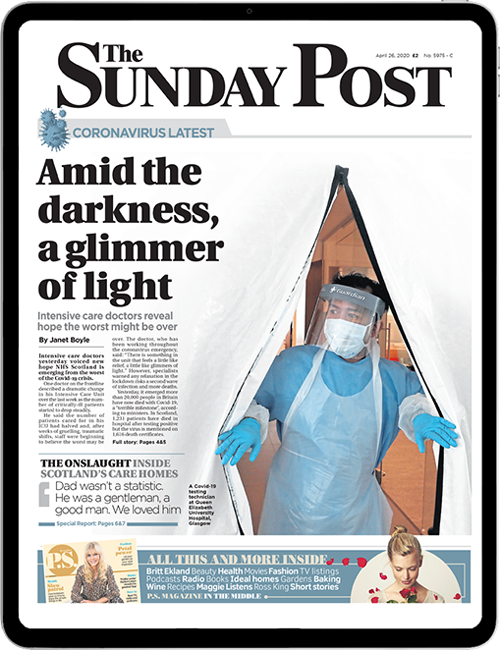 Enjoy the convenience of having The Sunday Post delivered as a digital ePaper straight to your smartphone, tablet or computer.
Subscribe for only £5.49 a month and enjoy all the benefits of the printed paper as a digital replica.
Subscribe