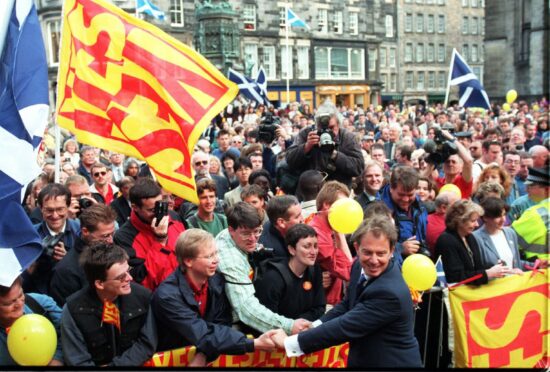 A return to consensual politics is needed a quarter of a century after a historic vote that lead to the creation of a Scottish Parliament, according to expert observers.
Today is the 25th anniversary of the referendum on devolution when Scots backed the creation of a new parliament with tax-raising powers. The referendum, which polled Scots on two separate statements (that there should be a Scottish Parliament and that there should be a Scottish Parliament with tax-varying powers) was a election manifesto promise by Labour, who had won the general election in a landslide victory just four months earlier.
Scottish Labour, the SNP, Scottish Liberal Democrats, and Scottish Greens campaigned for a "Yes" vote for both proposals whilst the Scottish Conservatives opposed both proposals.
Henry McLeish was appointed Scottish Office Minister by Tony Blair and worked alongside Donald Dewar on the Scotland Act 1998, which established the Scottish Parliament.
McLeish, who served as First Minister following Dewar's death, said: "There is no doubt in my mind that the devolution years have been good. The parliament has produced a lot of progressive policies. It is still in its infancy and so there's a great deal of potential still to be realised. But one of its disappointing features has been the attitude within the chamber. I hoped we would turn our back on the adversarial politics of Westminster but we haven't.
"There's too much mistrust, too much intolerance and we have reached a situation where it has become at times a battlefield rather than a place to debate positive policies. If we want to move forward constitutionally and politically in Scotland, we need to have a consensus. Brexit resulted in a poisonous mess because a bad policy sneaked through by 52% to 48%. To take John Smith's view, we need to have a settled will. We need build an idea of where Scotland is going, not a Scotland that is constantly being asked to vote for independence or to support independence."
McLeish argued that the political parties at Holyrood had to work together more to tackle the problems facing the country. He said: "Scotland itself is stalled. We are not moving forward in the way we should. We have outstanding issues in education, outstanding issues in prison incarceration, we don't have a written constitution in Scotland that we should have, we haven't scrapped first past the post for the constituency vote. There is a huge amount of work to be done in the parliament, and we shouldn't accept the view that Scotland has to be independent to do all of these things.
"What it required is for the SNP to combine with Labour, Conservatives, Liberals and Greens to push the parliament forward."
The referendum on September 11, 1997 asked Scots to back the creation of a Scottish Parliament with devolved powers, and whether the Parliament should have tax-varying powers. The result was Yes-Yes, with a majority voting in favour of both proposals with a turnout of 60%. The parliament was established following an election in 1999.
Former Yes Scotland strategy chief Stephen Noon said politics has become more polarised but that the 25th anniversary of the referendum on devolution was a timely reminder of how to build cross-party consensus.
He recently urged Nicola Sturgeon to compromise on independence and work towards a more powerful Scotland within the UK.
He told The Sunday Post: "Political debate has become more polarised across the world, perhaps most noticeably in the US but also here in the UK. Scotland is not immune to that. Yes, we could be doing our politics better, and we all have a part to play in that.
"The 25th anniversary of the referendum is a good reminder that the parliament was born with the hope and expectation of a new politics. It was created after a cross-party conversation, and a cross-party campaign. It was designed to encourage relationship building and consensus. This is all part of our political DNA.
"It is experience we can draw on to help us navigate the difficult political debates of today. Difference does not have to mean division – we know that's true because we've managed it before."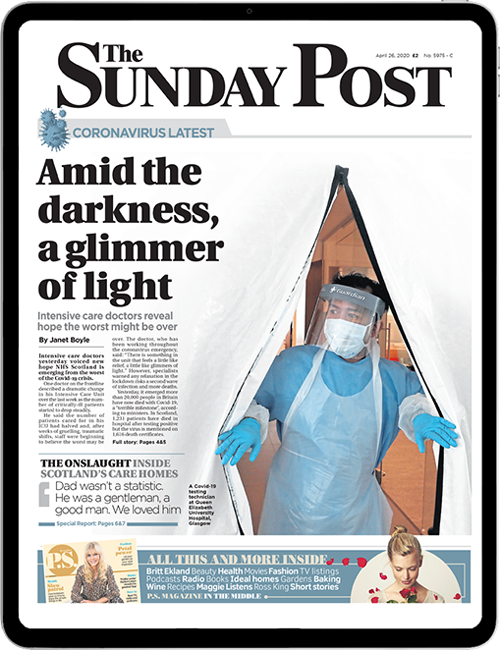 Enjoy the convenience of having The Sunday Post delivered as a digital ePaper straight to your smartphone, tablet or computer.
Subscribe for only £5.49 a month and enjoy all the benefits of the printed paper as a digital replica.
Subscribe