A new walking tour exploring Glasgow's links to the Transatlantic slave trade has been launched as part of this year's Doors Open Day Festival.
Created by Hoskins Architects, the digitally accessible tour brought together a range of collaborators to produce an illustrated educational resource aimed at young people.
It follows a summer where the killing of George Floyd by police in Minneapolis led to mass protests around the globe and a groundswell of support for the Black Lives Matter movement.
Scotland's links with the slave trade have come under the microscope, with calls for more education on the British Empire and legacies of structural racism to be incorporated into the school curriculum.
Vas Piyasena, an associate at Hoskins, explained: "We take part in Doors Open Day quite a lot and we're really interested in doing workshops with children and teaching them about the built environment and design.
"Because of recent events, the murder of George Floyd and the BLM protests around the world, we thought that exploring how Glasgow has been shaped by its history and links with the slave trade would be interesting.
"We thought it would be a really good topic to do a workshop on. Because of Covid, Doors Open Day is all online, so we've made it available as a digital walking tour."
Hoskins Architects invited Stuco Design, the Coalition for Racial Equality and Rights (CRER) and veteran political campaigner and community activist Councillor Graham Campbell to collaborate on the project, bringing together a diverse set of skills with wide-ranging experience.
"We were really interested in working with other people," Vas said. "One of the things we really loved about this tour was working alongside Stuko design, Stuart Kerr, who is an amazing illustrator.
"CRER also do really great work. They recently did Black History tours of Glasgow and we were inspired by that and wanted to create a version for children. Those tours were really interesting because they gave an opportunity to learn about built heritage but also enable discussion about the legacy of the British Empire and slavery.
"It was great to work with them and also Councillor Campbell. It was great to be able to collaborate with them all on the project."
The tour is aimed mainly at children, with efforts made to make it an engaging experience that will spark the conversation about race.
"It's fascinating, the lack of discussion there is about this," Vas said. 'There's the fact that it's not taught in schools, although I think a lot of people in education are looking at how this can become part of the curriculum.
"The link that Glasgow has and how it has shaped the city is fascinating and it should be something people are taught about."
Part of the tour is a challenge called Historic Detective, which gives those following it a series of points to look out for and questions to answer on the way.
The idea is to encourage children to look closer around their environment, and the makers of the tour hope that it will be used with schools in future.
Vas added: "The research that's gone into it has been a great process. We were really inspired by Stephen Mullen's It Wisnae Us.
"I think there's a lot of really interesting work about transatlantic slavery in Glasgow but it tends to be aimed at adults. We wanted to take this and aim it at children and young people."
---
The Glasgow Doors Open Day Festival runs until September 20. All events are free to attend but some live events such as webinars need to be booked in advance.
Visit Glasgow Doors Open Days website for details www.glasgowdoorsopendays.org.uk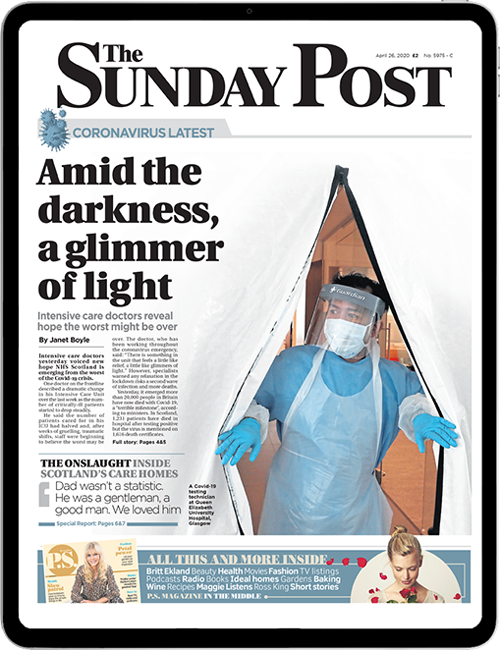 Enjoy the convenience of having The Sunday Post delivered as a digital ePaper straight to your smartphone, tablet or computer.
Subscribe for only £5.49 a month and enjoy all the benefits of the printed paper as a digital replica.
Subscribe