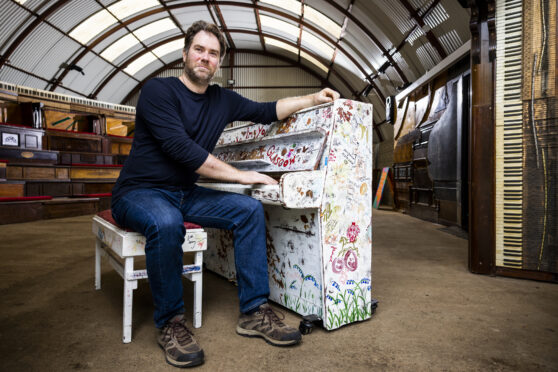 It has taken three years and hundreds of hours of painstaking work… but the UK's first ever permanent auditorium made from recycled pianos is complete.
The unique Glasgow venue, which started life as an old council grit store, has been transformed into a theatre space using 70 upright pianos to create raked seating and a baby grand sliced in half for a corner balcony.
Now Tom Binns, of social enterprise group, Glasgow Piano City, which spearheaded the project, is inviting the public to come and see for themselves, at Lids Open Day next weekend.
"This is our first event since Covid and our first ever event in the new space. I'm delighted with what we've achieved," said Binns.
"It's been a labour of love and it's a kind of relief that it's complete.
"I was running the job hands on and, when we were hard at it, it was pretty much every day.
"I reached a point where I badly needed to stop. Now I might be able to take a breath."
Binns, whose Glasgow Piano City has been installing pianos in public spaces since 2014, worked in collaboration with artist Tim Vincent-Smith who had created the now legendary Pianodrome in Edinburgh in 2018.
The Pianodrome was the world's first amphitheatre made entirely from upcycled pianos.
"I went to Tim's workshop and he was building one little section of his first Pianodrome," said Binns.
"I was fascinated. He now has two of these temporary structures one of which was used at the Festival this year.
"At the time Glasgow Piano City was growing in popularity.
"People were calling me and saying: 'Do you want my old piano?' I found I was gathering far too many pianos.
"We kept the good ones, but I began to realise that we should do a large-scale piano recycling project in Glasgow."
Work began at the grit store, now called Springburn Auditorium, overlooking the boating pond in Springburn Park in the north of the city, in 2019.
"Primarily it's Tim's design with my input," explained Binns.
"He brought along his team – they call themselves the Pianodrome Collective – and we had help from volunteers and local craftsmen including production arts students from the Royal Conservatoire of Scotland.
"There was even a Border Collie, Perro, who fetched and carried for us.
"It was hard work, but great fun.
"But we lost the best part of a year when Covid hit."
Funders included Glasgow City Council Area Partnership, Glasgow Connected Arts Network and Glasgow Social Enterprise Network.
The venue is now managed by Springburn Auditorium CIC, a not-for-profit community interest company and will be used for public events, theatre, film and gigs.
"The result is better than I envisaged," said Binns, 52, who originally trained as an architect but who is also a musician.
"These pianos were all destined for landfill, even the baby grand.
"They were at the edge of their musical life. So to be able to put them to use in this way was fantastic.
"In essence, it's a sculpture, six sections all made of uprights, then the last section has a baby grand just to turn the corner nicely.
"That was a spontaneous thing to do. When we got to the end, we realised that it was going to be better if we cut a baby grand in half.
"It wasn't in the original design."
The seating is treated with a special wood reviver.
"I've noticed that when people wander in, they really like the smell," said Binns.
"There is no other smell like old pianos.
"I knew the quality of Tim's Pianodrome and I wanted to ensure we had something similar.
"We frequently did things again to improve the quality."
He's thrilled to be able to welcome people during Lids Open Day and is showcasing two decorated pianos – named Calisia and Heather – which were previously situated in Glasgow Royal Concert Hall, for visitors to play.
"Calisia is signed by many famous names including Jack Vettriano, Keane and Sharon Shannon," he said.
Film fans will also be interested in the stage backdrop at the venue, which has a piece of movie history embedded in it.
"We used the lid from the grand piano played by Billy Boyd in the 2016 remake of Whisky Galore," he added.
"It now forms a door for performers to emerge from.
"The place is steeped in history and there's a real feeling of warmth about it too."
---
For more information on Lids Open Day (Saturday 17th September 10.30-5pm) at Springburn Auditorium see wwwglasgowpianocity.org.  There are also bookable tours on 16th and 18th.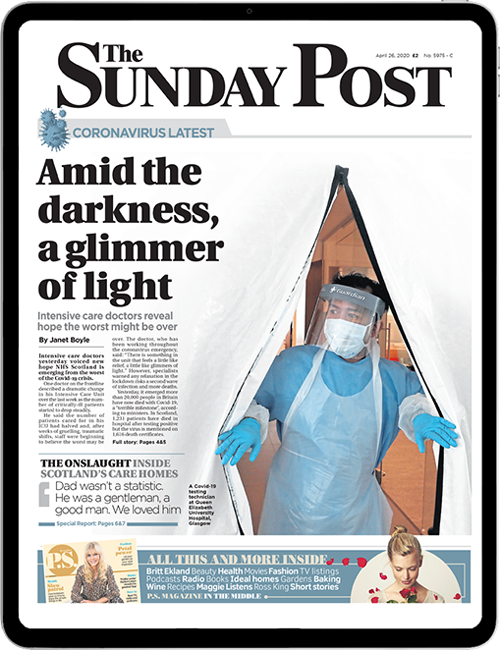 Enjoy the convenience of having The Sunday Post delivered as a digital ePaper straight to your smartphone, tablet or computer.
Subscribe for only £5.49 a month and enjoy all the benefits of the printed paper as a digital replica.
Subscribe